Gateley senior associate Zum Mohammed shares her career journey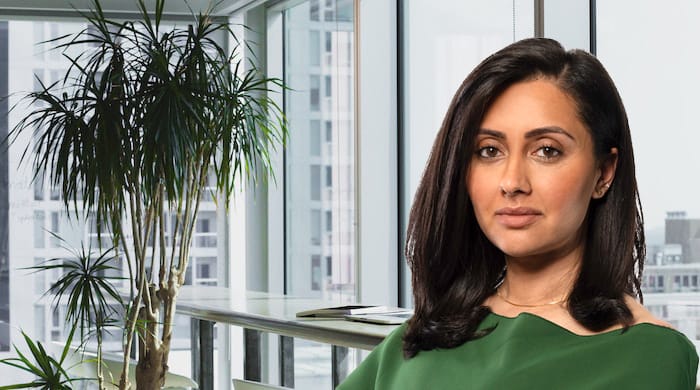 Following regulation changes to law firm ownership, in June 2015 Gateley became the first commercial law firm in the UK to list on the London Stock Exchange's growth market, AIM. Just a few months prior, Zum Mohammed had moved to the legal and professional services group as a newly qualified (NQ) solicitor.
Mohammed recognises a host of benefits from operating as a publicly listed law-led business, with a number of other firms having since followed suit. "For us, it is really about differentiating ourselves in the market," she tells me when we speak. "It allows us to speak to our clients in their language who in turn are excited to talk to us about our journey. Our experience of floating on AIM and growing through various acquisitions will be similar to the experiences of many of our clients and any new clients who may be looking to take that step."
From a personal perspective, Mohammed tells me about the appeal in working somewhere which is innovative and constantly changing, and enables you to take ownership of the business from an early stage, in a way that the traditional partnership model does not. "We are encouraged to participate in the financial success of the business. A range of employee share schemes exist, which encourages early and widespread equity ownership. The aim is to attract, retain and motivate talent, so that all employees benefit from the Group's longer term success."
Winding back to the beginning of her career journey, Mohammed graduated from Nottingham Law School in 2008 as, what she describes as, a "recession graduate". Mohammed recalls that at this time training contract offers were extremely hard to come by, as solicitors were being made redundant as a result of a slowdown in corporate transactions taking place. Mohammed decided to undertake a corporate law LLM at Nottingham Law School and worked at the Citizens Advice Bureau alongside her studies. During her time at the Bureau, Mohammed met a contact of the HR director of national firm Roythornes, where she became a litigation paralegal, before moving to paralegal at Shakespeare Martineau's (Shakespeares, as it was then) Nottingham office.
Mohammed tells me that her experience as a paralegal prepared her well for legal practice, providing her with the confidence to interact with clients from an early stage. She further encourages wannabe commercial solicitors to grasp opportunities as such with both hands. "I see a big difference between trainees who have spent time as a paralegal or legal assistant and those who come to the firm as a trainee straight out of university, just in the way an individual writes emails, drafts or talks," she explains. "Communicating with clients in reality is very different from the way that you are taught throughout your legal education, and you won't necessarily receive training on that area straight away."
During Mohammed's time at Shakespeare Martineau, there were still few training contracts on offer. After lobbying for greater internal opportunities, Mohammed became one of the first paralegals to achieve a training contract offer at the firm after a freeze of around three years; a moment, Mohammed notes, that she was particularly proud of. Mohammed then undertook a three-seat training contract, before being approached by Gateley, and being signed off as a solicitor by Shakespeare Martineau owing to her lengthy experience as a paralegal. Mohammed came to Gateley's office in Nottingham as an NQ solicitor in the Group's corporate team for one year, before moving to the London office where she has remained as a corporate lawyer ever since, and recently made senior associate at the business.
With the year drawing to a close, what is on Mohammed's radar for 2022? "It has been an extremely busy year for our national corporate team, and I envisage that M&A will continue to be really busy," she says. Elaborating further, Mohammed explains that private equity houses are ready to deploy more capital than ever before and on more flexible terms than they used to. "With this in mind," she says, "I think this will open up an avenue for companies who didn't traditionally look at this type of funding helping them to expand quicker than they could have organically."
When asked what advice she would give to her younger self, Mohammed responds:
"I think that I would encourage myself not to rush things and remember that everything has its time. Having been a paralegal I often felt behind, and I think that a lot of students believe that if you don't have a training contract offer lined up straight out of university your career will start to fall apart."
Mohammed was keen to dispel this misconception, reiterating that time spent gaining complementary experience will enable you to exude confidence when you are successful upon qualification and with more routes to qualification than ever before: "Being the fastest to get there is not always necessarily the best way."
About Legal Cheek Careers posts.