How to manage your mental health as a junior lawyer
Lawyers and wellbeing experts offer up their tips and advice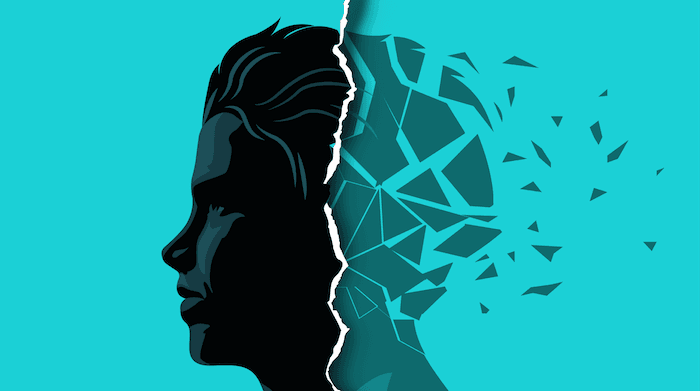 On the mental health and wellbeing special edition of Legal Cheek's Secrets to Success events series — held in association with The University of Law (ULaw), a panel of lawyers from Shoosmiths, Browne Jacobson, Gateley and ULaw discussed changing attitudes of law firms to mental health, and gave their advice to maintaining a work-life balance.
On the panel were Deborah Gordon Brown, real estate partner, Shoosmiths; Ruth Heaton, solicitor and head of learning and development, Gateley; Adam Fox-Everitt, reward manager, Browne Jacobson; and Harriet Pearce, tutor at ULaw Nottingham and former solicitor at PwC and Rosling King.
Are 12-hour days, aggressive partners and the unrelenting pressure of deadlines giving way to yoga, bean bags and spinning clubs?
It seems so at Shoosmiths, as Brown, partner and head of the Nottingham office, detailed the firm's "lunchtime yoga sessions, choir with a musical director as well as zen room with bean bags and chillout music".
The change in culture is badly needed according to the panellists as recent research found that almost two-thirds of solicitors were suffering "high levels of stress". The report by LexisNexis said that nearly one in four described their stress levels as "extreme" or "very high".
Mental health may not have traditionally been a priority for law firms, but things are now changing.
The panellists agreed that long hours and stress were a feature of their careers. "When I was a banking lawyer working in the boom years up to 2007, I experienced long periods of time when I wouldn't ever get home before 10pm, which takes its toll on your wellbeing," said Heaton, head of learning and development at Gateley. "In London firms you were expected to exude an air of confidence every single day, which was tiring. It was difficult to expose your vulnerabilities," added Pearce, a former solicitor turned tutor at ULaw's Nottingham campus.
To those of you wondering how things got to this stage, the panel took responsibility. "My generation of lawyers are responsible for what we created. When we pitched for work, we said we were 24/7, and gave out our mobile numbers," explained Brown.
But don't despair. As stigma around mental health recedes elsewhere in society, attitudes in law firms are starting to change too.
Heaton explained the positive impact that arming older, more traditional partners with the tools and the language of mental health has had. "Some are realising that they have been suffering too, but they perhaps haven't had the awareness or knowledge to realise this, let alone felt able to talk about it."
Firms are recognising the problem of mental health and are implementing changes to alleviate the burden on their junior ranks. "Some firms no longer require junior lawyers to be online all of the time. Not every junior lawyer will be given a work mobile phone. Some are told not to take work phones on holiday," explained Brown.
The panel also highlighted an external factor. Clients are recognising that their behaviour impacts lawyers' mental health too. Heaton gave the positive example of Barclays, who have started The Mindful Business Charter, which sets expectations and boundaries between the firm and the client. "Clients also recognise the consequences on mental health of working 24/7 now," she added.
This change in culture will further help to remove barriers to female leaders, said Browne Jacobson's Fox-Everitt. Women are often the primary caregiver, and so a 24/7 work culture is not necessarily compatible with career progression.
Firms are pitching for the best talent by offering graduates a better work-life balance, the panellists agreed. The days of law students accepting the inevitable loss of leisure time and sleep are coming to a close.
Industry leaders such as Linklaters have already implemented initiatives that offer a 40-hour week, and no checking of emails after work. Newly qualified (NQ) solicitors who prioritise work-life balance can pick this option in return for a reduced salary.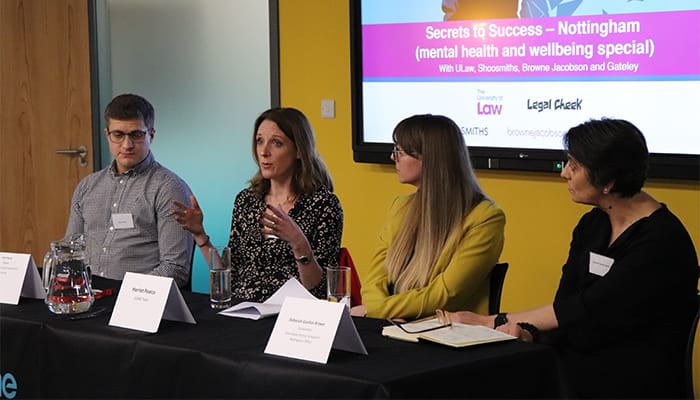 Brown explained how Shoosmiths have a minimum of two mental health officers in each office, as well as an anonymous portal for lawyers to submit any wellbeing concerns. Moreover, the firm has moved away from appraisals, to more informal discussions.
Similar measures are found at Browne Jacobson, with training provided for lawyers to build up resilience. Moreover, lawyers are taught techniques for switching off and putting up boundaries to safeguard work-life balance, explained Fox-Everitt. Gateley have trained up a body of mental health first aiders in each office and every person with line management responsibility undergoes training on managing for positive mental health.
On the academic side, ULaw are also playing their part in increasing mental health support. They offer a one-to-one counselling service, as well as an on-site welfare officer. There is also the 'Big White Wall' — an online service where students can talk anonymously about issues, Pearce said.
The panel agreed that there is a great opportunity for the next generation of lawyers to change law firms once and for all.
"It is your generation's responsibility to change the culture of law firms," said Pearce. "Talk to each other about your vulnerabilities, talk to your supervisor about your fears, and the workplace environment will improve substantially."
There are many ways to be proactive and to improve your own work-life balance, and the panel offered their top tips.
Set boundaries on your own work-life balance, such as how late you are prepared to work, or how often you check your work emails, advised Fox-Everitt. Explaining the dangers of making incremental compromises on your boundaries, he explained how "before I knew it, I had not been on a run, hadn't used the gym membership for months, and people were booking me in during lunchtimes". Avoid this fate by setting clear boundaries and sticking to them.
This slippery slope to losing control was echoed by the other panelists. "In the past I found myself waking up, and before saying good morning to my partner, I was checking my work emails, planning my day," said Heaton. I put in place boundaries around when I would start my working day and felt immediately better. We make sure we train our staff so that they have the tools to do this and the communication skills to manage expectations and still deliver excellent client service.
Brown rounded off the discussion by stressing the importance of looking after yourself in order to progress in your career.
"Once you become senior, if you can't look after yourself, how do you look after and manage a team properly?" she questioned.
About Legal Cheek Careers posts.