Charlie Lord is now training at her dream firm — but she may not have got there had she not been an ambassador first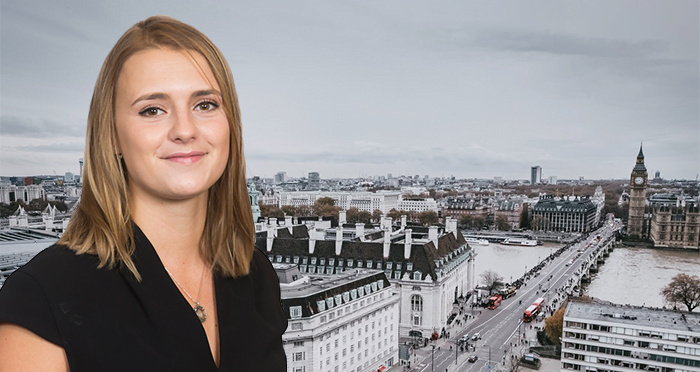 Approaching the final year of her law degree at the London School of Economics (LSE), a friend of Charlie Lord's encouraged her to apply to be a campus ambassador for law firm Shearman & Sterling. It's a recommendation that put her on the path to City training contract success.
"At the time I was thinking about my vacation scheme applications," Lord tells Legal Cheek from her desk on a busy morning in the firm's international arbitration team. "I thought it wouldn't hurt to build some connections to the firm and to find out a bit more about it."
The application process, Lord says, was far from traumatic. A cover letter and informal telephone conversation later, Lord was crowned Shearman's new LSE ambassador.
The programme took place over two terms in Lord's final year at university, during which her job was to get Shearman & Sterling's name out on campus by encouraging students to attend its events and think about making an application. Focus groups and lecture shout-outs proved effective ways of doing this, as did putting down pamphlets and speaking to students one-on-one about the firm.
It doesn't sound too time-consuming, and that's because it isn't. "You have a lot of control over your time when you're a campus ambassador," Lord tells us, "and compared to completing vacation scheme and training contract applications, which can take hours on end, it's not too big a time commitment."
While the time required to be an ambassador isn't huge, the benefits of the scheme are.
About half of the 13 ambassadors representing the US titan for the 2014/15 academic year secured a place on the firm's vacation scheme that following summer. Lord was one of them and, given that the firm recruits directly from its vac schemes, a training contract shortly followed.
Lord is now some months into her training, having recently finished a seat in finance. She's hoping to move into the mergers & acquisitions (M&A) team next, and describes her experience so far as "very busy" but "really great". She says:
"I love how the firm only has a small intake of trainees every year. I have done work experience at a magic circle firm, and, while I really enjoyed it, it felt as though you were one of many. Being one of a few trainees at a global elite firm means you build stronger ties with the lawyers on your team. It also means your exposure to the deal the team is working on in any given seat is greater. At bigger firms there are multiple trainees per department so you might only work on one aspect of the case, whereas at Shearman & Sterling you see it all."
There are many reasons for this (common) trajectory from campus ambassador to trainee. Lord says:
"Being the firm's ambassador really helps with vacation scheme applications because you already have a relationship with the firm. Most people applying for vacation schemes are doing it to gain experience of the firm, whereas you already have experience and are simply building on it."
Being a campus ambassador can be a godsend at interviews, too.
While some candidates will answer the inevitable "why this firm?" question with information garnered from a hurried pre-interview skim of the firm's website and brochure, being an ambassador gives you ample opportunity to think carefully and critically about why, or even whether, you want to train at the firm you're representing. Because of this: "You're not sat in interviews desperately trying to come up with reasons why you want to work at the firm. You have experience of the firm already so it's so much easier to speak naturally about your decision to apply."
With Lord full of praise for the programme, you'll be pleased to know applications are now open for Shearman & Sterling's next batch of campus ambassadors. The firm is after 13 in total, from the following universities: Bristol, Cambridge, Durham, Edinburgh, Exeter, Glasgow, King's College London, LSE, Manchester, Oxford, Trinity College Dublin, University College Dublin and University College London.
Lord's biggest tip for applications, she tells us, is: "Do some research into the firm! You have to think to yourself: Do these firm's values and the work they do appeal to you? You should view the campus ambassador programme as a gateway to more official work experience, like vacation schemes, so it's important to apply to a firm you like and which does work that interests you."