Legal Cheek Careers caught up with Mayer Brown's Sally Davies at the firm's London office to uncover the story behind her success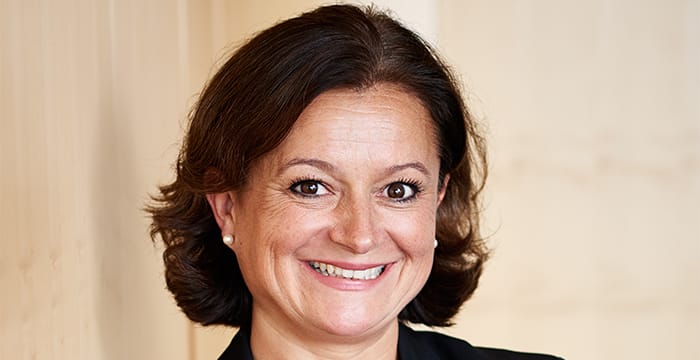 There are a lot of 'firsts' that spring to mind when you think of Mayer Brown. It was the first law firm to launch legal apprenticeships in the City and one of the first to conduct a CV-blind recruitment process. Above all, the firm appointed its first female London senior partner in 2017. Sally Davies.
It was a position she almost didn't run for. Davies loved working for clients and was concerned about being distracted away from this by a management position. Whilst she had led litigation teams for several years, she did not have experience of leading an office and was apprehensive about what this could entail. But with hard work and support from others she convinced herself that she should go for it.
At school Davies excelled in English, history and languages, but wasn't sure where these could take her. Studying law appealed to her because it was a vocational course that combined all three.
She had always been drawn to criminal law. But a lack of funding (there was no sponsorship from chambers at the time) steered the UCL grad away from the criminal bar and towards City law. Starting as a trainee in 1992 with Rowe & Maw, the legacy firm which would become Mayer Brown in 2002 following a transatlantic merger, Davies has stayed with the firm ever since.
It was the dynamic, vibrant and team-oriented environment which kept her. She says:
"I had a couple of friends who I was at university with who had gone to the criminal bar and weren't earning much money — I had student debts to repay. Being in chambers can be a very solitary, academic environment where you tend to work on your own. That's something I learnt when I joined a law firm. Here it's all about teamwork, sharing ideas and bouncing off each other — you even form a team with the client — and that's how I like to work."
Since reaching the dizzying heights of senior partner Davies has brought in a number of well-received policies. On her very first day, she implemented a relaxed dress code, and has also rolled out a firmwide agile working policy. Her popular associate/business services forums encourage cross-over between core practice areas and serve as an environment where staff can share their concerns as well as ideas. The NextGen initiative was born out of such discussions and launched last September. The professional network is led by the firm's associates and sees its members (you don't have to be a lawyer to join) connect and network with the firm's clients and host events.
A staunch advocate for diversity — "it's about bringing your whole self to work and feeling accepted for who you are in that environment" — Davies has reinvigorated the firm's internal networks: LGBT+, BAME ('Fusion'), Working Families and Women's Network, and encouraged cross-interaction between all four, plus widening these initiatives to include clients. She's passionate about gender equality and supporting women into senior positions of leadership (two female partners were recently promoted to the firm's management committee of eight) and a panel session she chaired on this topic went so well it is being rolled out Stateside in February.
Senior partner Davies keeps a close eye on the day-to-day running of the London office. A single day will often involve several meetings, and when we met, Davies had five scheduled for the day. Fee-earning doesn't have to stop once you're senior partner and construction litigator Davies continues to devote her time to cases alongside managerial duties. How then does she manage her time? "I would say the split is currently 70% (fee-earning), but that doesn't mean I only do 30% of the senior partner role — I just do more than 100% at times!" says Davies, who admits she wouldn't have it any other way. She continues:
"I wouldn't have gone for the job if I couldn't continue to take on client work. I am incredibly loyal to the clients I have worked with for the last 25 years and I love working with them. To be only doing managerial work would be very inward-looking. This way I get to interact with clients and understand their commercial reality and the goings-on of the business world."
Davies' most memorable case to date was an alleged negligent valuation of a proposed development in Canary Wharf. Acting for the defendants, chartered surveyors, Davies recalls how her team lost the case in the first instance. However, on appeal, the case leapfrogged the Court of Appeal (there were a number of cases on the same principle) and went straight to the House of Lords (as was the case back then) where it became one of the leading cases on the law of damages. "I was quite junior at the time and it was a brilliant experience because it had a bit of everything," she reflects.
So how did she make partner in what is predominantly a male-dominated industry? "I've never really noticed it," says Davies, "it's not something that has ever bothered me and I tend to take people as I find them, not based on their gender." That's not to say that she hasn't come across casual sexism in the workplace. Davies recalls one client who approached her asking whether she knew how to read a construction drawing. Davies' response? "Sure, I can read a drawing. If you've got a problem, let's talk about it!" Shortly after, the duo formed a great working relationship. "I haven't come across any 'male' obstacle that I haven't felt was insurmountable," says Davies, who was up against two male candidates for the role of senior partner.
With a quarter of a century's experience under her belt, Davies reveals some of the skills the next generation of Mayer Brown trainees need to succeed. The ability to embrace tech is the first skill on Davies' checklist — "we look to our juniors to see what needs developing in terms of AI (artificial intelligence)". Trainees are "gold" in this respect: with every seat rotation, they gain a worm's-eye view on different processes. But don't sit back, keep your head down and stay schtum. Davies wants trainees to identify areas for improvement and communicate these across.
Indeed, the ability to communicate well is next on Davies' list. Picking up the phone for a chat or going into someone's office to run things past them are things trainees shouldn't shy away from. At the associate level, Davies, who went on to qualify as a solicitor-advocate, actively encourages juniors (Mayer Brown sponsors a number of places each year) to obtain their higher rights of audience. "Our work is very high value, which means when we go to court, we nearly always instruct a barrister. But you're not doing the qualification to become a QC. It comes in handy during mediations and adjudications, which we do an awful lot of and rarely use counsel on. It also helps in other aspects of your work: marshalling your thoughts and projecting an argument both verbally and in writing," Davies tells us.
Having a sense of humour doesn't go amiss either. "Have fun at work! You do your best work if you're in an environment where you can have a laugh," quips Davies.
The London office is a diverse environment which is reflected in its outlook, culture and people. Davies wants aspiring trainees to know that Mayer Brown is not a "cookie-cutter environment". She explains:
"We celebrate differences and draw upon a diverse pool of talent. I want to see characters and individuals who bring different ideas to the table and can add so much more value than the 'red-brick 2:1' who just wants to conform. We welcome ideas and innovation and that is what I want to see in our future leaders. It's never too early to start thinking about leadership."