Full video: How the SQE can help create a more diverse legal profession
Lawyers and legal education experts join double Paralympian and solicitor apprentice Amy Marren to discuss how the new assessment will open the door to untapped talent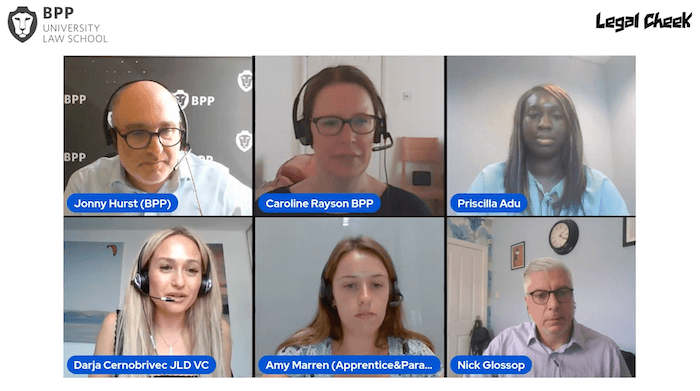 Here is the full video from our latest instalment in a series of SQE events with BPP University Law School.
The recent virtual event featured:
• Amy Marren, solicitor apprentice at BPP and double Paralympian
• Priscilla Adu, trainee solicitor at IBB Law and The Law Society Junior Lawyers Division committee member
• Darja Cernobrivec, solicitor at GA Solicitors and vice chair of The Law Society Junior Lawyers Division
• Caroline Rayson, head of SQE programmes at BPP and former solicitor at Ashurst and Osborne Clarke
• Jonny Hurst, former City law firm partner and head of outreach and student recruitment at BPP
• Nicholas Glossop, head of inclusion & learning support at BPP
The speakers reflected on how the Solicitors Qualifying Examination (SQE) provides an opportunity to improve diversity and inclusion within the legal profession. They also explored the various funding options available to aspiring lawyers, including BPP's range of scholarships, and trumpeted the benefits of students being able to 'earn-while-they-learn' thanks to the flexibility of qualifying work experience.

Legal Cheek is running 'The SQE series' with BPP University Law School over the next few months. The video of each session will be made available one month after each virtual event.
About Legal Cheek Careers posts.