RPC trainee solicitor Joseph Akwaboa reveals his journey from theory to practice — with a few goals on the football pitch along the way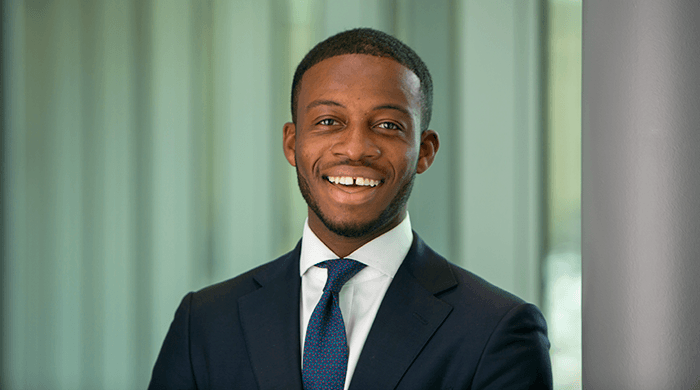 When Joseph Akwaboa was studying law at the University of the West of England, Bristol, intent on becoming a solicitor, he envisaged a trainee's life to be one spent primarily "in the shadows": "I thought I would be constantly typing up notes, making bundles, or stuck with my head in books reading case law," Akwaboa tells Legal Cheek Careers.
It was through numerous legal internships, vacation schemes and paralegal roles that this perception changed: now he knows that trainees are far more visible, and enjoy first hand experiences such as actually "seeing clients". Akwaboa also grew to realise that solicitors are, in many ways, informed "service providers" who need to know their clients inside out. For example, if a client aims to expand into a different jurisdiction, a solicitor can and should be proactively offering their services ahead of time rather than waiting to be called upon.
Akwaboa was an early convert to the legal profession. Having completed work experience at a law firm as a teenager, he was captivated by the team-based, social environment that he had witnessed.
As an undergraduate, Akwaboa observes, his focus was, rightly, theoretical rather than practical. Take, for example, how solicitors communicate with their clients compared to the undergraduate experience of essay-writing. "As an undergraduate you get 'word-happy' with long word counts and are used to putting all the key information at the end in a conclusion," Akwaboa says. "But when you start drafting legal letters, you put that same key information at the top. You have to think about what you're trying to get across, what your client needs from you and how to structure that information because no one wants to read a five page email with all of the important information at the bottom," he continues.
Now as an RPC trainee solicitor, Akwaboa is experiencing his more 'visible' role first hand. Three months into his seat in international property and casualty insurance, Akwaboa has not only worked directly with clients, but he has also worked collaboratively with partners.
He recalls a task assigned to him by a partner regarding the coverage of an insurance policy. He says:
"I knew this was something that an associate or senior associate could do very quickly — but it speaks volumes about the seat and also the firm that I have been consistently given a high level of responsibility."
Nor did Akwaboa expect an opportunity for solicitors to actually be themselves and to get involved in activities other than the law. For instance, during his vacation scheme at RPC, Akwaboa was asked to join an internal football tournament following a last-minute dropout. "Next thing you know, you score three goals and everyone is raving about you," he tells us.
Akwaboa cites this as an example of RPC's value for personality — the crux of their latest 'Strikingly Real' graduate recruitment campaign. "Here you can bring yourself to work and use your personality to excel. You are who you are. I played a lot of football as a kid; now I'm the captain of RPC's football team. You spend half of your life doing things you love — once you've picked a career, you don't need to shun those skills."
For those intrigued by the day-to-day life of a trainee solicitor and their role within a wider firm, Akwaboa recommends starting with the firm's social media accounts. RPC, for example, gives its trainee solicitors from offices across the globe full control of their own Instagram and Twitter account.
Are you even a litigation trainee if you haven't travelled across London to have a witness statement signed with 7 minutes until the deadline? #strikinglypunctual

— Life in a Law Firm (@LifeinaLawFirm) October 8, 2018
This allows trainees to post updates of what they're up to — whether it's bundling, grabbing a spot of lunch, challenging partners to a game of table football or even participating in Pride 2018.
Such "transparency", Akwaboa says, opens a window for aspiring lawyers into the firm's culture — a vital piece of the application process ahead of the firm's upcoming vacation scheme application deadline.
About Legal Cheek Careers posts.