Lewis Fairfax, corporate litigator at Hogan Lovells, chats to Legal Cheek's Aishah Hussain ahead of his appearance at next Wednesday's 'Inside Track: How to become a City lawyer' event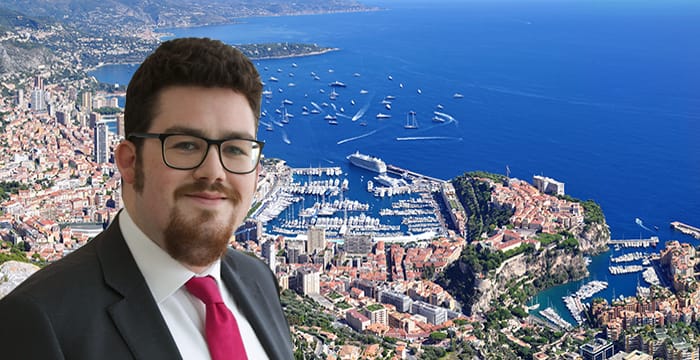 Joining the world of City law and working on big-ticket deals with high-profile clients is the end goal for many a wannabe lawyer. For Lewis Fairfax, a newly qualified associate at Hogan Lovells, the City of London is the arena to undertake top-drawer work. "It's my favourite thing about my job: doing cross-jurisdictional work that has huge implications and that you'll often hear about in the news. It gives me a real sense of pride."
Working in the firm's corporate litigation, investigations, contentious insolvency and fraud team — no two days are the same. "My workload is varied and fluctuates from case to case — we typically work towards deadlines, so it's 'seasonal' to an extent, depending on where you are in the case" he says. On any one day Fairfax could find himself drafting evidence, researching a particular point of law, liaising with clients or attending court.
His first experience with the cut and thrust of litigation was as a trainee during his first seat. He enjoyed his time, citing the intellectual rigour, thought-provoking legal arguments and the ability to stick with a case and see it through, as reasons for staying on post-qualification. "Litigation tends to go on for much longer periods than transactional work which enables litigators to get stuck in and really come to know a case or carve out a niche as the 'go-to' for knowledge on a certain aspect of law which is great for personal development," he explains.
The cases are typically "measured in years, not months" due to their complexity, and there are even some high-level disputes dating back to the 90s that the firm is still picking through. "The big cases can go on for years with some of our partners currently working on cases they started on as associates."
Now four months in, Fairfax describes a particular highpoint: working pro bono with a mid-level associate on a case as a trainee and then associate which Hogan Lovells had struck out by the court on behalf of its client earlier this year. "I completed an entire disclosure exercise on my own and conducted advocacy in court — that was an absolute thrill!" he says. "It's testament to the calibre of work available at Hogan Lovells in both our fee-paying client work and innovative pro bono practice. It's rare as a junior lawyer to be able to see a matter through from start to finish and achieve a great result for the client," Fairfax adds.
It's a role, he admits, that is equally "challenging" as it is "rewarding". There are, as one would expect, the occasional long hours when things get busy but "if you're passionate about what you're doing then it's not a problem". He recalls the time he spent on secondment at the firm's Paris office as a particularly busy time. He worked around the clock with one of the partners to get a deal over the line. The client appreciated their efforts and took them out for lunch. "Where there are low points there are always high points," he reflects.
Fairfax studied French and Russian at the University of St Andrews prior to entering City law. During the summer of his penultimate year the born-and-bred Geordie moved overseas to Monaco, where he worked for an agency as a translator — which included teaching English to French clients in the legal industry. He then discovered the clients wanted to learn about how the English legal system operates and so took his first steps into law; first learning about it himself before dishing out his newfound knowledge in French. By his final year Fairfax's interest in law had grown and he began applying for training contracts, leveraging his experience abroad and cultural awareness in applications. He was offered a training contract with Hogan Lovells midway through his final year.
The transition from languages to law, Fairfax admits, was tricky at first. "Law isn't a subject you can pick up things about by just kicking around the non-legal world. People sometimes talk about how businesses work but no one ever really talks about how trusts work in day-to-day life!" quips Fairfax, who completed the Graduate Diploma in Law (GDL) at BPP Law School in Leeds. "The GDL accordingly builds you from the bottom up — it's a useful primer in which no prior legal knowledge is assumed."
Fairfax will be speaking during next Wednesday's 'Inside Track: How to become a City lawyer' event at BPP Holborn, alongside panellists from Baker McKenzie, Mayer Brown, PRIME and BPP University Law School. There he will shed further insights on his career journey to date and offer advice to student attendees interested in becoming litigators. For now, he leaves readers with these words of wisdom:
"Your primary concern as a litigator is your client: what their interests are, what they want to achieve from litigation and how best you will help them realise that. Litigators stand up for their client's interests — not necessarily in an aggressive, tenacious or 'fight at all costs' way (that's not always possible) — rather through conciliation or settlement if that's what is in the client's best interests."
An "incredibly underrated" skill among junior litigators is good organisation and case management, notes Fairfax. "If you can be on top of things, track deadlines, take the initiative to create and distribute an action list after a meeting, this will put you in good stead in your career. Juniors are at the coalface, in the nuts and bolts of litigation, and in the multifaceted cases we work on they'll often raise a point they've come across which they think is of minor importance but in actuality turns out to be significant to the case when reported back to the partners or senior fee-earners who are supervising the overall case at a higher level," he adds.
Lewis Fairfax will be speaking alongside lawyers from Baker McKenzie, Mayer Brown, PRIME and BPP University Law School at 'Inside Track: How to become a City lawyer', on Wednesday 10 July at BPP University Law School in Holborn, central London. You can apply to attend the event, which is free, now.