Ahead of the Future of Legal Education and Training Conference on 23 May, Hogan Lovells training principal Crispin Rapinet talks about his firm's plans for the new solicitor super-exam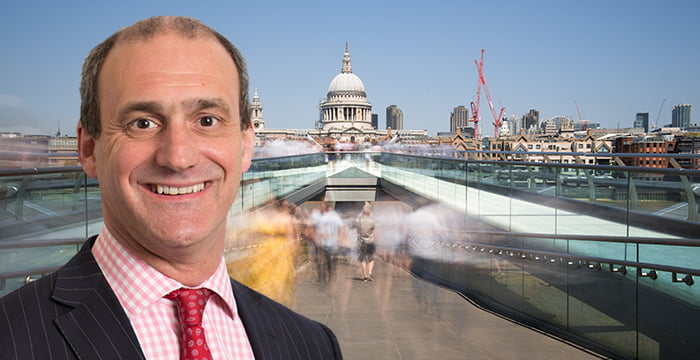 Last year the Solicitors Regulation Authority (SRA) put an end to the Legal Practice Course (LPC) and Graduate Diploma in Law (GDL) when it confirmed plans to scrap both in favour of a centralised assessment. Reworking a system that has been in place for the past 30 years is the resultant task that law firms now face, under the new Solicitors Qualifying Exam (SQE) framework.
Crispin Rapinet, who oversees Hogan Lovells' training strategy, is approaching this challenge from the perspective of a global law firm which recruits a wide range of students to work across the spectrum of corporate law. He identifies "two key issues" in this "very big change" that he and his colleagues are prioritising, explaining:
"The first is making sure that the non-law graduates that join us are adequately equipped with the fundamentals of law in place. The second is to ensure that both the law and non-law graduates that join us receive training that is relevant to the type of work they wish to do with us."
It is a concern for everyone in Rapinet's position that come 2020 "we won't know how well-equipped our trainees will be". Indeed, in the absence of a formal law conversion course, Hogan Lovells and firms like it may have to provide extra instruction during the training contract to get non-law graduates up to speed. After all: "How can we expect these trainees to make it as international commercial lawyers without first understanding the basics of contract law?"
Over time it's likely that an established preparatory course will emerge that covers much of the same ground as the GDL. But groundwork needs to be put in — and quickly — to ensure that future non-law trainees arrive in the profession on a level playing field. "It's important to us that these students are able to get the grounding they require in order to not be disadvantaged — otherwise they'll be drowning not swimming!" says Rapinet.
On the issue of training being tailored to firms' specialisms, there is still quite a lot up in the air. With the onus now shifting onto law firms to work with the SRA to design a course fit for their needs, rather than rely on bespoke LPC arrangements with law schools, Rapinet hopes to see sufficient flexibility to allow the creation of a vocational course relevant to organisational needs. "We can't fret about issues that don't touch upon our areas of practice", he says, alluding to concerns that under the SQE future corporate lawyers may have to spend large amounts of time studying modules that they will never use in practice.
With a centralised exam where assessed content is likely to be the same across the board, it's possible that the extent to which law firms are able to tailor course modules and content could be quite restricted. "I thought we had crossed that Rubicon back when the LPC was reworked and the 'one-size-fits-all' approach ceased to be an option," reflects Rapinet wistfully. "I'm hoping that students will be able to pick and choose their modules, but all that is still up for grabs."
When probed further, Rapinet anticipates a compromise solution that may not actually be so dissimilar to the current firm-customised LPC. If this does prove to be the case, some will no doubt question the point of all the upheaval involved; others would respond that the creation of a centrally assessed system that could drive down legal education costs for students without training contracts makes it all worthwhile.
Substantive details on the SQE remain thin on the ground, but the SRA has said it will be split into two parts, with the first part examining functioning legal knowledge. Stage two of the super-exam will test a series of practical skills, including advocacy and drafting, and there is a suggestion that it is set to take place towards the end of the training contract. Many law firms have expressed their discontent at this and believe that stage two should be taken earlier on. Rapinet acknowledges, however, that there is an argument for placing it, say, two thirds of the way into the two-year training contract if it really is going to test practical skills learnt in the course of the training contract. He elaborates:
"This is where you'd reasonably expect it to sit. You can't leave it until the end as that doesn't accommodate those that don't pass the first time round and you've also got to factor in the time trainees will need to take out of their training in order to prepare."
The positioning may also impact training seat rotations and international secondments, notes Rapinet, who has worked internationally in Asia and the Middle East, and has a good understanding of what is needed not only in London but across the firm's global network.
Alongside changes to established procedure, the SQE consultation has brought about a wider debate about legal education, and creates the opportunity to review a regime that hasn't been significantly shaken up for a quarter of a century. With the technology sector particularly hot right now, there have been calls in particular to incorporate legal tech training to a greater extent into courses. Rapinet offers qualified support:
"There is no doubt that legal practice is changing due to technology. We've all read the robot articles but take some of the sentiment with a pinch of salt," he says, adding: "Certainly, artificial intelligence tools assist lawyers in a number of ways and lawyers are indeed having to become more adept; thinking ahead about the technologies that could be added to enhance client service delivery. But this doesn't detract from the fact that the true value of a lawyer stems from their legal training — being able to understand basic legal principles and apply these to practical situations — I don't think we can do away with that just yet."
Most of all Rapinet and his team are working pragmatically to put in place a new training regime that ensures that young lawyers continue to successfully progress through the Hogan Lovells ranks.
"A future trainee of the firm and I currently face the same dilemma — albeit from different ends of the telescope. What I am trying to achieve now will ultimately be of great assistance to the trainee who joins us three years from now," he says, adding: "Do not despair — we will continue to produce fantastic trainees of the highest calibre and we will make it work."
Crispin Rapinet, training principal at Hogan Lovells, will be speaking at Legal Cheek's The Future of Legal Education and Training Conference on 23 May at Kings Place, London.