Big hitters from Skadden and Quinn Emanuel, and a rising star from Kirkland & Ellis, tell their stories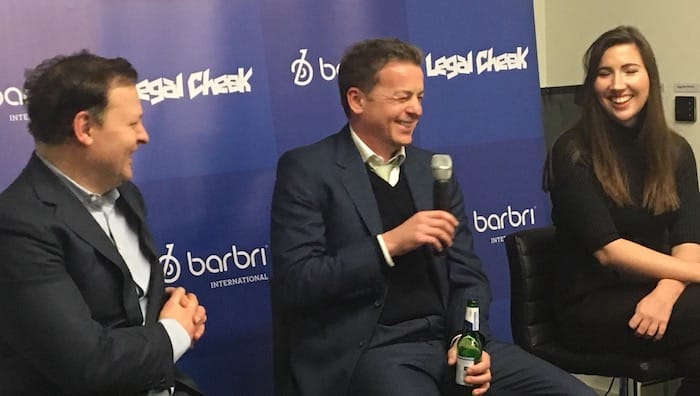 Skadden and Quinn Emanuel partners Richard Youle and Richard East joined Kirkland & Ellis rising star Hannah McCarthy last week at Legal Cheek's latest junior lawyer workshop, sponsored by global legal education provider BARBRI. They told the audience of 50 rookies what they had learned en route to their coveted roles at US firms in London. Some of it was unexpected…
Richard Youle, co-head of Skadden's private equity group
A 2:2 can be a springboard
When Skadden co-head of private equity Richard Youle graduated with a 2:2 from Newcastle University in 1995, things weren't looking great for him. But determined to pursue a career in law he moved back to his native Hull and managed to secure a training contract with local firm Stamp Jackson & Proctor.
Less than ten years later he found himself beating a host of first class Oxbridge graduates to become one of the youngest ever partners at Linklaters. The comprehensive-educated maverick went on to lead the magic circle firm's private equity practice before moving onto White & Case and then take his current role at Skadden.
How the hell did Youle pull off what must be one of the most incredible career comebacks in the history of the legal profession? In his talk he alluded to three driving forces: 1) a determination to make up lost ground, 2) great timing, and 3) great mentors.
Having made it from Hull to Eversheds' Leeds office when the city was booming in the late 90s, Youle secured a move to London under his then boss, Graham White, as part of a team hire by SJ Berwin (now King & Wood Mallesons). Hungry and exposed to fantastic work in the burgeoning sector of private equity, Youle then made it into the magic circle as part of another team move.
"I'd have had no chance of getting into Linklaters any other way," he recalled.
But once into Silk Street, where he was surrounded by "a different calibre of person", the darts-loving Yorkshireman thrived — and the rest is history.
Richard East, co-managing partner of Quinn Emanuel's London office
The importance of risk taking
Quinn Emanuel's Richard East is another lawyer who had a difficult start to his career, leaving school aged 16 without any A-levels. A series of low paid jobs followed, before East decided to have another crack at education. Having done surprisingly well in a university access course, he ended up with a place at LSE, scored the top first in his year and bagged a training contract at Baker McKenzie.
Having overcome adversity once, East felt able to embark on a series of career defining moves that saw him jump from Bakers to a succession of US firms that were relatively newly-established in London, including Quinn Emanuel, whose London office he founded and still leads after ten years.
"I wouldn't be here if I hadn't taken calculated risks at critical points in my career," he reflected.

During his first move, to Cadwalader, Wickersham & Taft's London office, East came under the tutelage of legendary City dealmakers Andrew Wilkinson and James Roome, who at that time led the firm's globally famous restructuring team. Partnership at Kirkland & Ellis followed, where the temptation must have been to sit back and let the cases role in, before the new challenge of Quinn came calling.
Alongside risk-taking, East identified an ability to withstand and adapt to criticism and failure as a key trait to successful lawyers. "You will make mistakes and as you get more senior, you will receive less praise and affirmation and much more criticism — so you need to have the inner confidence to keep going," he told the audience. "Ultimately the only validation you will receive is that someone is prepared to hire and pay you."
Hannah McCarthy, associate at Kirkland & Ellis
Spending time doing seemingly random things can open doors later
Having trained at magic circle firm Freshfields, Hannah McCarthy joined the financial regulation team at Kirkland & Ellis last year. This enviable start to her career may not have been possible, reckons McCarthy, if she hadn't spent time doing a host of seemingly unconnected yet enjoyable things before she set her sights on corporate law.
First the Dublin native toyed with the idea of becoming a barrister in Ireland, then she was offered a place on the Washington Ireland Programme so went to the US and worked in a communications firm for the summer. During an extended US odyssey, which saw McCarthy briefly return home to sit the Irish bar entrance exams, she ended up working for the Democratic Party on their congressional campaigns team and interning for Senator Chuck Schumer.
While in the States, the Trinity College Dublin graduate sat the New York Bar Exam with BARBRI ("I just thought, 'Why not?'") and at a drinks reception held by the Irish American Association of Attorneys for students sitting the exam she secured a paralegal job with a Manhattan law firm. It was during this time that she put in a successful application to Freshfields in London. With 18 months to kill before her training started, McCarthy headed back to Ireland and used her legal experience to land a position in Twitter's European legal team before squeezing in a masters at Cambridge.
"There was never a clear plan as such," said McCarthy, whose New York qualification and experience working in the US is now coming in handy at Kirkland.