Solicitors from global law firms Pinsent Masons, Dechert and Matheson join international bar qualification provider BARBRI to discuss the rise of Dublin as a legal centre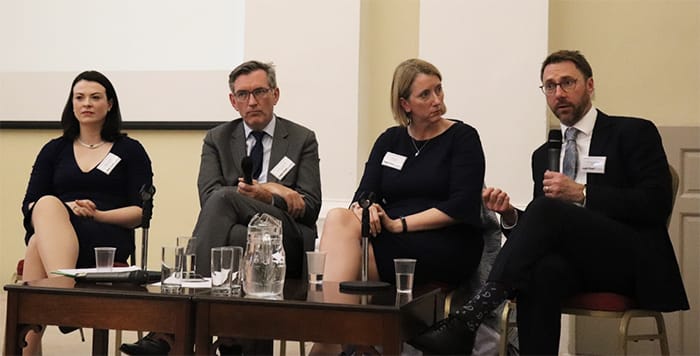 Gathering at The Law Society of Ireland earlier this month for Legal Cheek's first student event in the Irish capital, 'The rise of Dublin as a global legal centre', were: Marilyn Cooney, a senior associate at Pinsent Masons; Declan O'Sullivan, a partner at Dechert; Tara Doyle, a partner at Matheson; and Chris Jorgenson, legal manager at BARBRI. They had a lot to say, on topics ranging from Brexit, the Irish legal market and the merits of international legal market qualifications — including the Irish, English and New York route, Aishah Hussain reports.
The rise of the Irish legal market in the wake of Brexit
"For a long time Dublin was perceived almost as a UK provincial city and that's partly why multinational law firms didn't set up here," said Dechert investment funds partner O'Sullivan, "but now the realisation has dawned that it's actually a very advanced legal market."
Driven by a resurgent economy and the aftermath of the Brexit referendum result, Dublin is emerging as a location where a number of leading UK and US law firms are looking to establish a presence. Dechert was the first US firm to enter the Irish legal market over eight years ago, while London-headquartered Pinsent Masons opened in Dublin just nine-months ago. It was a strategic decision in line with the firm's long-term growth plan, explained Pinsents regulatory funds senior associate Cooney, but one that was "accelerated" by the Brexit vote.
As the shadow of Brexit looms, it's likely that Ireland will become the only English-speaking common law country in the EU. Doyle, who heads Matheson's asset management and investment funds group, explained the benefits of this. "English is the language of international business and common law is the governing law of most international trade. Ireland has spotted an opportunity — to have Irish law governing the law of contracts and Irish courts as the centre for dispute resolution," she said.
With its 'big brother' set to leave the EU next March, could Ireland be persuaded to convert to a civil law system? Cooney didn't think so: "We've been operating under EU law since 1973. Our legislation, regulation and rules have been firmly implanted in the common law system. I can't see how it would work in practice and that's coming from my area in financial services where there is very little common law." Doyle agreed: "Irish lawyers and judges would have to retrain because common law is what we've all been taught!"
The dynamics of Dublin as an international legal hub
There may have been a significant increase in the number of global law firms seeking to establish a foothold in Ireland. But it's not the case that domestic law firms will have to strategise and compete with their potential rivals across the Irish Sea. Instead, these firms aim to disrupt rather than damage. Doyle said Dublin-headquartered Matheson (which has been established in the capital since 1825) is welcoming the internationalisation of the Irish market. "It's good for Ireland's status as a global legal centre to have international firms operating in the jurisdiction," she said.
There is, however, the pressure to retain homegrown talent. Foreign entrants to the Irish legal market haven't to date brought additional personnel with them, Doyle explained. This means Irish lawyers are likely to be headhunted by the firms coming in.
Training and qualification in Ireland
There is a general shortage of solicitors in Ireland. This presents an opportunity for English and Welsh undergraduate students, many of whom are applying for training contracts in a fiercely competitive and oversaturated job market. The Irish legal market is often overlooked. Doyle said Matheson receive around 800 applications for their internal trainee lawyer programme each year and "no more than half a dozen" come from non-Irish universities.
Other firms are taking a proactive approach to ensure they have a steady stream of lawyers coming up through the ranks. Last year saw Dechert offer its first training contracts in its Dublin office. A graduate recruitment programme has just been launched at Pinsents' Dublin arm and will take on four trainees from as early as next year.
The cross-border aspects of law in today's society has given rise to dual-qualification in another jurisdiction. "Before there were around 200 English solicitors opting to dual-qualify in Ireland. In the past year, that number has jumped to 1,200," said Jorgenson, a US attorney who practised in civil litigation before moving to head BARBRI's international bar review.
Jorgenson also noted an increase in US practitioners positioning themselves in Europe. Is there scope for Irish lawyers to cross-qualify as US attorneys? Jorgenson continued:
"It's a great idea if it's along the lines of the practice you want to have — but it's not for everyone… New York is a major international player — it's one of the default choices for contract law clauses. If your intent is to become an international player within Europe, it may be helpful to have a US qualification. But it's not an 'in kind' switch. In terms of getting on their radar, certainly having the qualification is going to open certain doors that maybe wouldn't be open otherwise."
Dechert's O'Sullivan also shared his thoughts: "We have had lawyers go both ways — from Ireland to the US and vice versa. There are difficulties either way but, warts and all, Irish firms will prefer Irish qualified solicitors."
The discussion soon moved to a topic closer to home: The Law Society of Ireland's training process. The UK is currently in the midst of an overhaul to its legal education and training system, but could we see the same in Ireland? As it stands, Irish lawyers-to-be are having to jump over a lot of hurdles, said Doyle. They must first sit their FE1 entrance exams, secure a training contract and then pass the two-part Professional Practice Course (PPC). Doyle continued:
"It's archaic. Commercial law firms do not consider the current programme as fit for our purpose. We've been campaigning for years to have it become more adept to commercial practice. The focus used to be preparing future lawyers for general practice: how to draft a will or use the small claims court. Now there's an increasing acceptance that the work we do students should be trained how to do. But there are people looking at it and hopefully it will improve."
Irrespective of Brexit and any changes in the solicitors' qualification in Ireland, the dominance of international law firms continues on both sides of the Atlantic. Future lawyers with international qualifications and experience will be more attractive to the global law firms as they seek to invest in Dublin.