Ahead of Legal Cheek's 'How to make it as a barrister' event in London tomorrow, ULaw future pupil programme coordinator Joseph O'Leary shares his top tips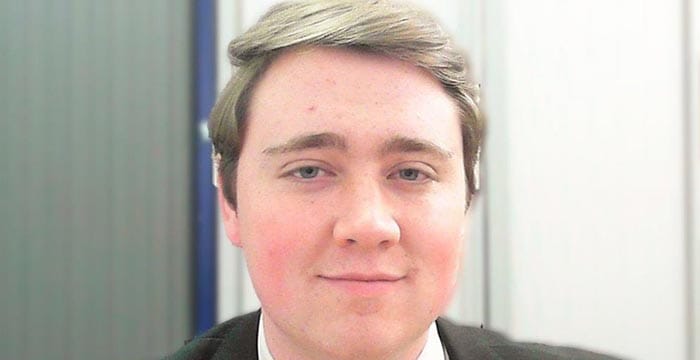 Joseph O'Leary was in the final year of his law degree when he successfully secured a Bar Professional Training Course (BPTC) scholarship. Landing a hefty £18,150 courtesy of Inner Temple, one of the four Inns of Court, the future 5 St Andrew's Hill pupil puts much of his scholarship success down to demonstrating his "determination to become a barrister" from an early age.
Indeed, Liverpool University law grad O'Leary started looking for hands-on-experience at just 15. "I would send hundreds of emails to chambers asking if I could do some work experience and eventually someone told me it was called a mini-pupillage," he recalls. His first offer was from Tooks Chambers, a London-based legal aid set headed up by Michael Mansfield QC. Unfortunately, the offer was short-lived. Citing government cuts to legal aid, Tooks closed in 2013 and O'Leary missed out on his first taste of barrister life.
Nonetheless, O'Leary persevered and soon secured a mini-pupillage at 15 New Bridge Street Chambers, where he witnessed a four-day long criminal trial. 'I had no clue what was going on because I was 16 at the time. I watched as barristers thought on their feet and changed tactics in a matter of seconds as they responded to new case developments," O'Leary explains. "I liked the fast-paced nature of the bar."
By the time O'Leary graduated from Liverpool in 2017 with a first, he had several mini-pupillages under his belt. Gaining first-hand experience across a broad spectrum of chambers afforded the University of Law (ULaw) BPTC grad a real understanding of what the bar was actually like in practice — and also gave him plenty to talk about in his all-important scholarship application.
But mini-pupillages aren't the be-all-and-end-all, according to O'Leary. Aspiring barristers need to continually expose themselves to "good experiences" that develop and hone their advocacy skills, he says. Take mooting for example. O'Leary has represented England in the Telders International Law Moot Court Competition, an annual competition featuring over 40 universities from across Europe.
Recalling his attitude towards pupillage applications, O'Leary stresses the importance of being meticulous. "Having a good application is half the work. You need to choose the right set — there's no point in applying to ones you would like to get but have no chance in securing," he explains. This meant trawling through chambers' websites and pouring over the CVs of new tenants to identify what each set wants from successful applicants in terms of grades, universities and experience. For O'Leary the important question was "what do we have in common and what do they have that I don't?" He would then spend an hour each night collating his findings into a spreadsheet. "Organisation is key in that process. The truth is, proper preparation prevents poor performance — regardless of the cliché," he says.
However, when it came to interviews, O'Leary confesses that he spent more time trying to "look and talk like a barrister" through "scripted" answers than be himself. This ultimately left the interviewing panels unimpressed. It was only during his interview for a pupillage at 5 St Andrew's Hill Chambers, a London-based multi-practice set, that O'Leary unwittingly abandoned this approach. On the day of the interview, which also coincided with his first round of BPTC exams, O'Leary was informed that his father had been rushed to hospital with a severe illness. He tells us:
"I thought, 'this day can't go any worse' so I decided to go in and be me. When they asked questions, I answered honestly and opened up. I was so relaxed that when I left I realised that I had actually enjoyed it."
This approach paid off and O'Leary was later offered the pupillage which is due to begin in October 2019.
Until then O'Leary works for ULaw as a future pupil programme coordinator, through which he travels the country to share his experiences with university students interested in becoming barristers. This involves recalling the practice pupillage interview and advocacy test that he completed before receiving a place on ULaw's BPTC course — a unique selection process that helps maintain their 71% pupillage rate. O'Leary also speaks about the difficulty of battling through the BPTC as his father's health dramatically declined before sadly passing. Rather than presenting his adverse experiences as a "sob story", O'Leary uses them to demonstrate his resilience — a quality any barrister needs to succeed at the bar. Most importantly for O'Leary it highlights that a career at the bar is still possible, "even if you haven't got a perfect run up to it".
Joseph O'Leary will be speaking at Legal Cheek's latest bar student event, 'How to make it as a barrister', tomorrow evening at ULaw Moorgate. The event is open to all students. Apply to attend.
About Legal Cheek Careers posts.