A sneak preview of the hints and tips magic circle associate Jamie Andrew will share at Legal Cheek's 'Artificial intelligence and the law' event next month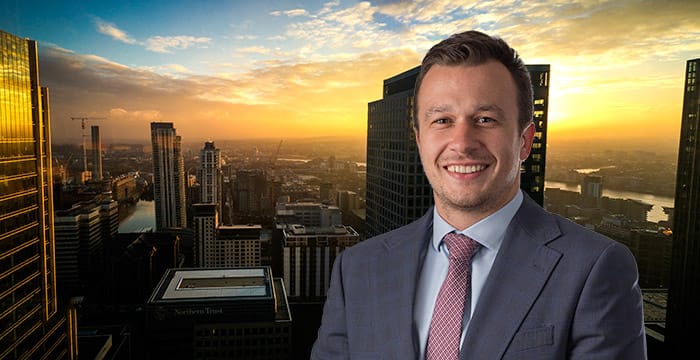 Cross-jurisdictional work, meetings with big-name clients and business development dinners with tech start-ups are just some of the things Jamie Andrew, an associate in Clifford Chance's telecommunications, media and technology (TMT) team, is involved in.
It's a challenging career in which hard work is rewarded.
"I went to school in Scotland. Did A-levels in economics, politics and English, and then studied law at Durham University," says Jamie. A conventional route for many hoping to secure a training contract, but Jamie was unsure about his career path.
"I didn't really know what I wanted to do. I didn't have any family connections in the law and the work experience I did have included private wealth, actuary, and even potato farming! There are infinite opportunities out there. I found it useful to narrow down my options based on what I definitely didn't want to do and worked from there."
When the keen football enthusiast broke his leg during his final year of school, he found himself spending an increasing amount of time in the library. He cites reading business thriller Barbarians at the Gate, undertaking various vacation schemes, including one at Clifford Chance, and attending networking events as the reasons that ultimately cemented his decision to pursue corporate law.
When writing applications, Jamie found his history of playing football — first as the captain of his school team and later as president of his uni college team — to be particularly useful to demonstrate competencies. A Clifford Chance training contract followed and Jamie completed seats in aviation finance, banking, private funds and TMT (including six months on secondment in Hong Kong). He eventually qualified into the firm's TMT team in London.
So what's life like on the tech frontline? Jamie's day to day involves negotiating tech-contracts, advising on regulatory tech issues (including cyber security) and advising on the tech aspects of corporate M&A deals. When the General Data Protection Regulation (GDPR) was being rolled out, a lot of his time was spent working with clients across a breadth of industries, including private equity, logistics, technology and finance, helping them get up to speed with the new legislation. "This change was substantial and often involved a complete overhaul of how clients deal with data across their business. I worked with stakeholders in a number of departments, including tech, legal, human resources, sales and commercial," he says.
Already the world has changed markedly since Jamie began his training contract.
"Tech is exploding," says Jamie, "it's changing every business no matter which sector and that's something which is broadly reflected here at Clifford Chance". Indeed, Jamie tells Legal Cheek Careers that there's now a global cross-disciplinary 'Tech Group' with over 400 lawyers delivering hybrid tech advice on antitrust, data protection, M&A, intellectual property, litigation, artificial intelligence (AI) and fintech, and working together on cyber and regulatory investigations.
Clifford Chance are also deploying new AI tools to help better service clients. One such tool is Kira. This handy machine learning contract analysis software is being rolled out across the firm and is a change that has been welcomed. "What was previously a long and time-consuming process for several trainees and paralegals is now smarter and a lot more efficient," says Jamie. The firm's investment in AI doesn't stop here. 'Clifford Chance Dr@ft' is a sophisticated drafting tool which enables clients to quickly generate house-styled documents online by the simple filling out of a questionnaire.
"Digital literacy is a big thing for our workforce," says Jamie. Lawyers at the magic circle outfit have the option to take part in a one-day digital awareness course, aimed at demystifying concepts such as blockchain, smart contracts and coding.
Students with an aptitude for tech will be pleased to know that Clifford Chance now offers a lawtech training contract that leads to qualification as a solicitor. Jamie explains the rationale behind the initiative, dubbed 'IGNITE':
"Tech is so pervasive. It's not just contained within the TMT remit but as part of the global Tech Group infiltrates all teams. Clients want a single offering and we are all one team so the idea was to build a team with cross functional collaboration. You can qualify into a number of our main practice areas but with the added bonus of gaining specific tech and lawtech exposure."
Jamie has plenty of tips for students interested in this coveted area of law, more of which he'll share at next month's 'Artificial intelligence and the law' event. But for now he has this nugget of advice:
"My advice would be to stay abreast of developments, and more specifically follow what the cutting-edge companies are doing with tech and how law firms are reacting to mandates. Always look forward and think about the hot areas where there isn't much existing regulation. For example, AI is lightly regulated for the most part which presents significant opportunities and threats."
Jamie Andrew will be speaking alongside other Clifford Chance lawyers at next month's 'Artificial intelligence and the law' event. You can apply to attend the event, which is free, now.
About Legal Cheek Careers posts.