Baker McKenzie's Jeremy Levy looks back at his path to partnership ahead of 'How to become a City lawyer' next week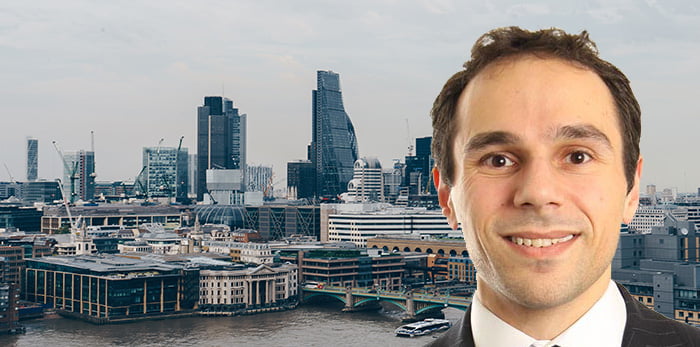 It was the ability to work on cutting-edge cross-border transactions that drew Jeremy Levy, a banking and finance partner at Baker McKenzie, to City law.
That is something that has held true during his time at the firm. Recently, for example, he was brought on board to advise a large IT company on a deal spanning ten different jurisdictions. "Getting to grips with how a company operates, working closely with its personnel to come up with a suitable transaction and then advising the directors accordingly on a strategically important deal was a particularly satisfying experience," reflects Levy, whose speciality lies in securitisation and structured capital markets.
There are an abundance of factors to consider when structuring a deal with international elements, and it's this which keeps the work "exciting", Levy explains. Potential tax liabilities, for example, may be a major consideration in some jurisdictions, while the regulatory framework in which a country operates may require careful scrutiny. "Our approach can vary significantly between countries and we have to be aware of these potential implications to ensure a deal can work across jurisdictions," he adds.
The fast-paced London lifestyle and variety of work on offer are other factors Levy, who grew up in Edgware, Middlesex, cites as reasons for pursuing City law. Now, working on big-ticket banking and finance deals Levy says no two days are the same. "My typical work day varies: it's generally a combination of meetings with clients and colleagues, conference calls and drafting and reviewing documents or structures. The exact make-up of my day depends on the type of securitisation transaction and the parties involved. I really enjoy working in this practice area," the University of Cambridge law grad explains.
Levy initially enjoyed the academic study of law before deciding to enter legal practice. The transition, he admits, was "quite the leap" having read modules in contract law and international law as part of his undergraduate degree but later coming to see how they interrelate and impact the work of a commercial lawyer in practice. A vacation scheme at Baker McKenzie — split between the global player's London and Toronto offices — helped dispel any misconceptions he had. "I thoroughly enjoyed my placement and working in-between offices with some great people. I got to experience life working as a solicitor and figured that this was something I could see myself doing," says Levy.
Following completion of the scheme, Levy, who was in the penultimate year of his degree at the time, was offered a training contract. That was in the summer of '03 and Levy has stayed with Baker McKenzie since starting in '05. First as a trainee completing seats in corporate finance, real estate, dispute resolution (which included a client secondment to a healthcare regulatory body) and structured capital markets — the seat in which he qualified in as an associate.
Levy was tempted to qualify into the firm's dispute resolution practice having completed a secondment there — "it was useful to see how clients on the other side of the provision of advice operate" — but the "transactional buzz" of capital markets, he confesses, proved "quite compelling".
Just over ten years later Levy made partner. What's his secret? "Being open-minded, enthusiastic and seizing opportunities," he says. That's something which starts as a trainee. He continues: "Our trainees are central to the firm, and one of the advantages of our relatively small intake [Baker McKenzie offers 33 training spots each year] is that the level of responsibility they are given is incredibly high early on in their training contracts. If you can demonstrate enthusiasm and an aptitude for the work you take on that will hold you in good stead in your career," says Levy who is involved in graduate recruitment. "Seeing trainees develop, thrive and progress after they eventually find their niche is a truly rewarding aspect of my job," he adds.
The brave new world of fintech is shaking up the banking sector. We are seeing trending technology compete with time-honoured financial systems in the delivery of financial services. Levy is increasingly finding himself advising financial institutions on their response to fintech but equally tech-savvy start-ups spearheading the change. There has been an uptake of work, Levy notes, in the field of supply chain finance which is a relatively new method of providing liquidity to businesses. The clients in this space are often innovative fintech providers, explains Levy, who enjoys getting to know their business model and product offering — "that's very enjoyable", he says.
With high-level work comes the flipside of working occasional long hours. "There can be time pressure when you're close to getting a deal over the line but I really do miss it when I don't have it for too long. There's a buzz to being busy and getting something done to a tight timeframe," explains Levy.
For students interested in specialising in this coveted area of law, Levy advises having a sound understanding of finance and law as a business. Whether that's through browsing the Financial Times or reading the business section found in most broadsheet newspapers, what matters most, Levy says, is that you grasp the concepts and above all, enjoy it.
Jeremy Levy will be speaking alongside lawyers from Hogan Lovells, Mayer Brown, PRIME (Linklaters) and BPP University Law School at 'Inside Track: How to become a City lawyer', on Wednesday 10 July at BPP University Law School in Holborn, central London. You can apply to attend the event, which is our final London event before the end of July training contract deadline, now.