Hogan Lovells' Andrew Carey maps out his career, ahead of his virtual appearance at tomorrow's student event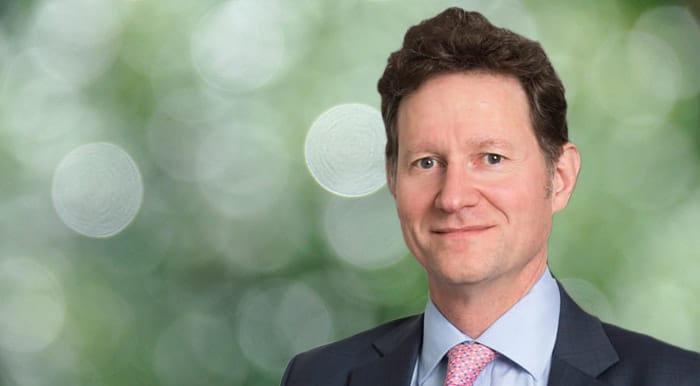 After many years in corporate finance law, Andrew Carey, senior counsel and co-head of sustainable finance & investment at Hogan Lovells, found a new direction in his work. "It's exciting having had a career in finance, to then be involved in this growing movement to achieve a reduction in climate change," he tells me when we speak.
According to Carey, "sustainable investing is just another word for good investing, or better understanding the risk of investing." Sustainable finance, he explains, "is any project or transaction where an enterprise seeks to raise finance in a way which also has a sustainability agenda". An example of this is green bonds, he expands, "bonds where the issuer agrees to use the proceeds to fund a green project". Another example is sustainability-linked products, where the products are linked to the delivery of one or more sustainability goals. "A borrower will pay more or less in interest payments on their bonds, or loan, depending on how successfully they have achieved certain self-set sustainability goals", he says, such as meeting targets for the reduction of their greenhouse gas emissions.
In a time where technology has brought data to the forefront, these targets are now more quantifiable and rigorous monitoring makes it possible to see where targets are being met or missed. Carey gives the theoretical example of a 10% reduction in greenhouse gas emissions by 2025. "If the target is achieved, then usually, the interest cost of the loan or bond becomes cheaper (or does not become more expensive)," he explains. "The borrower is motivated to achieve that goal!"
A graduate in history and English from Dundee University, Carey's journey into law began when the engineering company he was interning at was hired by Lovell White & King (one of Hogan Lovells' legacy firms) to provide an expert witness statement. Working with lawyers at the firm and helping draft that statement, Carey realised his interest in law and, after converting to law, secured himself a position within the firm and has been there ever since.
During his time at Hogan Lovells, Carey has seen a shift towards greener approaches to finance. "In 2014, the International Capital Markets Association published their first green bond principles," he explains, "which were an incredibly influential step change". The movement towards responsible investing has really taken off since then, and "the conversations we are having now would have been unheard of in 2014".
Around this time, Carey started to hear about green bonds as the conversation about climate change was reaching the mainstream financial sector. He was quick to identify that this was an important area for the firm to get into. "I found like-minded people around the firm and started working quite closely with some of our pro bono colleagues who were educating us all on things like the sustainable development goals, which at that time were poorly understood (not least by me!)," Carey says.
But sustainable finance isn't just about green targets, he emphasises. "It's a financially sensible area — I see it very much as an area where the people involved are doing well financially, as well as doing well for the planet." Increasingly, client investors are demanding that they invest more sustainably. Companies that genuinely offer a sustainable business are less likely to be boycotted by their customers and they may find recruitment easier because people want to work for those kinds of companies; they should be less prone to scandals and more ready for the shift to net zero.
Carey has a surprising answer to what it takes to be a good finance lawyer. "It's not about numbers," he says. "You don't have to be financially literate. We don't do maths: we do words." A desire and determination to understand how these products work in the real world though is critical, Carey adds.
So, with all his experience, what would he advise people wanting to become financial lawyers? "My advice is to do what I didn't do," he quips. "I've been at the same firm for 32 years — which is brilliant, and I love the firm — but you need to be willing to broaden your horizons and be agile. Whenever you're doing a project or piece of research, think about how that is enhancing you — be ready to talk about it and have it enhance your story."
Andrew Carey will be speaking at 'How law firms help businesses grow sustainably — with Hogan Lovells', a virtual student event taking place tomorrow (Wednesday 19 October). You can apply to attend the event, which is free, now.
About Legal Cheek Careers posts.