How to make partner at a global law firm without working in London
Gareth Saynor on his journey from Nottingham University to partner in CMS's Sheffield corporate team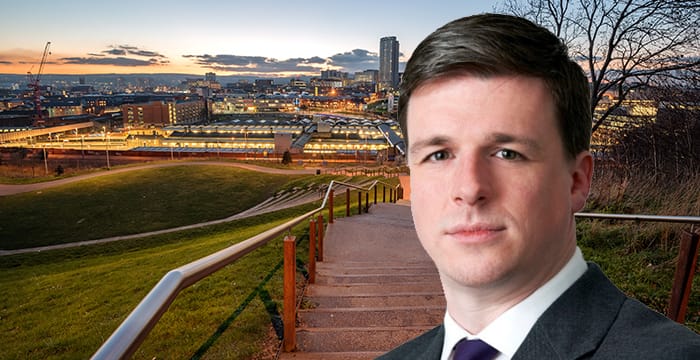 Ahead of 'The growth of international law firms in the UK — with CMS in Sheffield', Legal Cheek Careers caught up with corporate partner Gareth Saynor, who'll be speaking on the panel this evening.
Legal Cheek Careers: You made partner in your mid-30s, which is quite early. What is the secret behind your speedy career progression?
Gareth Saynor: I've not really thought of it that way before now. I'd hoped I'd become a partner, but that was never the be all and end all for me. The aim was always to enjoy my job, feel like I was learning and progressing and to keep taking on new challenges whenever I could. In the end, that's taken me to being a partner: which I'm thoroughly enjoying.
Having graduated from Nottingham University you have always worked outside London. Was that a conscious choice and how has it shaped your career? In particular, what are the advantages of being outside the capital?
It was a conscious choice. I love London, and really enjoy spending time there. But I never felt like it was somewhere I wanted to live myself.
Working outside of London I've still been dealing with high quality work. Over the past five years I've worked as part of teams that have won two national awards for transactions we've completed (one for real estate, one for restructuring). And I've been doing that whilst living in my favourite city.
What drew you to corporate law?
There are a number of things about corporate that make it great fun. You're usually working as part of a team with experts from various disciplines (whether it's tax, accounting, employment, pensions etc), and have to bring all that advice together for the client. The negotiations are interesting, with the ability to put yourself in the shoes of the other side being key to it. And you usually have a small number of big projects on the go at one time, so you can really get your teeth into them and understand them inside out.
What has been the most memorable deal of your career?
Probably the work we did with UK Coal over a number of years, refinancing them in particular as a consequence of the fire at Daw Mill that destroyed over a third of their business. It was a case of very mixed emotions: ultimately it was the end of an industry in the UK, and a lot of jobs lost.
But the only alternative to a gradual, planned, closure was an immediate unplanned one — which would have been catastrophic for the employees and the environment. The legal work needed to get to that planned closure was incredibly complex, and had to be completed in a short timetable.
Why did you choose to study law at undergraduate level, and would you recommend students do an LLB over a non-degree plus GDL?
I chose my degree purely because I thought I wanted to be a lawyer. Seventeen was possibly a young age to be making that sort of decision, but thankfully it has all worked out.
In terms of choosing a degree, I'd recommend picking something that excites and enthuses you. You're going to have a much better time doing it, and get a much better result, if that's how you feel about your degree.
If you want to be a lawyer, having a good degree behind you, that you can talk about with genuine passion and enthusiasm on application forms and in interviews, will be the most important thing. At CMS we have no preference between law/non-law degrees, and I think that's the way most firms view it now.
What innovations do you anticipate changing the legal profession over the years ahead?
I think the two biggest influences of tech will be reducing the importance of location, and dealing with the "churn" work.
The former has really kicked in over the last few years, with clients much less concerned with where their lawyers are located meaning you can work on deals all over the place from an office in Sheffield (or your house in Sheffield).
The latter will see it harder to enter the profession, I think, with AI starting to perform a number of tasks previously performed by junior lawyers. But it will make being a lawyer a more rewarding experience for those who are in the profession.
If you weren't a lawyer, what would you be?
Wishful thinking: an F1 Team Principal (I think I've hit the age where the dream of being behind the wheel has died). More realistically, the other job I've always wanted to do is being a teacher.
Gareth Saynor will be speaking at 'The growth of international law firms in the UK – with CMS in Sheffield' this evening.
About Legal Cheek Careers posts.