Herbert Smith Freehills lawyers share their stories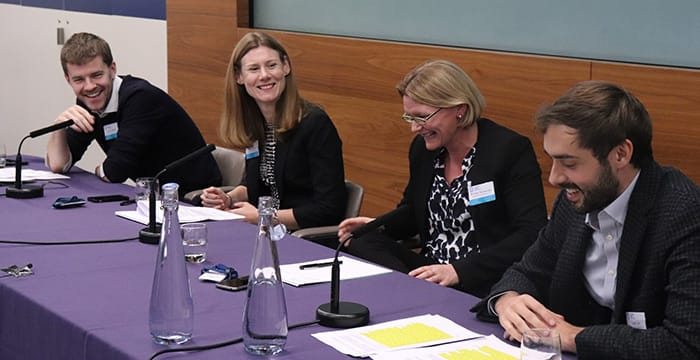 What was the most memorable pro bono case you have worked on? This was the central question posed at Legal Cheek's latest student event, 'How lawyers can make a difference — tackling social issues through partnerships' with Herbert Smith Freehills (HSF) last month. It was an opportunity for the panel of four to share their stories, while also highlighting the vital role pro bono plays in the wider community.
Anna Eliasson, a senior associate in the HSF administrative and public law team, was the first to answer and spoke about assisting the Child Poverty Action Group (CPAG) with a judicial review concerning the government's proposed two child limit for tax and universal credit benefits, which would apply regardless of family size or circumstances. CPAG, a charity that works to support one in four children in poverty in the UK, raised a number of concerns about the impact of the policy on families, particularly single mothers with more than two children. Although the Supreme Court eventually came down on the government's side on the substantive issues, Anna found success in other aspects of the case, in particular how two out of five Supreme Court judges found in favour of the claimants.
Next to share their story was panellist Brooke Massender, HSF's global head of pro bono, who referred to her time with the Shopfront Youth Legal Centre, an Australian legal service which provides free legal assistance for homeless and disadvantaged young people.
In the first two weeks of her six-month secondment, Brooke found herself defending a young person charged with a number of traffic offences. Denying the charges, the client claimed that an ex-flat mate had stolen her identity, using her full name (which was known only to the accused alone) when stopped by police. Brooke set about finding evidence in support of this story and was able to use the client's bank statements to show that she was nowhere near the place where the actual offender had been stopped. In court, Brooke cross-examined a police officer who verified that the person he had pulled over was not her client.
Brooke told the audience of over 70 students:
"Listening to the client is the most underrated corporate skill. You don't have to have all the answers, but you have to be able to ask the right questions — and that's something I've carried with me ever since this case."
Also sharing a pro bono story was panellist Josh Lom, an associate in the firm's tax division, who volunteers as a team leader with the Whitechapel Legal Advice Clinic, another HSF pro bono programme. Josh cited a case where a bride attended the Clinic after her dream wedding was rendered "a complete disaster" by the venue company. However, the company had since gone into liquidation and the unsatisfied client was left with no one to make a claim against. Josh recalled suspecting "foul play" by the company's director, who owned similar businesses which had also recently been closed. After sending some carefully-worded letters informing the director of the serious penalties he could face, a settlement was reached for significantly more than the client paid for the venue.
"The reason I like this story is because we didn't actually do any real magic — all we did was help someone who had a limited understanding of the law, gave them some simple legal advice and wrote them some well-thought-through letters. Yet I don't think she would have been able to achieve the same result without our pro bono support," Josh explained. "I think it's a great example of how little it sometimes takes from lawyers like us to give something quite big to members of the community," he added.
The last to offer his most memorable experience was panellist Andrew Barton, an associate in HSF's pro bono practice. He reflected on the time he helped a young homeless person supported by the charity Centrepoint to clear serious rent arrears by appealing housing benefits decisions made against him. Acting through the Connect Legal Advice Clinic, a HSF collaboration with Centrepoint and Goldman Sachs International, which provides young Centrepoint residents with free and independent legal support, Andrew detailed the extensive period of "back and forth" with the local government on this issue.
Eventually, Andrew was successful in having the clients' benefits fully reinstated and back-paid for the relevant period — amounting to several thousand pounds. With this money the client was able to pay off his rent arrears and pursue his other ambition to secure social housing in the borough, backed by a cleared rental history. Andrew told the audience how the client benefited from the process of receiving pro bono advice not just in the result of the benefits appeal but also through the confidence and self-belief gained through seeing his problems being dealt with by professional, dedicated lawyers.
"Often, just knowing that someone is supporting them can be a real benefit and a real comfort to a client, regardless of the end result of the advice."
You can learn more about HSF's pro bono work by visiting its website.
About Legal Cheek Careers posts.