Ahead of tomorrow's 'How lawyers can make a difference through pro bono and CSR — with Herbert Smith Freehills' event, Andrew Barton talks about his career to date and why it's important for lawyers to give back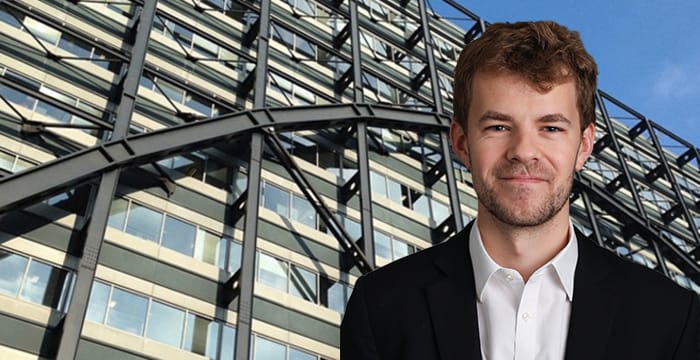 "There is an undoubted impact in terms of skills development," says Andrew Barton, associate, pro bono, at Herbert Smith Freehills (HSF), on the benefits of pro bono. "We've had trainees who come to the firm having worked on death row cases in the US or in Citizens Advice Bureaus in the UK. You see from the outset the confidence it instils, that they can apply the law outside of a classroom, and this is reflected in both their commercial and pro bono work with the firm".
Andrew is one of three lawyers working full-time on pro bono at the HSF London office. The firm takes pro bono seriously; it has partners and associates who act as pro bono champions across the global network and lawyers at every level are involved in volunteer projects. Andrew is responsible for co-ordinating programmes in the UK and Europe, the Middle East and Africa (EMEA), ensuring the framework and resourcing are in place to allow volunteers to have a real impact. As a practising lawyer, he also takes on and supervises casework.
Every year, the pro bono team runs a presentation for new trainees where they ask them why they think the firm does pro bono. "Often the first answer we get is 'because it makes the firm 'look good'! There can be a slight cynicism there which is quickly dispelled once they realise how much pro bono is part of the culture and is regularly carried out in the background, without much fanfare," says Andrew. "It is true that our commercial clients expect us to do this work and increasingly look to collaborate with us on it, which is great. However, the main driving factor is always to serve our pro bono clients as effectively as we can to help them achieve their goals."
The London office's largest and longest running pro bono project is the Whitechapel Legal Advice Clinic, run in collaboration with the Tower Hamlets Citizens Advice Bureau. The firm takes on up to six cases a week, and will rigorously pursue each one to resolution. Trainees and associates advise clients, draft letters and advocate in court on their client's behalf.
The volunteers win cases for people who could not otherwise afford legal advice, securing deposits for tenants, resolving consumer disputes, recovering pay cheques owed by errant employers and helping people in debt or at risk of homelessness. It can be a long battle. One client, for example, came to the clinic in 2015 having been unfairly dismissed by his employer. Trainees and associates represented him in the employment tribunal securing an award of over £18,000, and advised on enforcement for almost three years until the entire award was recently paid. In another case, Andrew and a team worked for over 15 months to secure back payments and write off arrears of housing benefits totalling over £15,000 for a young client at risk of homelessness.
The firm helps a range of charities across its five main pillars: access to justice, human rights, international development, charity advisory and social impact investment. These include the AIRE Centre, which advises on EU law and human rights matters; Beam, a social enterprise helping homeless clients to crowdsource funding for employment training; and the Prisoners' Advice Service, which provides free legal support to prisoners on their rights.
If you think this sounds like interesting work then you're not alone. During last year's round of traineeship interviews, almost every applicant asked about the firm's pro bono programmes. So, how do you get involved as a trainee? How do commercial lawyers balance those long working hours with a pro bono practice? And what was Andrew's route into his current job?
Andrew encourages all lawyers, from trainees to partners, to volunteer for the firm's pro bono opportunities and explains that the work is absolutely compatible with the busy workload of a commercial lawyer.
"All of us in the pro bono team have been commercial lawyers and we understand the pressures of the job. Getting involved in pro bono doesn't have to mean working weekends and late evenings," he says. "There is support here at the highest levels for lawyers to engage with this work as part of their day-to-day; it is a cultural thing and if done right it should be an enjoyable, fulfilling experience."
After graduating in English from Oxford University in 2011, Andrew took time out to work on conservation projects while completing his Graduate Diploma in Law (GDL) and Legal Practice Course (LPC). It was not until he joined the firm as a trainee in 2013, however, that he had his first taste of pro bono work as a volunteer at the Whitechapel clinic. He also worked pro bono during a trainee secondment to Seoul, South Korea, helping to prepare an investor guide to Sierra Leone as part of the firm's Fair Deal for Sierra Leone project. The project was established to help the government of Sierra Leone respond effectively to global investment interest and ensure sustainable growth and development. Andrew qualified in 2015 and worked in the real estate team for 18 months before applying for his current position, which he began in June 2017.
So, what advice does Andrew have for law students who may feel inspired by this article? He tells us:
"There are loads of volunteering opportunities. Most students should be aware of the access to justice crisis in the country at the moment. Cuts to legal aid funding have meant hundreds of providers of advice to those who could not afford to pay have been forced to close. Free legal advice centres and pro bono clinics are regularly overwhelmed so volunteering with these or a university pro bono clinic to help with triaging cases, signposting or offering basic advice are great options. As well as helping others, which is rewarding in itself, it teaches you how to apply the law in practice which can differentiate an applicant from others during the interview rounds."
You can learn more about HSF's pro bono work by visiting its website.
Andrew Barton will be speaking alongside other Herbert Smith Freehills lawyers at tomorrow's 'How lawyers can make a difference — tackling social issues through partnerships' student event. Apply for one of the last few places to attend.
About Legal Cheek Careers posts.