Top tips and advice from the experts at QLTS School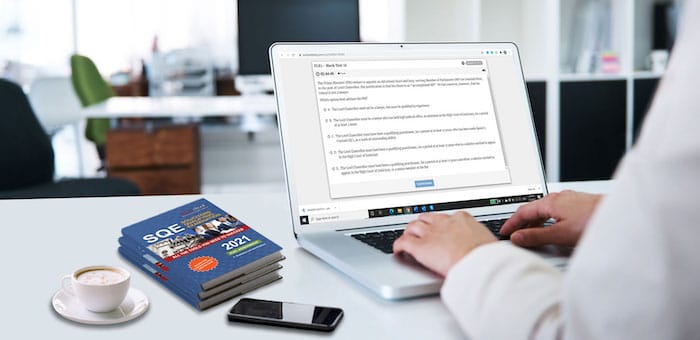 The importance of timing and planning your preparation
With the imminent implementation of the Solicitors Qualifying Examination (SQE) assessments in 2021, aspiring solicitors who wish to qualify in England and Wales will no doubt have some questions about this new qualification and, crucially, how much time, planning and preparation will be necessary to achieve success.
Of course this will, to a great extent, depend on your current experience of English law, your legal background and your own personal circumstances since these factors will dictate what you will need to do to achieve the study goals you have in mind. So, let's have a look at the SQE and the approach you will need to adopt.
The new SQE assessments are significantly modelled on the Qualified Lawyers Transfer Scheme (QLTS) assessments in that they both have a very similar structure, format and style. As such, there is a clear advantage in preparing for the SQE exams with an established QLTS training provider that has a proven track record of successful candidates.
Based on the vast previous experience of QLTS School, and taking into account the various factors outlined above, QLTS School experts would suggest that between 9 and 12 months is a realistic timeframe in which to fully prepare for the two stages of the SQE assessments.
For SQE1, as a general rule, candidates should expect to devote 15 to 20 hours of study a week for five to six months. However personal circumstances may merit a candidate choosing to spread the study time over a longer period of, say, 12 to 18 months.
For SQE2, a candidate should study for between 15 and 20 hours a week for anywhere between three to four months, where others may need up to eight months, again depending on their personal circumstances. Candidates with no legal background may need a few more months to prepare for each stage of the assessments.
Being fully prepared for the SQE assessments does, therefore, involve a serious commitment on the part of the candidate in terms of both time and effort.
The total cost to sit the SQE1 and SQE2 assessments is £3,980 which is comprised of £1,558 for SQE1 and £2,422 for SQE2. These are the examination fees only and do not cover any re-sit costs should a candidate fail one of the assessments. If this is the case, a candidate may only attempt either SQE exam three times within a period of six years.
With this in mind, clearly it is in a candidate's best interest to be fully prepared in order to achieve success in both examinations at the first attempt.
How to achieve success in the SQE assessments
The scope of the syllabus that will be assessed by the SQE is very wide and covers English law almost in its entirety and is similar to the content being delivered over several years at UK universities for students looking to gain either a LLB degree or Graduate Diploma in Law (GDL), plus the content which is taught in the Legal Practice Course (LPC).

In addition, during the SQE assessments, candidates will be tested on legal skills that are acquired through significant experience and consistent practice in the legal sector at a practical level together with a solid grounding in the theoretical aspect.
QLTS School can help candidates to confidently prepare for the SQE assessments with the utilisation of a wide range of study materials which includes textbooks, practice questions, digital flash cards, video tutorials, mock exams, online resources, and, of course, tutor support.
Outlined below are the various stages of the preparation for each part of the SQE, as well as study aids provided for each stage of both the SQE assessments with links to some samples of the course materials offered by QLTS School for your evaluation.
Preparing for SQE1
SQE1 tests the Functioning Legal Knowledge (FLK) in two multiple choice tests of 180 questions each. In the first stage of the preparation for SQE1, QLTS School will help candidates to understand the format and style of the multiple choice questions and how best to approach these, as well as providing the following study aids:
• Course Handbook
• SQE1 exam day resources
The second stage of the preparation for SQE1 involves the study of substantive and procedural law and candidates will be assisted in their study of this by the provision of the following aids:
• 18 textbooks with over 3,000 pages whose content covers the complete SRA syllabus and which has been written specifically for SQE1.
• Over 5,000 digital flash cards, each featuring brief questions and answers on all the topics covered by SQE1, organised into the various areas of practice which align to the syllabus. These cards help candidates to reinforce learning and fully comprehend the technical elements of the law.
• Revision notes featuring about 500 pages of concisely written content that summarises the key points of each subject's main legal principles.
The third stage of the SQE1 preparation requires candidates to gain and develop a deeper understanding of the subject areas covered by this assessment which the following study materials will enable:
• The SQE Question Bank featuring over 2,500 multiple choice questions that cover a comprehensive range of topics and the legal knowledge necessary to achieve each practice objective. Every question offers five possible answers together with a fact pattern and an explanation as to how the correct answer can be arrived at and why the remaining four answers are incorrect.
• The SQE Video Library contains over 200 video tutorials covering more than 60 hours of lectures and therefore offers a broad outline of the complete syllabus whilst also focusing on more specific topics enabling the syllabus to be comprehensively considered.
The fourth and final stage of the preparation for SQE1 requires candidates to apply the law to realistic fact patterns and preparation for this is enabled by the provision of:
• 30 mock tests featuring 90 questions each for both FLK 1 and FLK 2 thus allowing candidates to test their progress by attempting realistic test questions within a given time limit in a similar format to the actual SQE1 assessment.
Should the law change at any time throughout a candidate's period of study, then the course materials will be updated. This ensures that, whenever a candidate chooses to sit the SQE assessments, they will have studied the most recent and up-to-date content.
Check out this playlist which provides SQE1 sample questions with suggested solutions:
Preparing for SQE2
SQE2 is an assessment of a candidate's practical legal skills which is divided into two parts. The first part involves an oral examination testing interviewing and advocacy skills and the second part tests a candidate's written skills on legal drafting, legal research, legal writing and case and matter analysis.
Therefore, to succeed in passing SQE2, a candidate will be involved in simulated interactions between solicitors and clients, court scenarios, the preparation of legal reports and advice and the review of files. In the SQE2, law and skills are weighted equally thus it is essential to study and know the law rather than simply focus on the legal skills.

The first stage of preparing for SQE2 ensures that a candidate fully understands the format and structure of the assessment by the provision of:
• Course Handbook
• SQE2 exam day resources
The second stage of the SQE2 preparation requires a candidate to study substantive and procedural law which will be facilitated by the provision of:
• Practice area summaries featuring 200 pages that encapsulate the essentials elements of law with each practice area divided into separate sections that deal with the main subjects that the assessment tests.
• Over 2,500 digital flash cards, each featuring brief questions and answers on all the topics relating to the law covered by the SQE2 syllabus.
• The SQE Video Library contains over 80 video tutorials covering more than 20 hours of lectures relating to law which are disseminated into smaller topic areas covering certain parts of the syllabus in more depth.
The third stage of the preparation for SQE2 requires candidate to learn and understand six particular skills and to facilitate this, the following study aids are provided:
• Practice questions that cover the practice areas featured in the syllabus which are based on multiple exercises applied to a case study or scenario that relates to that specific practice area. As a further aid, the questions are accompanied by the various document and forms that a candidate may encounter during the formal examination, for example witness statements, letters of claim, bail applications, probate applications, wills, property purchase deeds and so forth.
• SQE Skills Online is an interactive facility featuring over 60 exercises together with a 130-page textbook. These are complemented with video and audio material that deal with aspects of legal drafting and writing, advocacy, interviewing, advising, legal research and case and matter analysis.
• Legal Skills Video Workshops feature over 100 videos including role-play scenarios that focus on interviewing and advocacy together with content presented by a law tutor that covers legal writing and offers guidance on the drafting of the most common legal documents.
The fourth and final stage of SQE2 preparation involves the candidate in developing and practising their legal skills which is facilitated by the provision of:
• 250 mock exams covering each of the five legal practice areas and the six skills. These mock exams will enable a candidate to strengthen their legal knowledge and perfect their practical skills. Samples of various mock exams can be accessed for further evaluation:
o Dispute Resolution — Advocacy
o Wills and the Administration of Estates — Legal Drafting
o Criminal Litigation — Legal Writing
• Mock practice stations provide the opportunity for candidates to partake in one-to-one online client interviewing and advocacy scenarios with an experienced tutor who will also offer personal feedback aligned with the SRA Marking and Moderating Policy as well as Kaplan's standards.
• English writing exercises which will enable candidates to practise their skills in producing relevant, clear and accurate written English of an acceptable standard.
As you can now see, taking into account the exam fees and the potential delay to the progress of your legal career, it would be unwise to attempt to sit either SQE1 or SQE2 without being fully prepared.
QLTS School's preparation courses for the SQE exams reflect the SQE Assessment Specification of the SRA and are based on a decade of experience in teaching foreign lawyers for the QLTS exams. This ensures that you will be equipped with all the tools necessary to achieve success in the SQE exams.
For more information, visit the QLTS School website, request a free consultation or get access to free SQE sample materials.

About Legal Cheek Careers posts.