Ahead of Legal Cheek's 'How to make it as a City lawyer' in London on 4 July, Mayer Brown junior lawyer Emma Sturt discusses her spells on secondments at Citibank and Wells Fargo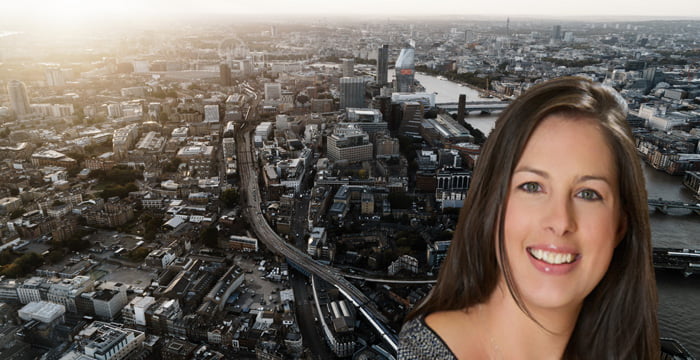 Though qualified for just 22 months, Mayer Brown solicitor Emma Sturt has spent a total of a year on client secondments: six months during her training contract, and six months in her second year of post-qualification experience.
Mayer Brown runs a coveted client secondment programme, which recently won a gong at the Legal Cheek Awards. Three quarters of aspiring lawyers at the firm go on client secondment during their training contract at major organisations such as: Thomson Reuters, Unilever and Deutsche Bank.
Unlike at other firms where client secondments are competitive and chances of getting onto one are slim, Mayer Brown encourages all its trainees to complete one. In Sturt's words, "it's expected at Mayer Brown that trainees will do a client secondment. It's not a case of applying, writing a cover letter or anything like that. You just pop down your preferences".
The firm prefers its trainees to have had some experience in the practice area relevant to their secondment. This is why Sturt, who completed a finance seat and really enjoyed it, was a good fit for a six-month stint at Wells Fargo, a multinational financial services company.
It wasn't long before Sturt, whose first seat had been in tax and her final seat in construction & engineering, was working alongside lawyers and paralegals at Wells Fargo's London office.
On secondment, she reviewed NDAs and sat on various meetings including a board meeting, plus did some deal work. Durham University graduate Sturt also spent one day a week in Wells Fargo's real estate team in Covent Garden, where she worked alongside a secondee from Clifford Chance.
Sturt's training contract was typical in that she completed her secondment in her third seat, as trainees' first and fourth seats are usually spent at the firm. But, should aspiring lawyers be encouraged to work away from the firm during such a pivotal point in their legal career, their training contract, at all? Sturt thinks:
"Doing a client secondment in my training contract was a great opportunity to learn how business works, so you don't find yourself stuck in the vacuum of a law firm. I learnt a lot about how a bank works from the inside and what they like to see when dealing with legal counsel, and it was also a great networking opportunity. That's why I'd recommend doing a client secondment, rather than for the advancement of legal knowledge."
For students currently seeking training contracts, Sturt recommends you bear in mind what client secondment opportunities the firms you're applying to offer; not only do secondments enhance your training, Sturt says, but also a strong offering shows the firm is well-connected.
Sturt qualified in 2016 into Mayer Brown's banking & finance team, and before long she found herself out on secondment again.
"A partner knocked on my door one day and said: 'Emma, you're going on secondment,'" she recalls, "one month later, I was happily installed at the Citibank offices in Canary Wharf."
Sturt, who was a civil engineer for six years before converting to law, took on more challenging work in her second secondment than her first. She sat primarily with the business team, working alongside them on transactions, assisting and advising from a legal standpoint and getting involved in the structuring of deals, whilst keeping in close communication with legal counsel. She also learnt a lot about real estate finance at Citibank, an area of law she was previously inexperienced in.
Sturt has been back from Citibank for just a few months, but says she'd "definitely be up for doing another secondment in the future". In the meantime, she will be speaking at Legal Cheek's 'How to make it as a City lawyer' event at BPP University Law School on 4 July. In advance of this, we asked Sturt what her killer piece of advice for training contract seekers is, to which she replied:
"Keep your options open. I came from an engineering background and was seeking out training opportunities in construction teams, but when I got to Mayer Brown I really enjoyed my second seat in finance, and it's this department into which I qualified. Don't get too fixated on one area of law or one team, as you never really know what's around the corner and what you might enjoy more."
Emma Sturt will be speaking at Legal Cheek's 'How to make it as a City lawyer' event at BPP University Law School in London on 4 July, alongside lawyers from Baker McKenzie and Hogan Lovells. Apply to attend.