Ahead of Secrets to Success Leeds (lawtech special) in Leeds, ULTRA Project Director and The University of Law (ULaw) senior tutor, Patrick Grant, talks to Legal Cheek Careers about the rise of technology in the legal profession and what it means for future lawyers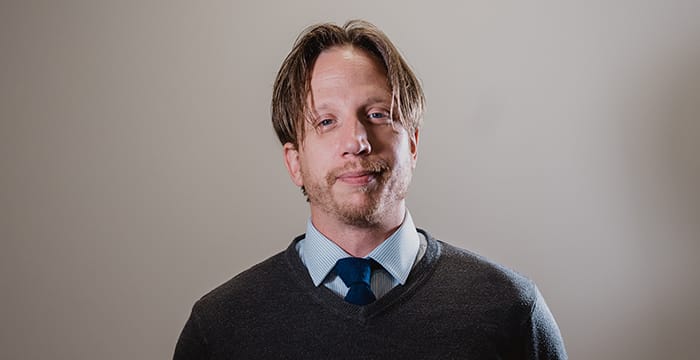 "One of the first things we introduced was a series of workshops and talks on 21st Century legal skills," says Patrick Grant, on setting up ULaw's Technology Research Academy (ULTRA) two years ago. ULTRA now has three legal innovation hubs, at ULaw's Nottingham, London Moorgate and Leeds campuses.
"For example, we ran a sales workshop. The leader asked for a show of hands — 'who here thinks they will have to do sales as a lawyer?' Not one person put up their hand. But sales are an important part of the job," says Grant.
He continues: "In another workshop, students looked at digital brand building and the importance of building your own personal brand. Writing a blog or making vlogs and podcasts can help students to raise their profile. It definitely marks them out from their colleagues and allows them to raise their head above the parapet. It is very helpful if law students have knowledge of sales and marketing and project management — many lawyers have to manage projects from start to finish — and we can give them at least a decent basic knowledge in these areas."
Grant, who is ULTRA's project director for the northern campuses, and a senior tutor, worked as a solicitor in criminal law before gaining experience as a visiting lecturer at the University of Málaga, teaching mooting, advocacy and the English court system. There, he not only fell in love with teaching but became "fascinated by legal technologies and the opportunities they presented", after reading lawyer, thinker and professor Richard Susskind's books on the future of law and legal services. Susskind predicted the rise in commoditisation of law, or packaged legal services, and how increasingly sophisticated artificial intelligence (AI) tools will change the way lawyers work, making them designers of systems and processes rather than face-to-face advisors.
Grant joined ULaw in 2017 and worked with the team on the launch of ULTRA. The idea behind it was "to promote learning about technology, which has dramatically changed the way customers buy legal services and the way people do business in general". He believes ULaw students need to understand how the legal market is evolving as well as knowing the law itself and how to apply it. He emphasises that there is more to the market for legal services than just the top law firms. There are high street firms, the Big Four accountancy firms who now offer legal services, and there are online services. For example, Rocket Lawyer, which offers basic will-writing services and contracts and documents online (although people with complicated circumstances, for example, multiple marriages, step children or property abroad may be better advised to consult a solicitor).
There are now more career possibilities for students than being a solicitor or barrister — they could, for example, become a legal engineer or legal technologist. Lawyers with technology knowledge can sit between the two skillsets and act as translator. ULTRA will be running workshops on mapping the customer journey as it is essential to understand each step of the client's journey before the process can be automated — when buying a legal service.
In February, ULTRA is launching a 'coding club' at the Leeds campus, where students can do a four-hour course to gain certification in computer programming. This will give them a basic understanding of coding as well as something to show potential employers. In all these technological advances, however, Grant emphasises that "ethics are vital". He continues:
"New entrants to the market mean that the 'legal industry' is growing around the traditional legal profession. As it expands, it is vital that the legal industry and lawyers are trusted. It may be difficult for customers to differentiate between services that are run by lawyers and those that aren't, so we must be very careful not to undermine that trust."
Grant wants students to be familiar with business parlance — words such as 'seeding', 'start-ups' and 'crowdfunding' and the new ways that businesses are operated. Ultimately, clients shape the way lawyers work. Lawyers need to have a good understanding of their client's business, the way they run their business, and their expectations. In this regard, the current crop of students has a head start since they have grown up with social media, smartphones, online banking and instant transactions.
Grant thinks they also have strong communication skills and different expectations as a result. He is hopeful that they will bring these skills and be innovators when they become trainees. By using technology they will be well placed to find ways to improve access to justice, delivering legal help to people who otherwise wouldn't be able to afford a lawyer.
"The way we do business will inevitably change but we will always need lawyers," says Grant. "People will always need advice. Likewise, smaller law firms will not disappear, although they certainly face challenges and some of their services can be undercut."
Lawyers and legal tech experts from Addleshaw Goddard, Konexo (an Eversheds Sutherland company), Pinsent Masons and The University of Law, will be speaking at next week's 'Secrets to Success' event, a lawtech special edition of our popular student careers and commercial awareness events series, in Leeds. You can apply to attend the event, which is free, now.
About Legal Cheek Careers posts.