Ahead of tonight's lawtech special edition of our 'Secrets to Success' student events series with The University of Law, Simon George, associate professor and director of ULTRA, the ULaw Technology Research Academy, highlights why it's important for wannabe solicitors to engage with tech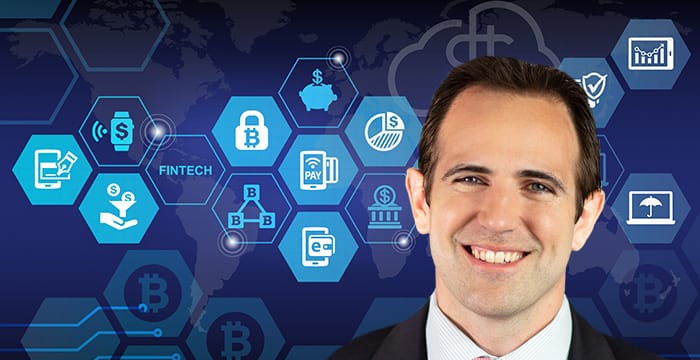 Three years ago, ULaw, one of the largest providers of legal education, forecast that legal technology will be central to the university curriculum. During that time, and in anticipation of the change ahead, ULTRA, the ULaw Technology Research Academy (named after the cutting-edge code used to crack German encryptions during the second world war), was formed.
Fast-forward to 2019 and a team of six now form the body of ULTRA. Together they have developed a number of tech-focused courses which have been rolled out across the university's 'tech hub' centres in Nottingham, Leeds and London Moorgate.
"We spent a lot of time researching legal technology, and in particular, its use within law firms. We then sought how best to teach students and incorporate legal tech into our course offering to equip them for the brave new world," explains Simon George, an associate professor at ULaw who heads the research team.
Prior to ULaw, George studied law at the University of Oxford, and completed his solicitor training at the College of Law (now the University of Law) in Guildford. He trained and qualified in banking and finance at Pinsent Masons in Manchester. "I became a transactional lawyer because I enjoyed the collaborative nature: parties to a transaction begin with the same goal, to reach a favourable deal. By contrast, parties enter litigation with opposing objectives where one eventually wins and one loses," explains George, who left legal practice after almost five years.
In a rather unexpected turn of events his then boss, the managing partner at Pinsent Masons, and with whom he shared an office, was found guilty of stabbing his wife with a kitchen knife more times than the coroner could count. The story sent shockwaves around the profession and made George think deeply about his future career. He eventually made the decision to go into teaching and hasn't looked back since.
He's spent 13 years at ULaw, teaching banking and company law to Legal Practice Course (LPC) students and was the LPC course leader for three magic circle firms: Linklaters, Allen & Overy and Clifford Chance. He's also gearing up for the Solicitors Qualifying Examination (SQE) when it comes into play in 2021. He says:
"The new regime will enable far greater scope to embed technology into graduate programmes. Rather than take a module on advocacy or solicitors' accounts they won't necessarily need in practice — those who wind up at large law firms will never see the firm's accounts — students are being rid of antiquated learning to channel more exciting innovative modules such as project management."
So, George has seen thousands of law students enter top-rate training contracts over the years: how would he advise our readers do the same? "In today's world it's absolutely imperative students embrace tech, and if they aren't, they're likely entering the wrong profession," he warns. "They might not ever have to code or program a piece of software but students should understand how these things work and take an interest in basic legal tech concepts — that's not necessarily through a week-long coding course — what's more important is your level of understanding and ability to then communicate with the legal technologists increasingly employed by law firms you'll no doubt come across."
ULaw's tech-infused courses will surely whet the appetites of students with an aptitude for tech. Every course at the university, from the undergraduate law degree to its Graduate Diploma in Law (GDL) and LPC, offers students some level of insight into law and technology. On the LPC, for example, students take a structured approach and are guided through tutor-led workshops based on designated reading and are examined on reports they have to research and write. This year they launched an MSc in Legal Technology and next year they will launch an LLB in Legal Innovation and Technology.
For students currently enduring revision for end-of-year examinations, George shares this titbit on forming good study habits:
"Students tend to fall into one of two broad categories: crammers or perfectionists. The crammers often leave things until the last minute while perfectionists struggle to prioritise their workload. Find someone who works in the opposite way to you and ask for their advice so that you both reach a happy medium."
About Legal Cheek Careers posts.