Over 200 students headed to Linklaters' Silk Street office to find out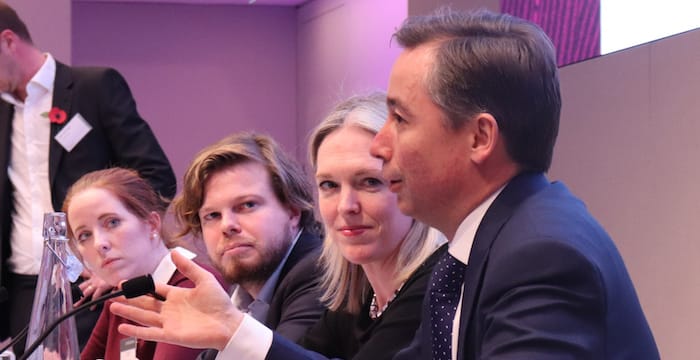 As Brexit negotiations continue to dominate headlines, for students seeking to enter the legal profession at this time of change, what does it all mean? At Legal Cheek's latest student event, leading Linklaters lawyers from a range of practice areas came together at the firm's London headquarters to offer their take on Brexit and discuss the opportunities and challenges it presents for the next gen of lawyers.
Brexit shmexit?
The immediate and most pressing question is what kind of deal the UK will get post-Brexit. In our recent survey, over 800 Legal Cheek readers were asked which version of Brexit they were in support of. Seventy-one percent of respondents voted to remain in the European Union (EU), while a Canada-style deal received the support of 12% surveyed. A hard Brexit on WTO rules got 9%, a Norway-style departure 6% and the Chequers deal just 2%. The overwhelming majority of those surveyed were in favour of no Brexit at all. Is a second referendum a realistic option? The panel was asked.
Trainee solicitor Imogen Ormerod understood the sentiment behind the findings but pointed to the short time frame — Brexit Day falls on 29 March next year, it's less than five months away. She continued:
"Realistically, we'd have to put various administrative procedures in place and these take time. In order for us to withdraw our application there'd need to be a change in government policy or a change of government and there doesn't seem to be an expectation or any planning for either a second referendum or general election at the moment."
She added:
"The alternative would be requesting an extension, but that would require the agreement of the other 27 member states which again takes time and with Christmas in the middle — it's looking unlikely."
The only thing certain is more uncertainty
Whether we end up with Chequers, CanadaPlus, Norway-style or even a second referendum, the only certainty is that there will be more uncertainty. How then are Links' lawyers grappling with the uncertainty? "There are lots of things that cause change to our clients — Brexit just being one example," said partner and global co-head of fintech Finn Griggs. "It's down to us to use our skills and expertise to find more certainty in what is an uncertain period for them."
How might they go about doing this? Keeping up to speed on developments (this is a fast-moving area) and ensuring that they're on top of their clients' main concerns is one approach, and the firm has invested in a global Brexit response team. Another is to think of all the possible outcomes to a particular Brexit-scenario and help clients plan for them. "It's about making sure that clients are making informed choices on the options available," said Peter Bevan, partner and global practice head of the Financial Regulation Group.
Opportunity or threat? Brexit and the legal sector
Brexit is seen as a golden opportunity for the UK to regain its position in global trade and leverage its dealings with the US and China. Though international trade associate Samuel Coldicutt recognised that there were opportunities, he also thought they should be honestly compared with losses arising from leaving the EU. He explained:
"Even if we were to sign a trade agreement with everyone in the world apart from the EU, it still wouldn't quite plug the gap for leaving. There are, however, countries willing to have free trade agreements with us and it's likely that we'll be more nimble than the EU in creating those agreements simply because we don't have to manage a mandate for 28 countries and can be more selective about what we want."
For Bevan, who advises the firm's financial institution clients on their preparations for the EU withdrawal, "Brexit is a regulatory change programme". He explained that, at the moment, the City of London is THE financier of European business, but post-Brexit when the regulation changes, we will need to find an alternative point of entry. This will involve incorporating a regulated financial institution into another EU country, but that's only one element.
"What will that mean in terms of people and where they need to be located? In terms of systems and where they need to be built and operated? and in terms of capital and where it needs to be available and deployed?" questioned Bevan. Well, he went on to explain that clients the firm is working with in this sector are seeking to introduce an operating model (similar to today's) to minimise disruption to the three areas he alluded to. The aim is to ensure clients "keep their people, systems and capital where they already are — which often is in London," Bevan added.
But these new models remain vulnerable to future change. "There will be a day one answer to the impact on financial services and a day two impact. If the day one impact is uncertain, the day two impact will be more uncertain as we wait to see how matters evolve," continued Bevan. However, one thing is certain. "Producing new models means more complexity which generally means more work for lawyers," he said, "so it's not a bad idea for a career choice."
London is well-regarded globally as a legal centre. As the shadow of Brexit looms, should it fear losing out to competing jurisdictions, particularly those within the EU? Magic circle law firm Linklaters operates on a global scale and has a string of offices in a number of jurisdictions and is well-placed to establish a foothold in thriving economies such as Frankfurt.
But London is a very resilient economy and it's likely to withstand upheaval, said Ormerod, who pointed to legal certainty in English law, the benefits of English language as a common tongue and the fact that our working day spans both the Asian and American market. Coldicutt agreed: "As a trainee during my banking seat, I'd see transactions which would have absolutely nothing to do with England but they were governed under English law. It's a well-regarded and trusted centre for dispute resolution."
The all-important application process
Most training contract interviews involve testing candidates on their commercial awareness. With Brexit being the topic du jour, the question on most training contract seekers' minds is whether they should discuss Brexit in their applications or steer clear of the widely-discussed matter for fear that doing so will not make them stand out? Griggs, one of the firm's graduate recruitment partners, shared her perspective:
"If Brexit interests you and you can talk about it in the interview then bring it up in the application form by all means. I'm always fascinated by the different perspectives I read from our applicants… but don't feel that you have to just to tick a box."
Ormerod, who started her training contract last September, recalled being interviewed around the time of the referendum. She deliberately chose not to discuss Brexit in her application because she was "keen to stand out rather than blend in". The feedback she received was that it was "refreshing" to not be talking about Brexit!
So what skills do those seeking to enter the legal profession need at this time of change? Bevan stressed the importance of flexibility and adaptability, while Griggs advised students keep an open mind. Right now talk surrounds Brexit but Griggs said that will change as soon as the next big thing arises. "I've been at Linklaters for almost 12 years and during that time, I have moved around the firm and focused on different sectors and practice areas depending on client need. It's important then to keep an open mind and be able to adapt to change," she explained.
Since this event took place, the government has published a draft withdrawal agreement.
About Legal Cheek Careers posts.