Legal Cheek Manchester Met campus ambassador May Alavi found the bar to be different in some crucial respects to popular stereotypes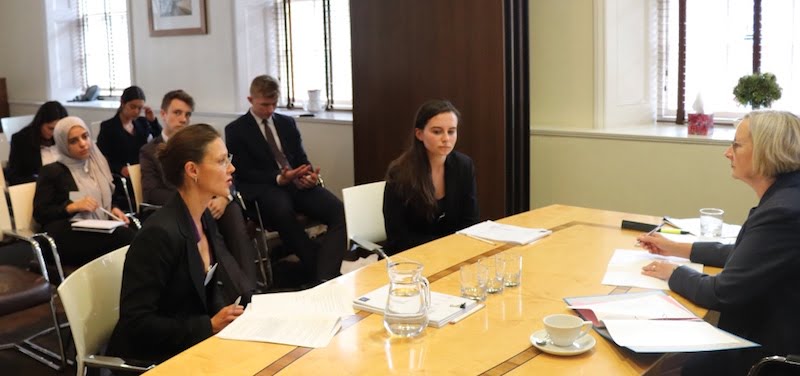 Kings Chambers successfully held a three-day long mini-pupillage fair last week. It was a very different approach compared to the traditional mini-pupillages offered at most chambers, which tend to be based on shadowing. This format involved short talks, court visits and interactive advocacy workshops. I attended for one day out of the three to cover the fair for Legal Cheek.
Areas of law
Kings Chambers has a wide practice. Over the three days the set's barristers gave talks about what it's like to specialise in employment, sports law, health & social care, personal injury & clinical negligence, public law, construction, international, Chancery, commercial, insolvency and planning. There were also talks about arbitration, and litigation funding & costs.
I attended the middle day of the fair, on Thursday, and heard from barrister Kelly Pennifer, who challenged some students' perception that construction is a "dry" area of law, and told the audience of approximately 25 law students about some of the complex and high value cases she had worked on.
Following on was Johnny Ward, who talked about what it was like to work on international cases — a common theme on the large constructions cases that Kings handles. Many of these cases, explained Pennifer and Ward's colleague, Andrew Singer QC, are handled not in the courtroom but through arbitration, which Singer defined as a "parallel form of dispute resolution to litigation".
Andrew Latimer concluded the practice area talks with a session about chancery and commercial law. The company disputes, shareholder disputes, and torts arising from commercial matters that he described felt a long way from the popular perception of bewigged barristers prosecuting and defending in criminal trials.
A visit to the Manchester Civil Justice Centre
For the second activity of the day, we were given the opportunity to visit Manchester Civil Justice Centre. Having gone through security at the entrance, including some quite intimidating metal detectors, you enter into this beautifully crafted building that looks very much like a modern art gallery. There is a lot of open space, along with high ceilings. The building hosts thirteen floors along with some airport-like seating areas outside the court rooms on each floor. In a group of five, we were allowed to attend a hearing and watch a case being heard. There are many cases such as the one we attended that are open to the public, therefore, I would definitely recommend dropping by and experiencing what almost feels like being in an episode of Suits.
A taste of advocacy
This session was my personal favourite. The format was like a speeded up moot, with ten minutes to prepare submissions on the basis of previously unseen handouts. The submissions were then made to Lesley Anderson QC, who played the role of judge. Afterwards there was some very helpful feedback, as Anderson revealed the main factors that make a good advocate. High up the list was persuasiveness, clarity of thought and clear delivery. One of her main pieces of advice was for the advocate to structure submissions and make it easy for the judge to follow them — for example, by adding signposts such as: "I am now moving on to the most important part of the case". Other barristers were also on hand to provide advice. Key tips were to avoid dramatic hand gestures, and to "practice, practice and practice!"
Life as a pupil barrister
This session was led by Kings Chambers' pupil barristers, and older members of the set deliberately didn't attend so that they felt comfortable to be totally open with the students. One of the major themes to come through was how much they enjoyed the freedom and independence of the bar. Pupil barrister including Piers Riley-Smith also talked about how they had steadily built up to doing more challenging cases, with a lot of support from senior members of chambers. It was good to hear from practitioners who clearly remembered what it was like to be a student, and listen to how they were making the transition from aspiring lawyer to actual lawyer.
Clerks
We received talks from two of Kings' three chief clerks: William Brown and Gary Young. They explained how clerks are the middle-men (and women) connecting the chambers to the clients and the solicitors to the barristers. With barristers focusing on the cases, they tend not to be able to make these connections themselves, and so are reliant on the clerks for work. Brown referred to the clerks' room at Kings as the set's "engine room". Listening to Brown and Young you got an insight into the bigger picture of how the commercial legal world functions.
Manchester v London
An important thing I picked up during the day was the difference between how pupillage in Manchester can be quite different to London. In Manchester, and other major cities outside the capital, the barristers explained that pupils and junior barristers typically spend more time in court — "at least three times a week" at Kings Chambers. In London, they said it's more common to be placed in larger groups of pupils who are focused to a greater extent on paperwork and research for the more senior members of chambers. Gaining advocacy experience can be harder. The challenge of getting taken on as a tenant at the end of pupillage can also be more challenging in London — where some chambers follow a tradition of recruiting several pupils to compete against each other for a single full-time place in chambers. This rarely happens in Manchester.
In conclusion, it was an extremely useful day, and as I prepare to enter the second year of my law degree I feel much better informed about what it means to be a barrister.