Ahead of the 6 January application deadline for Clyde & Co's vacation scheme, Legal Cheek Careers spoke with Eleanor Hassall, fresh from her time on the firm's Bright Futures Programme. She reveals what she learned and shares those all-important application tips.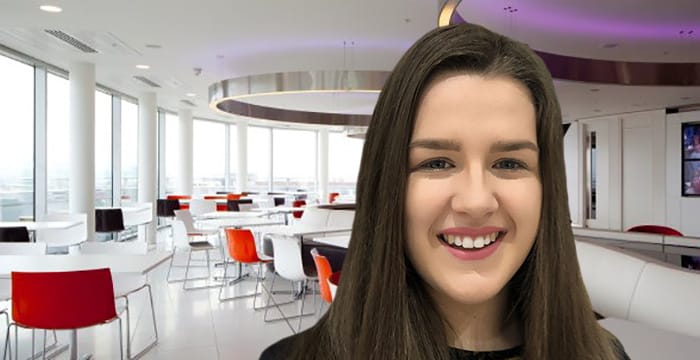 Immerse yourself in practical experience
Clyde & Co designed the Bright Futures Programme to "echo the day to day work a trainee" would do, Eleanor tells us. She was placed in the Professional and Financial Disputes (PFD) group, and found herself "on client calls, attending meetings and doing substantive precedent research on Westlaw." Having never used Westlaw before, Eleanor got used to "learning on the job" — like most trainees and junior lawyers. She benefited from a "supervisor [who] explained it all to me."
As Eleanor advises: "You can learn a lot by being in the office and getting involved." Emphasising how seriously Clyde & Co takes professional development, Eleanor also went to a disputes resolution workshop where fee earners from all levels of the firms were in attendance.
Reflecting Clyde & Co's prominent litigation practice, others on the scheme found themselves attending court hearings. Away from the desk, the firm offered numerous "networking drinks, lunchtime commercial awareness sessions and other educational opportunities."
Everyone is there to support you
A trainee in the professional and financial disputes (PFD) group was assigned to be Eleanor's buddy, acting as a helpful point of contact for any queries she had during and after the week. This exemplifies one of the significant benefits of the programme. Engagement goes well beyond the week itself. The cohort will return to the firm for days in March, June and September next year, providing more vital networking opportunities. Furthermore, Clyde & Co is keen to fast-track these students into a vacation scheme assessment centre, an opportunity the Warwick University student intends to seize wholeheartedly.
In addition to this, Eleanor was able to grab coffee with Clyde & Co partner Sarah Clover and "speak for over an hour about life at the firm and how to progress in the industry."
You don't need a law degree to be a lawyer
Like most City firms, Clyde & Co's trainee intake is split equally between law and non-law students. However, non-law students are often reluctant to sign up for these schemes fearing they lack the legal knowledge necessary to succeed. Such candidates end up doing themselves a disservice, omitting the different talents and qualities that are just as valuable. Eleanor, who is in the second year of a Spanish and History degree at Warwick University, cites an example where she was tasked with "researching corporate structures on Panama's version of Companies House." Since this information was only published in Spanish, it gave her the opportunity to use her language skills to impress!
Start early
Even though she may only be half way through a four-year degree, Eleanor has already built up an impressive resumé of legal and non-legal experience. Before commencing her undergraduate degree, the Chester native had already spent a year working in-house as a legal assistant at Iceland Foods. During this time, she worked on everything from alcohol licensing to insurance claims and the GDPR. While in her first year at Warwick University she attended numerous open days at a plethora of City law firms, giving her a real understanding of the nuances between them. She advises: "It's never too early to start looking."
Choose carefully
Students often make the mistake of firing off many near-identical applications to different law firms. But candidates have a much higher chance of success by picking firms whose values, outlook and interests align with their own. For Eleanor, Clyde & Co was a perfect fit. She knew she wanted to "work on the best cases for the biggest clients."
The politics and international relations student also has a keen interest in the impact of the rapidly changing geopolitical landscape. Clyde & Co has historically been a shipping and insurance focused law firm; indeed, its London HQ is in the same EC3 postcode as numerous brokers and underwriters. However, Clyde & Co has reinvented itself into a global full-service megafirm and has successfully cracked the lucrative US legal market. This international ambition was particularly attractive to Eleanor, and she tells us that "every case [she worked on] had an international impact."
She was also attracted by "the friendly reputation of the firm". Indeed, the firm scored an A* for partner approachability in Legal Cheek's Trainee and Junior Lawyer Survey 2018-19.
Pay attention to applications
The subtle differences between application forms should also give aspiring lawyers a guide as to what each firm is looking for. For example, Clyde & Co caps the number of work experience examples that can be included to four; something which Eleanor described as forcing her to "incredibly selective" about the examples she chose. "It was important to show how my experience was directly relevant to the firm and its' work," she says.
Whether it was drawing upon her experience working at Iceland that kindled her interest in insurance law, recognising from her time in-house that clients are after a business solution, or balancing two full-time jobs during her gap year, Eleanor was able to show the commercial awareness and work ethic that top firms are after. As a final tip, when seeking to demonstrate competencies in an interview, Eleanor encourages university students to draw upon their extra-curriculars: "You'll be surprised how many competencies you can display being on the management committee of a society," she says.
Applications for Clyde & Co's spring and summer vacation schemes, held in London and Manchester close on Sunday 6 January 2019.
About Legal Cheek Careers posts.