Morrison Foerster associate Carlotta Pregnolato reflects on her journey from trainee to newly qualified associate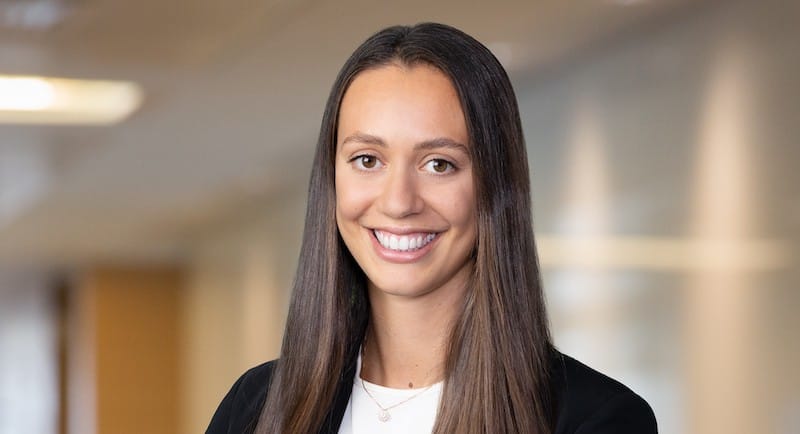 Each year, thousands of training contracts are offered across the UK from a range of different types of law firms. From City players to US giants, the experience of training at each of these can be very different, given their differing training structures, work culture and cohort sizes. In our latest Legal Cheek Careers interview, we sit down with Carlotta Pregnolato, a newly qualified associate in the London office of US law firm Morrison Foerster (MoFo). Here, she discusses her top considerations when selecting and training at a firm and reflects on her time so far at one of the leading US law firms in London.
Pregnolato starts by highlighting the importance of finding a firm that suits your personality. "I am Italian and while growing up, my family were constantly moving countries every two to three years," she says. "Training at a firm that was truly international was therefore naturally very important to me."
After attending open days and assessment centres with a wide variety of law firms, Pregnolato found US firms like MoFo to be more international compared to many of its UK-based rivals. "In the careers events that I attended with US law firms, I was able to meet many lawyers with backgrounds similar to mine. It was honestly just easy to see myself working in such a culture," she explains. The cross-border nature of work at these firms was also an important factor for Pregnolato. "The work that I have done at my firm has never been purely London-based," she says, adding that "there is always an international element driving my work".
On top of this, there are often opportunities to complete international secondments during your training contract. "Spending six months on secondment to MoFo's Singapore office was one of the best decisions I took," Pregnolato says. "Seeing another legal market at such an early stage of one's career is invaluable." The change of scene also allowed her to develop some useful cross-office relationships with other MoFo lawyers. "When my colleagues in Singapore now call me for some work, they mean a lot more to me than a small Microsoft Teams image. I know them as real people and share a bond with them. Working with friends definitely makes the whole process more enjoyable!"
In addition to their international appeal, US firms are also known to give trainees more experience and responsibility at an earlier stage in their training, thanks, in part, to their relatively small intakes.
"I wanted a smaller trainee group so that I can feel like more than just a number," Pregnolato explains. "My firm usually has just one trainee on each deal and I often worked directly with partners during my training contract. This initially seemed daunting but proved to be very rewarding. The learning curve is very steep and this forces you to step up to the challenge."
Explaining her responsibilities during her time as trainee, Pregnolato says she was often trusted with important tasks such as drafting clauses in sale contracts or share purchase agreements. She also recalls being "actively involved" in client calls and dealing with queries as and when they came in.
One of her most memorable deals was the acquisition of KnownOrigin, a marketplace for non-fungible tokens (NFTs) by the e-commerce giant eBay. "As I was a trainee on the deal, it was my first task to get the team up to speed with the concept of NFTs," Pregnolato says. "I did a good sweep of news articles on NFTs, particularly focusing on their interaction with the law. I put all my findings in a presentation and explained these to my team in simple terms. This was such a fun experience as it was probably the first time that a partner was asking questions and I was answering!"
Such early (and valuable) exposure as a trainee is what ultimately led to Pregnolato staying on as a newly qualified associate in the firm's busy corporate team. "I genuinely enjoy how no two days are the same in a corporate team. One week, you'll be reading about NFTs and the next you'll be looking at dietary fibres. The fact that we work across different sectors on a global level always keeps things interesting."
As applications for training contracts start to open, Pregnolato also shares her top tips for success: "My main advice would be to get across your genuine commitment and passion. Showing that you have a growth mindset is much more important than having loads of legal knowledge. Firms like candidates who have an attitude to get stuck in and make the most of their training contract."