Legal Cheek Careers caught up with Burges Salmon banking partner Rachael Ruane ahead of her appearance at Wednesday's 'Secrets to Success' event in Bristol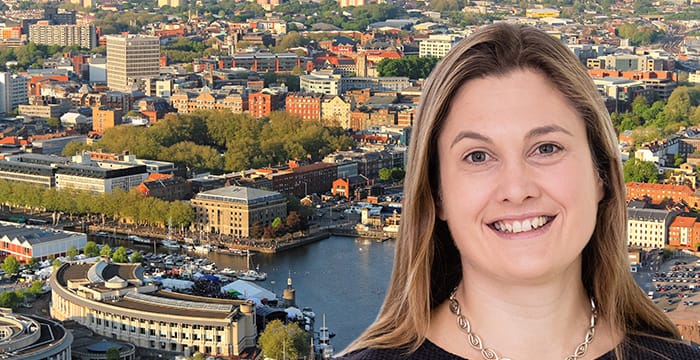 Rachael Ruane, banking partner at London, Edinburgh and Bristol-based firm Burges Salmon, took two years off before settling down to a career in law — heading to Germany to become fluent in the native language, and travelling in South America and elsewhere after graduation.
She studied law and German law at Exeter University, with a year at a German university, and trained at magic circle firm Freshfields. Ruane says: "I went to Freshfields just before I turned 25 so I definitely am in favour of people doing other things first before they become a lawyer."
Her first law firm job was quite unusual — she spent three months at Linklaters as an 'examiner'. This obscure-sounding role "didn't exist at Freshfields, doesn't exist at Burges Salmon and I don't know if it's still there at Linklaters," she says.
Ruane continues: "It was a brilliant job and a great introduction to work in a law firm. There was a 24-hour examiner desk with three shifts. I was 8am to 4pm and there were six 'examiners', really interesting people with playwrights and authors among the team. I worked on harmonisation of German documents as well as checking official legal translations (Linklaters had recently merged with a German firm) and we also did proofreading for the wider firm."
She adds: "I ran into lots of people I'd been at university and law school with, and I got a behind-the-scenes perspective on the firm. It was akin to being a paralegal or taking another job at a law firm so that you get an understanding of how to work in a law office environment, which is really helpful."
She worked at Freshfields in London and Düsseldorf, Germany, for five years, including during her training contract, before moving to the Bristol office of Burges Salmon, a firm she already knew quite a lot about. "At Freshfields, I was over-specialised as a junior lawyer, doing aviation finance and rail finance", she explains. "But I knew quite early on I was not enough of a plane spotter to make a long-term career in aviation finance."
She continues:
"Burges Salmon is a top-ranking firm for rail work so I knew the firm, and at that point, it was one of a few firms outside London doing banking work, not just as an add-on to their corporate department but as a specialism in its own right. I made the move and I've never looked back! Here, I deal with corporate and leveraged finance — I'm not sector-specific, and it's about grasping quite quickly what a business does, who they are and what they're dealing with."
Ruane's advice to students is to be "really open" about which specialism they might want to follow. For example, she initially thought she would like disputes but "quite quickly" realised it wouldn't suit her. "Generally speaking, there are three types of lawyer: transactional, advisory and disputes," she says. "As a transactional lawyer, you are negotiating toward a mutually satisfactory outcome, and you should be in a situation at completion where everyone feels they've achieved a good result. There is a feast and famine element, it can be quiet for a while then everything gears up towards the transaction, so there are peaks and troughs," Ruane explains.
She adds: "In disputes, on the other hand, there are inevitably always winners and losers. In advisory work, there is likely to be more foreseeability; you usually know what's coming and it's more about the black letter law of statutes and case law than negotiation. What you're drawn to depends on your temperament."
In terms of Ruane's day-to-day work, she works on the financing for businesses to allow them to invest and grow or acquire other businesses, spending about two-thirds of her time acting for lenders, and one third acting for businesses. Looking ahead to potential future needs, risks and opportunities and accommodating these in the agreement forms a large part of the job. Being organised and knowing how to prioritise are vital skills, she says.
About 25% of Ruane's work has an international element, and she spends four out of five days in Bristol, has a couple of trips to Germany each year and is in London most weeks. She says: "We encourage our junior lawyers to meet clients and contacts face-to-face because there's no substitute for that; choosing a career in Bristol doesn't preclude work in London."
She also advises that "it's never too early to start building your network of contacts because you never know where people will end up. Some people are naturally good at it and others may have to work harder but it's important to network, both within the firm and externally."
For students on work experience or at the beginning of their careers, Ruane suggests you "ask enough questions to find out what you want to know but without making yourself too annoying! I had loads of questions when I started out."
When plotting your career direction, remember that "everyone gets a free move, so if you find yourself in a working environment that won't facilitate your career advancement, don't panic and move on to where you want to be. Also, for trainees, remember to look at lawyers who are one to three years qualified to get an accurate picture of what the job involves. Always look beyond the tasks at hand and at the team as a whole to work out whether you will fit in," she adds.
Rachael Ruane will be speaking alongside lawyers from Osborne Clarke and RPC, as well as a legal education expert from The University of Law, at Wednesday's 'Secrets to Success' event in Bristol. You can apply to attend the event, which is free, now.
About Legal Cheek Careers posts.