Pinsent Masons partner Mark Marfé sits down with Legal Cheek Careers to discuss some of the top trends and challenges impacting his day-to-day work, ahead of his appearance at tomorrow's virtual student event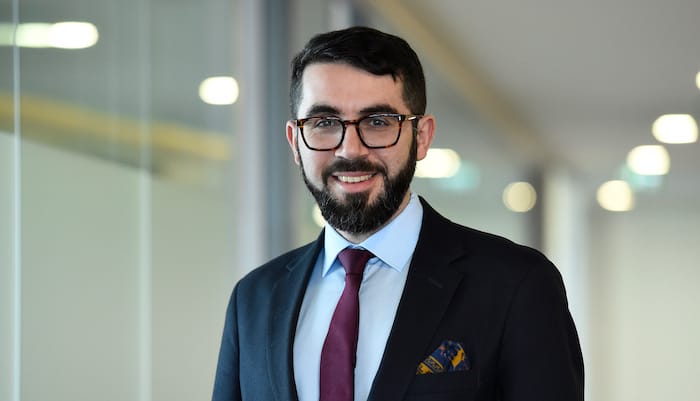 The rise of artificial intelligence, important developments on FRAND (fair, reasonable, and non-discriminatory) terms, and the eagerly anticipated inauguration of the Unified Patent Court (UPC) all make it an interesting time to be a patent lawyer.
Indeed, the evolving nature of the legal discipline which wraps its fundamental legal principles around the world's latest innovations is one of the reasons why Mark Marfé is so enamoured with his work.
"It's really exciting going back to the basic legal principles and figuring out how they apply to new technologies," Pinsent Masons partner Marfé explains. "You get to collaborate with technicians and engineers to work out what's going on under the bonnet and also meet with business executives so that you can pragmatically assess the liability and whether there is a real opportunity in a new piece of tech."
This also happens internally at a team level with his colleagues at Pinsent Masons, Marfé tells us. Members of the IP team regularly have 'brown-bag lunches' where discussions and training sessions take place about the latest developments in the sector.
We've already touched upon what some of those topics might be. Marfé explains how AI tools are now being used for a wide range of things from generating images from written prompts to AI robot inventors.
The former has raised new questions in relation to the rights attaching to the various in-puts and out-puts on these AI systems (a topic that Legal Cheek covered recently). The latter has yielded a Supreme Court case on whether an AI can be labelled the inventor on a patent, a case which could involve granting legal personhood to an AI system for the first time. The hearing is set to take place in March next year.
If you're more interested in macro legal trends than AI, there's something for you too. The launch of the Unified Patent Court, which the UK opted out of joining back in 2020, is set to launch in spring 2023. This marks a whole new set of patent jurisprudence with Marfé noting that "it will be interesting to see how the new case law sits alongside national patent decisions".
Another area of recent development has been FRAND terms, with the Supreme Court ruling in Unwired Planet v Huawei seeking to find a balance between licensors and implementers. Such cases tend to involve so-called 'patent trolls', who own portfolios of patents, and implementers struggling to negotiate what fair and reasonable licensing terms might be for standard essential patents. "It's particularly interesting to see how this will play out in IoT [Internet of Things] and how the use of arbitration will develop in this area," remarks Marfé.
In short, it's an exciting time to be an IP lawyer and the next decade certainly has a lot in store. So what does it take to break into the industry?
With a background in life sciences, having done his undergraduate degree in cellular and molecular pathology, Marfé's enthusiasm for the innovative is perhaps unsurprising. But he stresses that it is the enthusiasm that counts rather than his STEM background per se: "You need to have an enthusiasm to learn in this field which is constantly developing".
He especially enjoys the strategic element of advising clients, be that helping them grow their businesses or overseeing and guiding them through a dispute. "The variety is great and you also get to work with interesting people on international projects", says Marfé, who confesses being "hooked" on IP from the moment he worked on a matter involving Blackberry during his training contract.
As for skills a budding IP lawyer must possess, Marfé points to flexibility, an eye for detail, both commercial and legal knowledge, and good project management.
Of course it helps that the team at Pinsent Masons is "a very collaborative and interesting group of people, who enjoy collegiately sharing ideas and acting as a soundboard on the latest developments and enabling each other to be at their best", says Marfé.
Mark Marfé will be speaking alongside other Pinsent Masons lawyers at 'Going for growth: hot practice areas of the 2020s — with Pinsent Masons', a virtual student event taking place tomorrow (Wednesday 30 November). You can apply for one of the final few (and free) places to attend the event.
About Legal Cheek Careers posts.