Why you shouldn't be afraid to go a little bit out of your depth
Ahead of her appearance at Secrets to Success Leeds this Wednesday, Jacqui Timmins, head of Pinsent Masons' office in the city, talks to Alex Wade about how students can forge a successful career in the law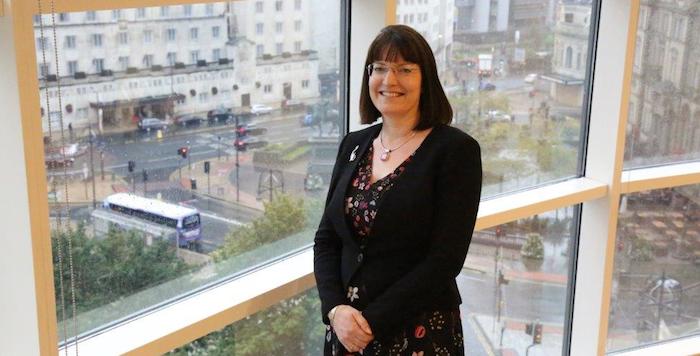 There aren't too many lawyers who cite David Bowie when they're asked to give tips for success, but Jacqui Timmins, head of Pinsent Masons' Leeds office, happily turns to the late, great singer-songwriter.
"I love Bowie's quote about making sure you push yourself out of your comfort zone," says Timmins, a specialist in pensions law who joined Pinsent Masons as a partner in September 2006. "He put it perfectly."
Timmins has made a virtue of pushing herself throughout her career, so it's no surprise to hear her recite Bowie's words:
"If you feel safe in the role you're working in, you risk boredom and lack of creativity. Always go a little further into the water than you feel capable of being in. Go a little bit out of your depth. And when you don't feel that your feet are quite touching the bottom, you're just about in the right place to do something exciting."
Timmins' move to Pinsent Masons was a case in point. Having qualified as a solicitor with Wragge & Co in 1991, she stayed with the firm for two years before moving to Eversheds. She was with Eversheds for almost 13 years, becoming a partner and achieving recognition as one of the UK's foremost pensions lawyers. But then came a radical move: Timmins switched to Pinsent Masons, and her entire pensions team decided to go with her.
"I had a fantastic time at Eversheds, but I realised that opportunities to become more senior at the firm were limited," says Timmins. "Pinsent Masons offered me the chance to get to the next stage. I could develop my practice and gain greater exposure to clients, and also look for a role which meant I was helping to drive the firm forward."
And so, Bowie's mantra in her mind, Timmins took the plunge. She hasn't looked back since. "The cultural fit at Pinsent Masons was excellent from day one," says Timmins. "The firm has backed me completely, so that we've been able to grow the pensions practice at the same time as looking after and developing our people. That's what's most important to me — the people, and a sense of having shared values."
Timmins says that aspiring lawyers should take a similarly pro-active approach. "Don't wait for things to happen," she says. "You've got to grab opportunities when they come along."
Timmins' decision to go into law was an early example of her willingness to try new things. "No one in my family had ever worked in the law," she recalls, "and there was a feeling that I'd go into teaching. But my English literature teacher suggested that I think about law. He felt my essays showed the kind of logical thinking that the law requires."
And so, with A-levels in French, English literature and Economics, Timmins became the first person in her family to enter the legal profession. She graduated with an LLB with French from Birmingham University (with a year spent at Limoges University in France) and then did her Law Society Finals at Chester Law College.
"I was fortunate to secure what's now a training contract but were then called articles with Wragge & Co, and went straight into the profession," she says. While completing her articles, Timmins worked in the firm's pensions team, and continued in the practice upon qualifying. She says pensions law is not just intellectually stimulating but also an opportunity to work on one of the most challenging issues of contemporary Britain.
"The pensions crisis, with so many of the elder population having to continue working in old age because of a lack of savings, is one of the biggest crises facing the country," says Timmins. "It's up there with the complexities of Brexit, the obesity crisis and the problems facing the NHS. That means there's a holistic aspect to the work I do. It's not dry and rarefied; it plays out in the real world, and tangibly affects people's lives."
Timmins is highly regarded in her sector, regularly advising UK and multinational listed companies and private businesses on UK occupational pension schemes and focusing on corporate transactional work including corporate takeovers, scheme benefit design issues, scheme funding and scheme mergers. She also advises trustees of UK occupational pension schemes about their legal powers, duties and obligations under trust law and statute — and says that London is not the centre of pensions work:
"There's no need to be based in London to do top quality pensions work. The quality of work we offer in Leeds is the same, without having to commute on the tube."
Timmins' fearlessness and drive is no doubt a factor in the success of her practice, so too a strong dose of pragmatism. "Young lawyers can sometimes concentrate too much on academic answers, when what the client needs is simply put, well-expressed commercial advice — a sense of how the law can be applied to help their business," she says.
And for that reason, Timmins counsels getting some business experience under your belt: "The trainees who've had some business experience, or who've done paralegal work, have an advantage. They come in with more confidence. So don't be afraid — look to add these strings to your bow."
Jacqui Timmins will be speaking at Secrets to Success at The University of Law Leeds on the evening of Wednesday 28 March. Apply for one of the final places to attend.