Hogan Lovells' associate James Sharp discusses his work within the firm's busy commercial technology team and why he's happy being known as 'blockchain guy'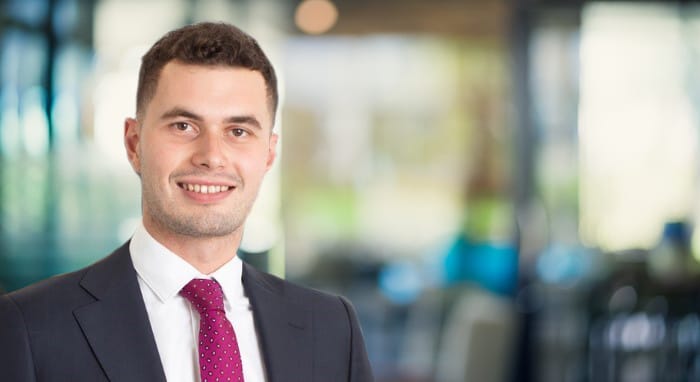 Having graduated with an LLB from the University of York, James Sharp, an associate in Hogan Lovells' commercial technology team, says he came to the firm as a trainee with "no tech background at all". But once he experienced the technology team first hand during his training contract, there was no turning back, with the field's constantly-changing nature and transactional focus being key attractions.
Talking about his career journey and what attracted him to tech, Sharp confesses he hadn't contemplated tech as a practice area when joining the firm and believed he was destined to for a future in M&A. "I was quite lucky on my training contract in that all my seats were commercial-focused", he says. Starting off in commercial construction, he had the chance to be involved in "drafting agreements on large construction deals", an experience which revealed that complex transactions were "something [I] really wanted to be involved in moving forward", explains Sharp.
With Hogan Lovells' tech team only a couple years old at the time of Sharp's joining as a trainee, he didn't know much about what they did or the firm's vision for the future of this practice area. But testing the waters on the recommendation of a lawyer who worked within the firm's tech team, Sharp quickly discovered his passion for this area of the law and greatly enjoyed his time in the Hogan Lovells technology team.  A big part of this, notes Sharp, was the ability "to see a team build up within the firm from scratch" and the opportunity to get involved in business development and exciting areas of research covering blockchain and AI.
"I could come home, speak to people and tell them about what I'd researched that day from a BD perspective, and people were actually interested in hearing about it, even if they weren't lawyers", Sharp says. "To me, that was what really sold it, combined with the commercial aspect which brought all of my passions together in one team."
Speaking about his role, Sharp says that he "learns something new on every deal, as every client wants and needs something different". Case in point, he tells me about two recent matters he's been working on — one is a tie-up between a financial institution and a tech provider to build a new fintech product. His involvement here is "mostly contractual but also project management-focused", which sees him "acting as a point of contact between the various parties, coordinating specialist input on all the different documents in the transaction and drafting the main  project agreements".
Meanwhile, the other matter involves "advisory work for a start-up providing technology which allows for interaction between financial institutions that are seeking to transact in digital assets". The work is both regulatory and transactional and encompasses a range of different workstreams inherent in the FinTech start-up lifecycle. Sharp notes that these matters provide a sneak peek into the variety of his day-to-day. These projects demonstrate the "completely different perspectives" necessary for lawyers advising clients at different stages. Financial institutions seek "maximum risk protection and know exactly what their expectations are".
By comparison, even experienced start-ups "need more hands-on guidance, regulatory analysis and support on the decision-making process regarding legal documentation". Lawyers are a much more embedded resource within such clients, particularly where those clients have limited or no internal legal resource. He offers a succinct summary of these major projects that he has worked on so far this year: "quite similar transactions, but really different day-to-day roles".
So, what are the challenges that come with advising clients in a fast-changing and uncertain area like blockchain and other emerging technologies? "It's the same thing that I love about this job", says Sharp when I ask him this question. "There's no textbook or resource that gives you the answers to the specific questions being asked, so you do have to apply previous analysis that you have provided on similar types of work and take inspiration from these", he says. He finds that this quality "makes the work very interesting, as you are really pushed to apply a lot of thought to every answer that you give".
But the obvious flipside is that this makes "it really challenging to give clients as much certainty on the matter as they would like and as we have seen, regulators may well take a slightly firmer stance on blockchain and digital assets products than perhaps might be typically taken in other industries". But in Sharp's experience, clients in this space "generally understand this and understand that its external legal advisors will need to be agile, much like they are in their own business". So, while it's no doubt a challenge, it's also a great opportunity to experience fascinating work and "help clients navigate the ever-changing landscape", says Sharp.
It also helps that Hogan Lovells has a large regulatory practice. "We have a lot of people focused on this, and that's one of the main reasons we are able to help clients so effectively. If there is a major update, all teams can work together closely – my team focuses on the digital assets and technology space, and also works with the financial services regulatory team and our payments, lending and banking team. We have close connections allowing us to identify and share trends between teams and build a clearer picture of the way in which regulators are likely to react to developments, and guide our clients accordingly," Sharp explains. The fast-changing space also means that there's "no quick way of coming up with answers for clients", he stresses, and focused research into the specific application of emerging technology products is needed for most new matters. "But if you have the passion and you're interested in reading into these topics, then it's a great place to work."
It's no secret that there's now a much greater confluence between law and technology. "It's so prevalent now that even if you're not looking at a tech-related practice, you would benefit from understanding technology — even if it's a side focus", says Sharp. So, what does this mean for aspiring lawyers? Don't write off technology even if you're not going into a technology practice, Sharp advises. Also stay up to date with technology trends, which he notes is "harder to avoid" in today's world, given that the latest news is much more tech-focused than in the past.
I also asked him how students who are not well-versed in technology, or slightly intimidated by the field should keep abreast of developments. He notes the importance of using "back to basics" resources and not being ashamed to start your basic technical research using online platforms like YouTube to understand the fundamentals of concepts like blockchain and AI, and then moving on to apply that base-level knowledge when reading papers by law firms, technology companies and consultancy firms for more specific, detailed information.
Sharp also delved into what he enjoyed most about his job, saying, "for one — I love the exercise of drafting contracts. I find that exercise very interesting, and love nothing more than having an uninterrupted day putting a contract together for the first time and making sure everything works. It's incredibly satisfying when it all comes together". He also enjoys the broad appeal of technology work – "blockchain and AI are hot topics that people are interested in talking about at the pub, and you can see genuine interest in its future".
Lastly, a big draw for Sharp is the ability to become a "mini-specialist in something really quickly if you are in this sort of space". He sees it as a great way to "establish a name for yourself within the firm", in his case, as "blockchain guy". So, if you're looking for a dynamic practice with the opportunity to carve out a niche for yourself, a tech practice is where it's at – Sharp points out generative AI and smart cities (and associated regulatory changes already emerging) as hot topics that are "definitely coming up the track" which will present opportunities for young lawyers seeking an emerging area of focus.
Sharp's thoughts on Hogan Lovells are also very positive. "Friendly, community and forward-thinking", he says, when I ask him what three words he would use to describe the firm. He notes that "people I know, who have moved on from Hogan Lovells for various reasons, miss the sense that everyone is there to support you" which is not always the case in professional environments. Moreover, "the firm is really pushing emerging areas of focus like digital assets. We've got a new practice area at the firm focused on this, and we are one of the first firms to do that – it's great to see that we are doing these things quite quickly and being innovative and agile much like many of our clients", Sharp adds.
James Sharp will be speaking at 'Technology and the law – with Hogan Lovells', a virtual student event taking place on Tuesday 12 September. This event is now fully booked but why not check out our upcoming events.
About Legal Cheek Careers posts.