The food (pictured below) was cold, the award presentations seemed to go on forever and event host Jason Manford looked like he'd rather have been anywhere else but the Grosvenor Hotel. Still, last night's The Lawyer Awards provided some interesting insights into the legal profession's soul.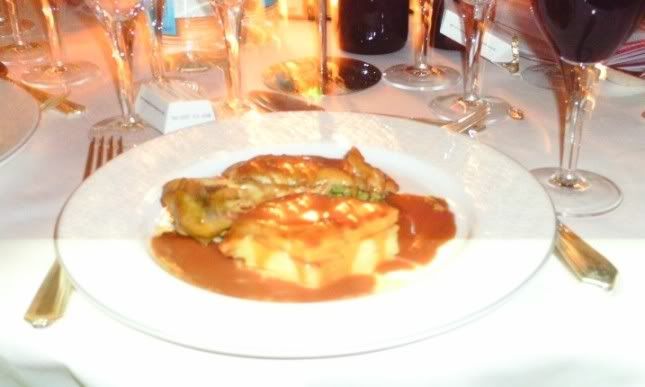 1. Lawyers often don't have much in common
The Lawyer Awards is a strange blend of tacky industry prize-fest and solemn recognition of the achievements of members of the esteemed legal profession – a reflection of the very different types of practitioner among Britain's approximately 200,000 lawyers.
Leveson inquiry A-lister Robert Jay QC (pictured) looked almost embarrassed as he collected his prize for barrister of the year. Private client outfit Mishcon de Reya, on the other hand, were so thrilled to have netted 'firm of the year' that they brought the whole of the firm on stage for an emotional group hug.
2. The legal industry's Oscars aren't as, er, directly influenced by commercial considerations, as is often assumed.
Following Allen & Overy's successful sponsoring of last year's Financial Times Innovative Lawyers Awards (at which the magic circle outfit was duly awarded "most innovative law firm in Europe"), The Lawyer Awards sponsors, Bevan Brittan and Matrix Chambers, doubtless had their acceptance speeches well-rehearsed. But neither won a thing.
3. Tim Taylor QC, star of Made in Chelsea, exists in real-life.
Hugo's dad was sitting at table number 92 with his SJ Berwin colleagues. Sadly, Taylor (pictured), who is famed for his penchant for barefoot photo-shoots, missed out on the 'partner of the year' prize.
4. The profession is tiring of the desperate measures used by print legal magazines to prop up their creaking business models.
There was much groaning last night from law firms about how, having paid a whopping £4,000 for a ten-person table, The Lawyer then asked them to fork out more cash for water – with no fluids at all included in the ticket prize.
5. Lawyers are enthusiastic dancers.