Last week I received this email from an A-level student who is considering taking a year out to re-apply to Oxbridge after getting better-than-expected grades.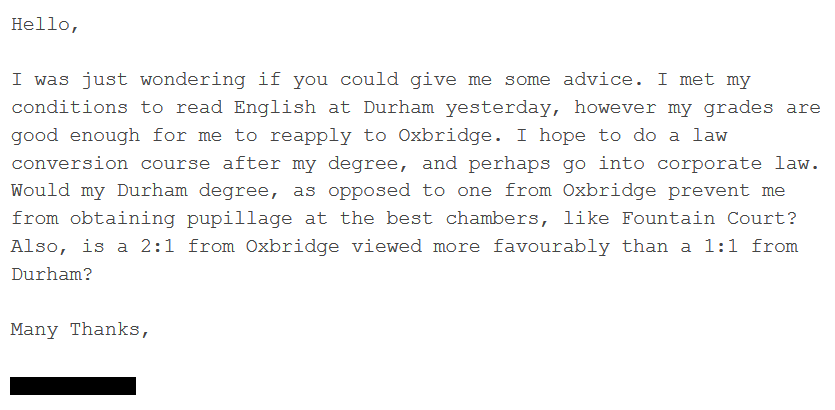 My advice is below…
Hello Anonymous School-Leaver,
In answer to your questions:
Re Durham preventing you getting a pupillage at a top chambers: no, it wouldn't, because if you're brilliant enough for the likes of Fountain Court you'll shine anywhere, whatever uni you go to.
Re 2:1 from Oxbridge v a first from Durham: the latter is better.
Having said all that, I wouldn't go to Durham to do an English degree.
If I was in your position, this is what I'd do:
1. Take a gap year.
2. Re-apply to Oxford/Cambridge, LSE and UCL. These four universities are considered to be in a different league to any other UK universities by many international law firms and companies. In the case of Oxbridge, this view is fair; in the case of LSE and UCL, rather less so — but perceptions count.
3. Study law not English. I did an English degree, which, looking back, was a waste of time. Then I did a law conversion course, which was interesting but hurried. In hindsight, even though I haven't become a lawyer, I wish I'd done an undergraduate law degree. It's the most thorough grounding available for a training contract or pupillage, plus, as our podcast last week with Cambridge law graduate Sebastian Salek and UCL law graduate Tom Webb illustrates, it's a great jumping off point for other careers if you decide not to join the legal profession.
Oh, and don't be put off by the 11% jump in undergraduate law course numbers and related chatter about lack of graduate law jobs. If you go to a good university, get decent grades and are on-the-ball about applying for jobs, you'll be fine.
Good luck making your choices.
Alex