As committee publishes Harvey Weinstein NDA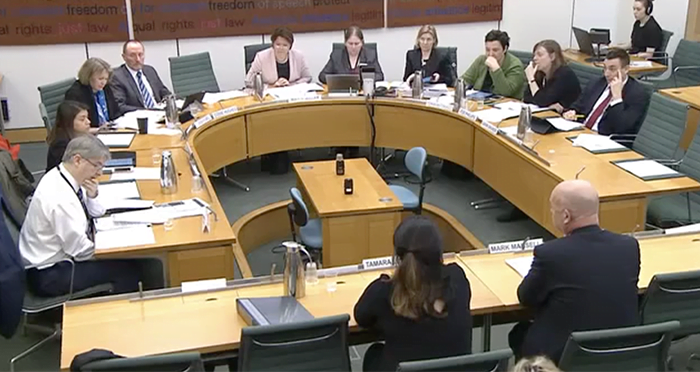 In a dramatic session of the Women and Equalities Committee, a lawyer from Allen & Overy were asked some VERY awkward questions about the role of lawyers in drafting and concluding non-disclosure agreements (NDAs).
During intense questioning (which felt at times more like a cross-examination worthy of a top QC) by MPs Philip Davies and Maria Miller, the lawyers were grilled about whether clauses in NDAs could, by limiting what an individual could say about events in the past in any subsequent criminal legal process, pervert the course of justice.
One of those questioned was Mark Mansell, a partner and employment specialist at Allen & Overy. He conceded that an NDA could be viewed that way but denied that he had ever drafted such a clause. Asked by Miller if he would ever "draw up an agreement that would potentially be seen as perverting the course of justice", he stated:
"No, I would never do that. In producing an agreement I would always make it clear that an individual's legal and regulatory obligations were paramount and nothing in the agreement would override those."
In what became a scathing attack on the legal profession, during his questioning of Mansell, Davis stated that if NDAs were stopping individuals from disclosing details of the conduct of perpetrators of unlawful behaviour, then they were, at best, unethical: "I was always brought up to tell the truth, the whole truth and nothing but the truth… [the use of these clauses in NDAs] flies in the face of telling the truth." Mansell's responses to these comments and questions, in all their awkward glory, can be viewed on parliament's website.
The parliamentary session came about following an article published at the end of 2017 in the Financial Times , and subsequently reported by Legal Cheek. This highlighted the process by which Weinstein's former London assistant, Zelda Perkins, was asked to sign an NDA following an allegation of sexual harassment made against the movie mogul by her in 1998.
A&O was the "big cheese" firm (as Miller labelled the magic circle firms) which had advised the US entertainment company co-founded by Weinstein, Miramax. Perkins was, at the time, represented by media specialist Simons Muirhead & Burton (SMB). She accepted £125,000 in damages as part of the settlement with Miramax.
The committee set up an inquiry into sexual harassment in the workplace including "the advantages and disadvantages of using non-disclosure agreements in sexual harassment cases, including how inappropriate use of such agreements might be tackled". The inquiry also heard from Perkins herself as well as from Tamara Ludlow, a partner at SMB, Max Winthrop, chair of the Employment Law Committee at Chancery Lane, Suzanne McKie QC, founder of Farore Law, and Gareth Brahams, chair of the Employment Lawyers Association.
---
UPDATE 16:44 Wednesday 28 March
This piece has now been updated to reflect the fact that the committee has subsequently published part of the NDA signed by Weinstein's former assistant.
Conditions of this document include: if Perkins is to visit a doctor "in connection with the conduct alleged" she must seek a confidentiality agreement from the doctor; and not to take part in any interviews about her time at Miramax or the company generally. The NDA also says:
"You shall not disclose any Confidential information except to any entity if required by legal process (for the avoidance of doubt any pleading or other step in a civil action that has been commenced by you shall not constitute legal process for the purpose of this clause), but you will first, in the case of any civil legal process and where reasonably practicable in the case of any criminal legal process, give not less than forty eight (48) hours prior written notice to the Company through Mark Mansell at Allen & Overy before making any such disclosure and if any disclosure is made you will use all reasonable endeavours to limit the scope of the disclosure as far as possible."
Mansell's name appears in the NDA multiple times.