Students to be compensated as law school shuts doors in June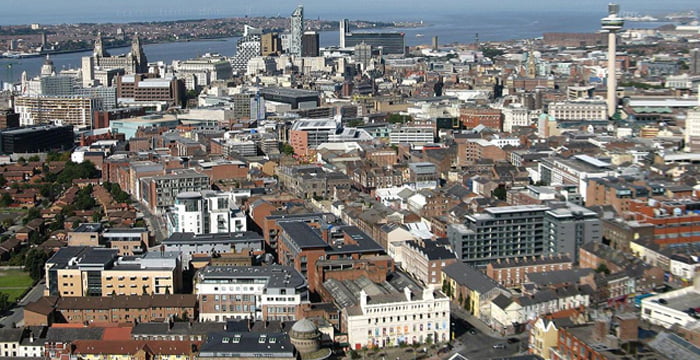 BPP Law School's Liverpool centre will be closing this summer, Legal Cheek can reveal. Students will be compensated for the inconvenience of all this by way of reduced course fees.
In an email sent to students and seen by Legal Cheek, the law school giant said "the [Liverpool] centre has limitations in relation to careers, pro bono, library, networking and social events, general environment as well as limited opening hours". Because of this — and the impending expiry of the Liverpool building's lease — "a decision has been made that from 30th June 2018 the centre will close".
BPP's Liverpool branch teaches the Graduate Diploma in Law (GDL), the Legal Practice Course (LPC) and a masters degree in legal practice. Though it shares a careers service with BPP Manchester's centre, Liverpool's profile on both our GDL Most List and LPC Most List features positive comments from students including that the tutors are "informative" and "supportive", tutorials are "non-intimidating" and that modules are "well planned".
As for how this will affect current BPP Liverpool-ers, the email states that some students will have to traipse to Manchester, more than an hour's drive from Liverpool, for teaching. BPP will be deducting travel costs from students' fees, the email says, and as well will make deductions "as compensation for the additional journeys and any associated inconvenience". This will amount to £1,000, the email says.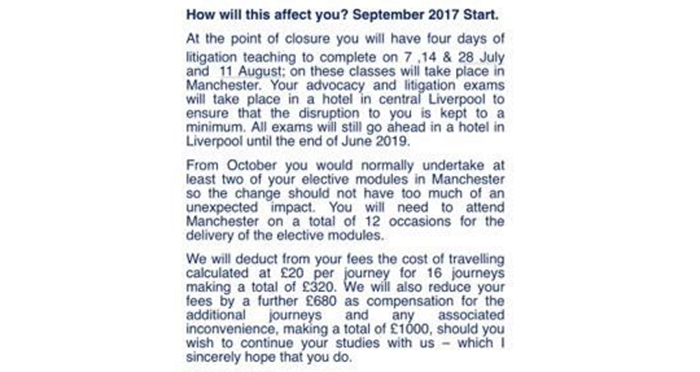 That's if Liverpool students decide to stick around. Though the email states the law school "sincerely hopes" its current cohort will stay on, one current student told us that "students are seriously considering moving provider". They add:
"Perhaps this move is best in terms of offering a better experience, but that doesn't help all those currently enrolled at Liverpool now."
As for upcoming assessments, the email says: "All exams will continue to be held in hotels in Liverpool until June 2019."
Rebecca Yates, head of law at BPP, said:
"BPP University Law School are working very closely with the students affected and are ensuring minimal impact occurs. We feel confident that the students will enjoy and benefit from the improved student experience that Manchester study centre provides."
Interestingly, this news comes just weeks after The University of Law, BPP's postgrad legal education rival, announced its break into the Liverpool market. From September, the GDL and LPC will be taught at the University of Liverpool, these courses run by ULaw tutors and with ULaw content.