University and police investigating — as one student has training contract offer revoked
The University of Exeter is investigating after a law student posted screenshots of racist messages allegedly sent by his fellow aspiring lawyers on a group WhatsApp chat. The students involved have been suspended, and the police have been informed. Legal Cheek has been told that the firm that offered one of these students a training contract has now revoked it, while another firm has cut all ties with a separate student involved who was its brand ambassador.
The Russell Group university confirmed on Twitter last night that its Students' Union is investigating after Arsalan Motavali, a final-year law student, posted on his Facebook page that he has seen "multiple students of the law school" repeatedly make "racist and vile comments" in a private group chat. Motavalia tells Legal Cheek:
"[B]ehaviour like this happens and it is a very real threat at universities and my situation is just the tip of the iceberg. The response to my post has been overwhelming and I would never have thought I would receive this kind of support and love when I was so anxious about initially posting it. I really do hope the university take severe action against these individuals and they begin to extensively support all minority students moving forwards."
The screenshotted messages are from a WhatsApp group chat made in summer 2017, called 'Dodgy Blokes Soc'. They were included in a Facebook post that has since been removed (and is screenshotted in part below).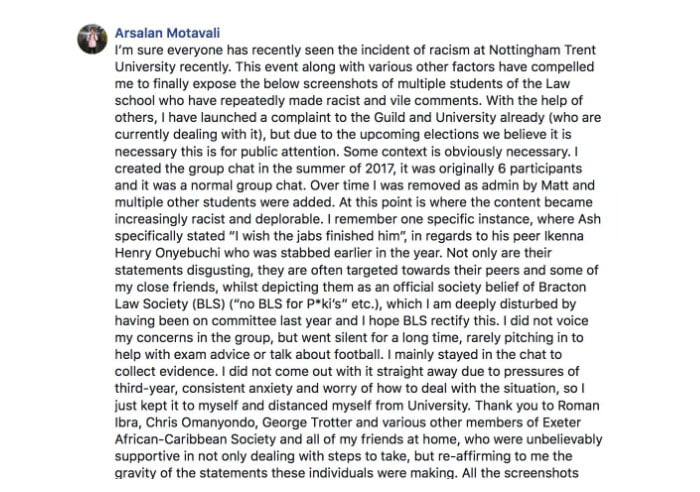 They include racist slurs such as: "dirty arab", "bomb the mosques", and, in response to one message saying "buy blacks in bulk", one WhatsApper said: "You only need to go as far as Mauritania to get slaves… Much cheaper". Another screenshot shows a law student telling the group chat: "Guess who got a placement you n***a sluts". A number of the screenshots appear on Twitter:
— a~m (@arsaIanm) March 19, 2018
A spokesman for the University of Exeter said:
"The University of Exeter does not tolerate any form of racist, sexist or bigoted behaviour and is committed to eradicating any instances of discrimination and harassment that may arise. Following reports of allegations involving a small group of students, the University has launched a major investigation, in conjunction with the Students' Guild, and suspended the students while this takes place. The police have also been informed. While it would be inappropriate to comment further while investigations take place, full disciplinary action will be taken as appropriate."
Motavali's Facebook post, which has garnered close to 2,000 shares and more than 1,000 comments, also lists what he describes as the "parties involved". These include, Motavali claims, members of the university's largest society: the Bracton Law Society (BLS).
In the order as given by Motavali, the students involved, the Facebook post says, are: Matthew Bell, the general secretary of the BLS and a future trainee at Hill Dickinson. The firm's CEO, Peter Jackson, told us this morning:
"A number of very serious allegations were brought to our attention last night involving a future employee of the firm. We are looking into this as a matter of urgency and will be conducting a full investigation into these allegations."
Jackson has since confirmed to Legal Cheek the firm has revoked Bell's training offer. He said:
"Following serious allegations made against an individual who was due to join the firm in September 2019, we have now spoken to the individual and revoked his offer of employment. We are deeply disturbed by the messages that were brought to our attention last night and would like to stress that the views expressed by the individual and others involved in this matter do not in any way represent the views of the firm and we absolutely do not condone this behaviour."
Next, Motavali names Ash Chandraharan as involved in the messages: the "current BLS football co-captain and running for BLS General Secretary" in the upcoming society elections. (BLS has cancelled the hustings that had been scheduled for tonight indefinitely.)
Then Alex Crawford, who is the "pro-bono officer of BLS". BLS has removed Bell and Crawford from its committee, including from the committee page on its website. However, a cached version includes their names and photos.
Crawford is the former Exeter brand ambassador for City outfit RPC. Simon Hart, training principal at the firm, tells Legal Cheek:
"We are absolutely appalled by what we have read this morning, and condemn this sort of behaviour in the strongest possible terms. It is indefensible, vile, and has no place in any society. Despite the fact this individual was never an employee of RPC we, of course, treat the situation as seriously as if he was — it goes wholly against everything we stand for. We can confirm that we are no longer working with him in any capacity. We have also decided to terminate our Brand Ambassador agreement with the agency who employed him with immediate effect."
The final students listed are second-year James Cranstone and first-year Bailey Grant.
Legal Cheek has reached out to all the students named in Motavali's post but is yet to hear back from them. BLS has indefinitely banned all of those involved from the society.
---
UPDATE: 1:13pm Tuesday 20 March
The BLS has now issued us with the following statement: "Bracton Law Society aims to create an environment that respects the dignity and rights of all students that are part of the society and wider University community regardless of their cultural or racial backgrounds. The views expressed by the individuals involved do not in any way whatsoever represent the Society or its ethos. Bracton Law Society does not condone nor tolerate such behaviour. The members involved have been suspended from the society and their conduct referred to the Students' Guild and University to ensure the matter is dealt with to the maximum possible extent."