Group can be heard repeatedly shouting 'we hate the blacks'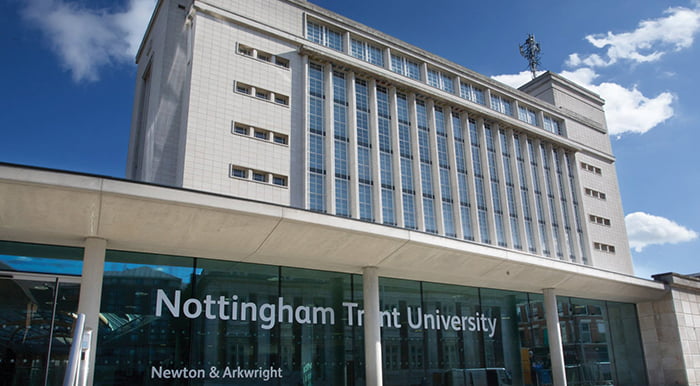 A first year law student at Nottingham Trent University (NTU) is to appear in court after a video purporting to show racist chanting at a halls of residence went viral.
The shocking footage, filmed by NTU student Rufaro Chisango, was shared over 6,000 times after it appeared on Twitter in early March. Recorded from inside Chisango's bedroom, students can be heard outside her door chanting, among other things, "we hate the blacks" and "sign the Brexit papers".
yoo I'm fuming, the way people in the same uni halls as me are chanting "we hate the blacks" outside my bedroom door. Words cannot describe how sad this makes me feel, in this 2018 people think this is still acceptable? pic.twitter.com/XUiYqNIWQT

— Ruu (@rufarochisango_) March 7, 2018
Now, several weeks on, it has emerged that NTU law student Joe Tivnan has been summoned to appear at Nottingham Magistrates' Court to answer a charge of racially or religiously aggravated harassment.
Fellow NTU-er Lauren Leigh faces the same charge and will appear at court alongside Tivnan on May 24. It's not clear what degree subject Leigh studies.
A spokesperson for NTU told Legal Cheek: "The university has been informed of the Crown Prosecution Service's decision to authorise the police to commence proceedings against two individuals following an incident involving our students in March." They added:
"As criminal proceedings are now active, we have been advised by the police to pause our own internal investigation on all related matters until this case concludes. We are unable to comment further at this time."
No action will be taken against a second man, also 18, who was arrested in connection with the incident, according to Nottinghamshire Police. The Tab reports that Rufaro was offered alternative accommodation at the university as a result.
Confirmation of Tivnan's impending court appearance comes just weeks after a group of University of Exeter law students found themselves embroiled in a racism row of their own.
WhatsApp messages sent between lawyer-hopefuls on a group chat were outed by final year student Arsalan Motavali when he posted them to Facebook last month. The messages included racist slurs such as: "dirty arab" and "bomb the mosques".
One student involved had a training contract offer from Hill Dickinson revoked, while RPC swiftly cut ties with another member of the group who had been one of its brand ambassadors. All five students are currently suspended pending further investigation.
Comments on this article are closed for legal reasons.