Student goes mega-viral after claiming she submitted a criminal justice essay with the title 'F*ck my life'
Unfortunate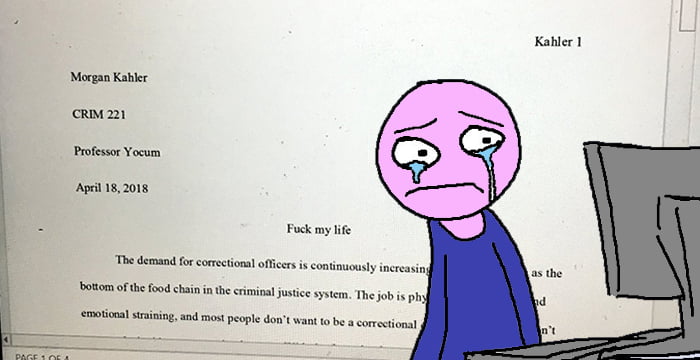 A student who appears to have made the very unfortunate mistake of submitting a criminal law essay with the title 'Fuck my life' has gone mega-viral after she posted about her embarrassment on Twitter.
Morgan Kahler says she forgot to update the title of her essay on the criminal justice system before she filed it her professor, Joe Yocum. Rather than shying away from the error, Kahler, who is in the second year of her degree at the University of Nebraska, decided to share her shame on social media.
Though Kahler has a humble Twitter following of 765 people, the tweet's impact has been far greater. At the time of writing, the post has a staggering 57,000 retweets and 270,000 likes.
I turned in my paper to my professor last night and this morning I realized I forgot to change the title…hows your day going? pic.twitter.com/FnornTF00n

— mørgxn (@morgs216) April 25, 2018
Some tweeters have, however, questioned whether the whole saga actually happened. This speculation has prompted Kahler — who describes herself as "a crim major" on her Twitter account — to post a photo of what seems to be her professor's reply to the email. It reads: "Hi Morgan, I have received your project paper. Thank you very much."
— mørgxn (@morgs216) April 26, 2018
Legal Cheek has reached out to both Kahler and her professor but hasn't heard back. On Twitter, Kahler says she's now emailed Yocum a new file, which we assume contains a more vanilla essay title.
Though the thought of submitting an essay with such a flagrantly inappropriate title is enough to keep some students up at night, it seems Kahler isn't alone. Another tweeter, Faith Jay, says she did something very similar:
i kid u not, I did the same damn thing pic.twitter.com/Bjx95npNSf

— Faith Jay? (@im_faithh4) April 26, 2018
Let this be a lesson in the importance of proofreading…