Military action was not in accordance with international law, says Dapo Akande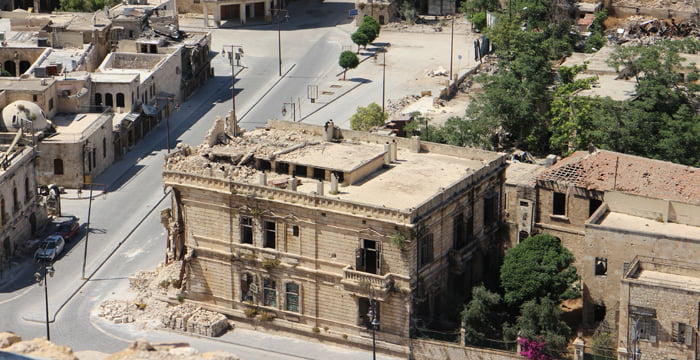 An Oxford professor is today at the heart of the furious debate about the legality of bombing Syria after writing a legal opinion for the Labour party calling the government's legal justification "significantly flawed".
Labour bigwig Tom Watson sent for Dapo Akande after the government published a summary of its legal position on Friday — giving the St Peter's College expert the weekend to scramble a few thousand words together. His five-page effort, published this morning, says that the "the military action taken was not in accordance with the United Nations Charter and international law".
British, French and US forces launched airstrikes targeting Syrian military targets last week, following evidence that the regime had used banned chemical weapons against civilians. Akande's advice backs up Labour leader Jeremy Corbyn, who has called the bombing "legally questionable".
The legal debate is about whether international law allows countries to use military force in a bid to save lives. The orthodox legal position is that, in general, only force sanctioned by the UN Security Council or in self-defence is permitted.
The government's stance is that: "The UK is permitted under international law, on an exceptional basis, to take measures in order to alleviate overwhelming humanitarian suffering."
But Akande hit back:
"It is quite clear that the position advocated by the government is not an accurate reflection of international law as it currently stands. International law does not permit individual states to use force on the territory of other states in order to pursue humanitarian ends determined by those states."
Most lawyers seem to agree. The UK is the only country to justify its recent bombing of Syria with this particular legal argument.
1. Worth knowing that UK one of few countries that tries to use humanitarian arguments as justification for military action – most international lawyers don't accept it, rightly or wrongly

— Laura Kuenssberg (@bbclaurak) April 14, 2018
But it does have its defenders:
Interesting. The government's legal position, based on humanitarian intervention. Many will rubbish this. I think it's a decent view. https://t.co/Wubj8RBHRt

— Carl Gardner (@carlgardner) April 14, 2018
And another commentator argues that the government's position is "a good statement of what the law ought, as a matter of justice, to be" — even if it doesn't stack up in legal terms.
Akande, whose full title is Professor of Public International Law at Oxford, has a dizzying list of qualification and publications to his name. A founder editor of EJIL:Talk!, the go-to blog for international law geeks, he taught at Nottingham and Durham before landing among the dreaming spires. Fellow academic Kevin Jon Heller, of SOAS, has called him "one of the finest scholars writing today".
The argument about whether international law allows for other nations to be attacked for humanitarian reasons is separate to the dispute about whether MPs should have to authorise the use of British military power. Theresa May thinks not, but there will be a debate — and maybe a vote — on the airstrikes later today.