19-year-old 'truly sorry' after footage of verbal onslaught went viral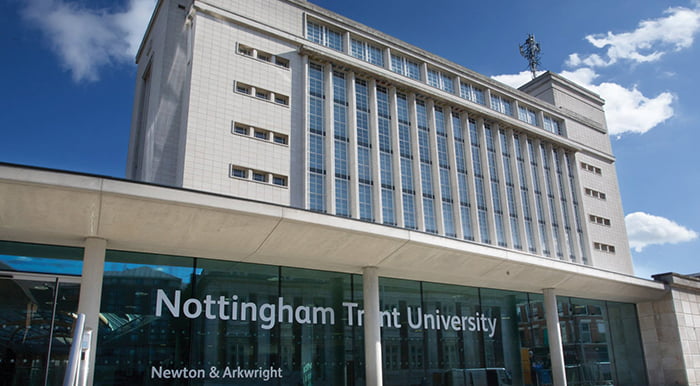 A first-year law student at Nottingham Trent University (NTU) has pleaded guilty to racially or religiously aggravated harassment after a student was subjected to racist chants at her halls of residence. She filmed the incident, and it went viral.
Joe Tivnan admitted using threatening or abusive words which caused distress to fellow NTU student Rufaro Chisango during this morning's hearing at Nottingham Magistrates' Court.
The 19-year-old issued an "unreserved" apology to anyone affected by his behaviour and said he was "truly sorry" for the distress he had caused. He was ordered to pay £500 compensation to Chisango.
The footage, filmed by Chisango, was shared over 66,000 times after it appeared on Twitter in early March. Recorded from inside her bedroom, students can be heard outside her door chanting, among other things, "we hate the blacks" and "sign the Brexit papers".
yoo I'm fuming, the way people in the same uni halls as me are chanting "we hate the blacks" outside my bedroom door. Words cannot describe how sad this makes me feel, in this 2018 people think this is still acceptable? pic.twitter.com/XUiYqNIWQT

— Ruu (@rufarochisango_) March 7, 2018
District Judge Leo Pyle reportedly told Tivnan:
"You went off to continue your evening and this woman was too frightened to even leave her room. These words were described by other students as shocking, disgusting, appalling and disgraceful. It was entirely understandable that she felt what was being chanted was being aimed at her."
His co-accused, Lauren Leigh, pleaded not guilty to an offence in connection to the same incident. She has been granted bail until her trial on July 19. It's not clear what degree subject Leigh studies.
An NTU spokesperson told Legal Cheek:
"As criminal proceedings remain active, we continue to follow police advice to pause our own internal investigation on all related matters until they come to a close. It would be inappropriate to say anything more regarding this incident until the case is fully concluded."
Tivnan's conviction comes just weeks after five Exeter University law students were either expelled, suspended or otherwise sanctioned after vile WhatsApp messages between them were made public by a fellow law student. Messages included racist slurs such as: "dirty arab", "bomb the mosques" and "guess who got a placement you n***a sluts". One of the law students identified as being involved had been a future trainee at Hill Dickinson, but the firm quickly revoked his offer.
Comments on this article are closed for legal reasons.