BSB's director general discusses split-BPTC plans at Legal Cheek legal education conference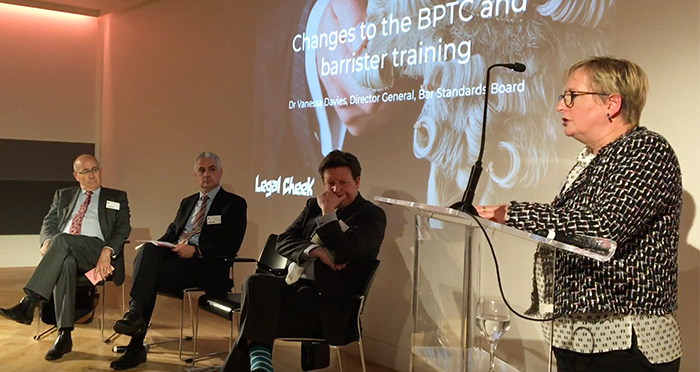 The bar regulator's director general has told an audience at Legal Cheek's Future of Legal Education and Training Conference to expect "exciting new things" as it pushes ahead with its radical overhaul of barrister training. Dr Vanessa Davies said the Bar Standards Board (BSB) plans to submit a new regulatory framework to the Legal Services Board (LSB) for approval this autumn, and that the new rules may be given the stamp of approval by as early as January 2019.
Barrister training, as many aspiring advocates will know, has many problems. James Wakefield, the director of the Council of the Inns of Court, summarised them well when he said the Bar Professional Training Course (BPTC) is "very high cost", "very high risk" and "extremely inflexible".
These problems, it's hoped, will be alleviated by allowing students to study for the vocational bar course in two parts. Part one of the assessment, which Wakefield called the "knowledge assessments", can be taught online; part two, which will teach and test skills such as advocacy, is a shorter skills course than the current BPTC. Both these factors should keep costs down. Splitting out the cost splits out the financial risk, while Wakefield says the new pathway is more flexible than the BPTC, too, as "students should be allowed to study [for the first part] in any way they wish".
Further flexibility is evident as the regulator is pushing for four "new structural routes" to qualifying as a barrister. Davies said:
"Initially we anticipate approving four fundamental structures: the current one; an integrated masters structure which does actually exist currently but is not very prevalent; a structure with… the vocational component split into two, and an apprenticeship pathway."
On the apprenticeship pathway, Davies said "the BSB would like to be able to approve apprenticeships for the bar, but we recognise that those are much less likely to develop quickly, and that's largely to do with the structures and the business models prevalent, especially at the self-employed bar".
It seems the possibility of a split BPTC will be more immediate, though. Davies anticipates that, subject to LSB approval, the earliest point at which the new rules can come into effect will be January 2019. That said, it could be two years after that that students start these new courses, this because of how long it takes to get new university programmes devised and approved and because of rules about how far in advance courses have to be advertised.
Greater flexibility in pupillage is also on the BSB's agenda. PJ Kirby QC, the joint head of Hardwicke, sympathised that pupillage can be a "pretty nerve-wracking 12 months" reminiscent of a year-long job interview. Speaking at the Bar session of the Conference — which was sponsored by legal tech company Bar Squared and barristers' chambers Hardwicke, and featured sessions on innovation, the solicitor super-exam and more — Kirby said "we've got to try to do things that make the pupils feel more a part of chambers". For example, he encourages chambers to have their pupils move around during their year-long traineeship. Pupils "need to be seen and heard and be very much part of chambers life", he said.
Chambers' role in nurturing future barrister talent doesn't just begin on day one of pupillage, said Steven Barrett, the chair of Big Voice London and a barrister at Radcliffe Chambers. Sceptical of "top-down changes", Barrett asked the barristers in the audience to "think up ways of engaging" young, disadvantaged students, stressing that the thing that often puts people off the bar is not knowing enough about it.
Barrett's plea has social mobility at its heart, as does the BSB's legal education plans, said Davies. She said the reforms are based on four core principles, one being accessibility. She said it's "vital" the profession is open to the widest possible range of students. Tied to this is affordability, the next key principle, Davies stressing she wants to see value for money of barrister training enhanced. Flexibility is the third key principle, and sustaining high standards is the fourth.
Conference photo album