Love Island lawyers latest: Junior solicitor left in tears after date 'slags her off' to ex-legal secretary
Rosie Williams has a law degree, an LPC and an LLM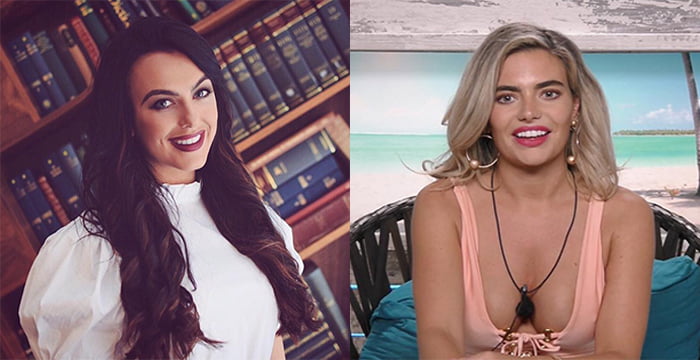 A junior solicitor was left in tears in yesterday's Love Island after the man she's coupled up with flirted with a new contestant. Like newly qualified solicitor Rosie Williams, newbie Megan Barton-Hanson has experience working in a law firm, having been a legal secretary for three years.
Adam Collard is currently coupled up with Williams, but was seen seemingly trying to make moves on former legal PA Barton-Hanson. Collard told fellow islanders he thought Barton-Hanson was "fit", and later asked her why she didn't choose to go on a date with him. He later said of his current relationship with law graduate Williams:
"It's good, don't get me wrong, it's good. But sometimes she can be a bit on top of us."
This didn't sit well with legal secretary turned glamour model Barton-Hanson, who described Collard's behaviour as "sneaky" before confronting Williams about it. The feisty junior solicitor was having none of it, approaching Collard in front of everyone and asking: "Who else have you been slagging me off to?"
Williams left her job at Just Costs Solicitors in Manchester to enter the famous Love Island villa. Until very recently, what appeared to be an old blog post of Williams' from her time as a trainee remained on the firm's website. The topic was the implementation of fixed fees in clinical negligence cases — but it's now been removed.
We also know that Williams has experience at Clyde & Co, as well as a Legal Practice Course (LPC) and a masters.
Barton-Hanson's dabble with the law is less extensive than Williams'. She worked at a law firm for three years but, "struggling for money", started stripping on the side. "Then I realised I was earning the same money that I did in a month in two days," Barton-Hanson said.
Though having not one but two Love Island contestants with experience inside a law firm is unusual, stars of the ITV2 show have had a vast array of jobs. These include: A&E doctor, pen salesman, bomb disposal expert, dental nurse, circus performer and careers adviser.