Majority find against restrictive laws but throw the case out on a technicality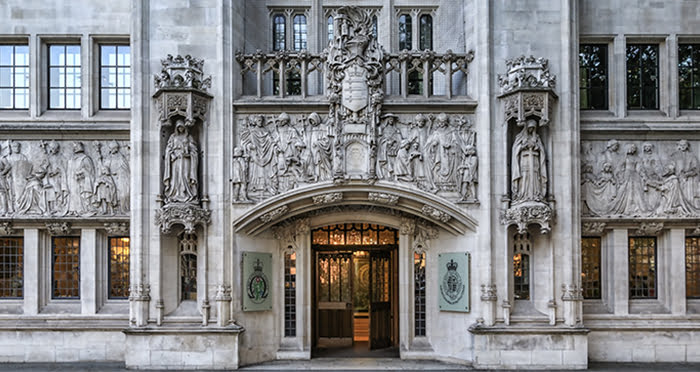 A deeply divided Supreme Court has found that Northern Ireland's abortion ban is in breach of human rights laws and needs "radical reconsideration".
The explosive judgment will add to the political row over the issue but has no legal effect, as the challenge to the abortion regime was actually dismissed for lack of "standing". The justices voted 4-3 that they had no jurisdiction to do anything about the human rights breach.
Abortion is a crime in Northern Ireland except in very limited circumstances to save the life of the mother. The Northern Irish human rights commission challenged this as a breach of the European Convention on Human Rights in cases of rape, incest or fatal foetal abnormality.
The seven justices were divided in a dizzying variety of ways on the different issues in their 144-page judgment. But the bottom line is that a majority found that not allowing abortion in these extreme circumstances was a breach of Article 8 of the human rights convention.
Lady Hale, Lord Mance, Lord Kerr, Lord Wilson and Lady Black all found that women should be allowed to terminate a pregnancy where the foetus is doomed anyway. Smaller majorities said the same in cases of pregnancy caused by rape or incest.
But there was a twist.
Four of the seven judges decided that the case had to be rejected on what campaigners will see as a technicality. The human rights commission had no standing to take the case in the first place. Lord Mance wrote that "the present proceedings were not instituted by identifying any unlawful act or any actual or potential victim of it".
The Northern Ireland Act did not give the commission the power of "instituting or intervening in proceedings where the only complaint is that primary legislation, such as the 1861 Act, is incompatible with the Convention Rights".
Mance, in one of his last acts before retirement from the court, nevertheless agreed that "the present law clearly needs radical reconsideration"
Lord Kerr, himself from Northern Ireland, paid tribute to the "courage" of women who submitted evidence about their own doomed pregnancies, writing that they were "condemned, because legislation enacted in another era has decreed it, to endure untold suffering and desolation. What is that, if it is not humiliation and debasement?".
In a sign that judicial tempers were frayed over the case, Kerr accused the majority who threw the case out for lack of standing of "depart[ing] from a well-established line of authority".
And in a not-so-subtle hint to politicians, Kerr said that the majority findings were, although non-binding, "worthy of close consideration by those in whose power it lies to decide whether the law should be altered".
Although the decision is technically a setback for the campaign to make abortion more widely available in Northern Ireland, it achieves many of the same things as a victory. If not for the technicality, the Supreme Court would have issued a "declaration of incompatibility" inviting parliament to change the law. The majority findings have effectively laid down the same gauntlet.
A clearly unhappy Lady Hale warned that the decision on standing "does not mean" that the majority decision on human rights "can safely be ignored".
There were only 13 legal abortions in Northern Ireland in 2016, but over 700 women travelled to Great Britain for one. It is perfectly legal to travel to other parts of the UK for terminations, and since last year the procedure has been available free on the NHS for Northern Irish women, following a campaign led by Labour MP Stella Creasy.
But campaigners want easier access to abortion at home. Concern for the wellbeing of women forced to travel to Britain was a key reason that the Republic of Ireland voted last month to relax its similarly restrictive laws on abortion — with pressure now on Northern Ireland to follow suit.
MPs debated the issue on 5 June, with Heidi Allen winning praise for recounting her own experience of having a termination.
Conservative Heidi Allen on abortion : "Because I have been there, I am making it my business… I was ill when I made the incredibly hard decision to have a termination. I was having seizures… I couldn't control my own body let alone care for a new life"

— Esther Webber (@estwebber) June 5, 2018
Others oppose change. Jeffrey Donaldson of the Democratic Unionist Party (DUP), the largest political party in Northern Ireland, insists that 100,000 people whose lives would otherwise have been terminated are alive today because of the province's restrictive laws. Another DUP politician has likened abortion to Nazi gas chambers.
The DUP are not alone in their opposition to abortion: the Northern Ireland Assembly voted in February 2016 against changes to the law. By contrast, a 2016 opinion poll cited in today's decision found that a large majority of voters would support abortion in cases of rape, incest or fatal foetal abnormality.
Always remember this about Northern Ireland: the people are usually ahead of the politicians.

— ?Sarah ? (@Saraita101) June 5, 2018