Lady Hale says she's looking forward to chatting to students in new outreach programme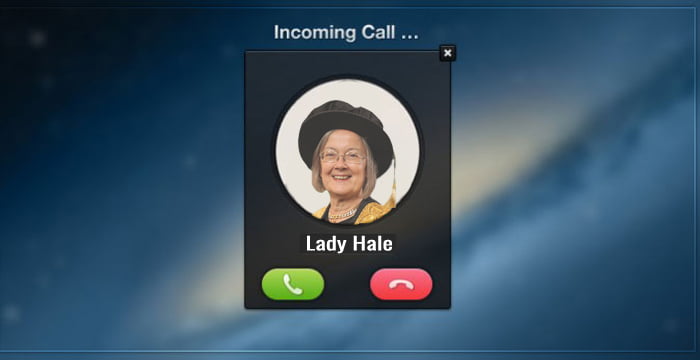 The Supreme Court has launched a new outreach programme that gives students the opportunity to Skype justices from the comfort of their classrooms.
The aim of 'Skype A Justice', which will run as a pilot until June, is to educate students aged approximately 14-18 who would struggle to get to Westminster to see the court in person. Between ten and 60 students can take part on each call. The court is currently in the process of finalising the six schools that will be involved in the pilot (as well as the justices they'll get to have a natter with), but it's safe to assume the majority will be based far away from the capital.
Lady Hale, the president of the Supreme Court, said:
"We hope to reach out to young people far beyond our courtrooms here in London, who might otherwise find it difficult to visit us. My colleagues and I are looking forward to talking with the students who, no doubt, will have some very interesting questions for us."
The conversations that take place between justices, the students and their teachers are private and cannot be recorded, the Supreme Court stresses. Skypees can request to take a photo at the end of the session, though, which the court may or may not allow.
As for the content of the session, students are asked to prepare questions in advance and are dissuaded from probing justices on politics and current affairs — so no asking Hale who she's voting for in the upcoming local elections. The children are told to refer to the justice they're paired with as Lord or Lady followed by their surname.
The new programme is reminiscent of Skype the Speaker, which gives students aged seven to 18 the opportunity to ask questions directly to John Bercow MP, the speaker of the House of Commons. The parliament education service asks for a minimum of 50 students to be present, and recommends preparing 25 questions for Bercow in advance.