His husband bought it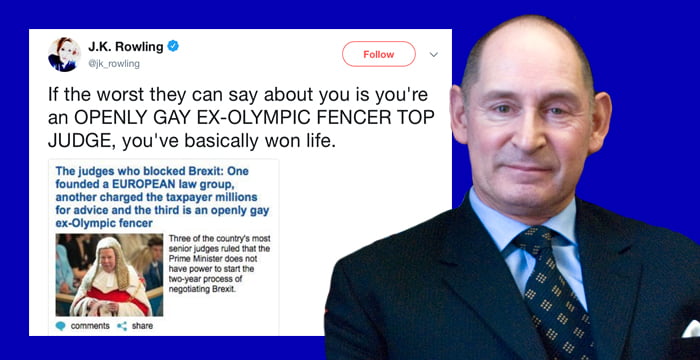 The Master of the Rolls' husband had a J.K. Rowling tweet transposed on to a mug for him as a gift after he was targeted by the Daily Mail, it has emerged.
In 2016, the pro-Brexit newspaper ran a controversial headline which described Sir Terence Etherton as an "openly gay ex-Olympic fencer". Etherton, Britain's first openly gay senior judge, was a member of the British Olympic fencing team in 1980.
The newspaper's reference to Etherton's sexuality and sporting exploits came just hours after he and two other senior judges — the Lord Chief Justice and Lord Justice Sales — ruled that the lawful invocation of Article 50 was conditional on a free vote in parliament.
Enter Rowling. Taking to Twitter, the Harry Potter author pointed out that if the fact you are gay and a former Olympian is the worst journalists can say about you then "you've basically won life." The tweet (embedded below) has garnered over 20,000 retweets and 44,000 likes.
If the worst they can say about you is you're an OPENLY GAY EX-OLYMPIC FENCER TOP JUDGE, you've basically won life. pic.twitter.com/j8tUTjODuP

— J.K. Rowling (@jk_rowling) November 3, 2016
It has now emerged Rowling's putdown was well-received in the Etherton household.
In an interview with The Times (£) this week, the 66-year-old judge revealed his husband, lawyer Andrew Stone, had Rowling's online missive transposed onto a mug for him. "It was fantastic, because I've never met her [Rowling]. I thought it [the mug] was wonderful," Etherton told the newspaper.
The Daily Mail's judiciary bashing didn't just stop at references to Etherton's sexuality. The newspaper branded the Lord Chief Justice, Sales and Etherton as "ENEMIES OF THE PEOPLE", and described the the Supreme Court justices as "11 unaccountable individuals". It went on to give each of them a "Europhile rating" out of five.
Hitting back, the then president of the Supreme Court, Lord Neuberger, condemned the media's attacks on the judiciary during an interview on BBC Radio 4's Today programme. Speaking last year, he said judges were "not well treated" and accused certain sections of the press of "undermining the rule of law".