Magic circle firm's bosses still on over £1.5 million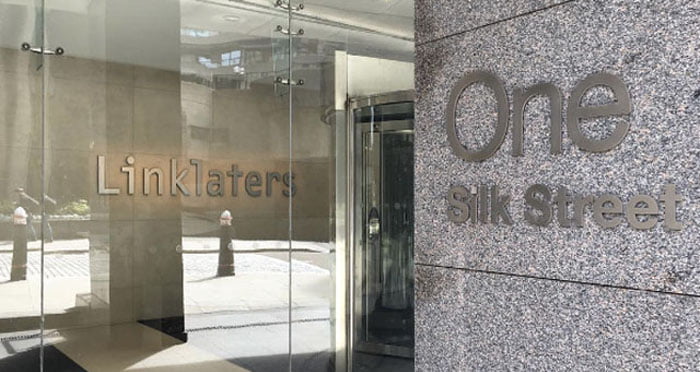 Linklaters has reported a slight drop in the average earnings of its mega-wealthy partners for the first time in nearly a decade as it announced a mixed set of financial results.
The global player has announced that profit per equity partner (PEP) had fallen by 1.9% to £1.538 million — putting it behind its magic circle rivals Freshfields, Allen & Overy and Clifford Chance.
Still one of the most profitable firms in the world, Linklaters cited tweaks to the way it counts its partners for the unexpected dip. The remaining magic circler, Slaughter and May, does not disclose its results, but it is understood to be the most profitable of the elite fivesome.
Partner profits aside, the Silk Street firm saw revenues jump to £1.523 billion, up 6% from £1.44 billion, and pre-tax profits rise from £664 million to £676 million, an uplift of 1.7%.
Magic circle 2018 financials
Firm
Profit per equity partner (PEP)
Profits
Revenue
Freshfields
£1.734 million
£683 million
£1.403 billion
Allen & Overy
£1.64 million
£690 million
£1.57 billion
Clifford Chance
£1.596 million
£626 million
£1.623 billion
Linklaters
£1.538 million
£676 million
£1.523 billion
Slaughter and May
N/A
N/A
N/A
Gideon Moore, Linklaters' firmwide managing partner, said: "The firm has performed strongly again this year, achieving a 4.8% increase in income at constant currency. Our performance has been driven by the efforts of our people, our deep client relationships and our sector focus." He added:
"During the course of the financial year we rolled out the global implementation of our firmwide strategy refresh: increased focus on investing in clients, our people and technology. We're already seeing the results of some of the initiatives we've put in place and I'm excited about how we take the firm forward this year, acting for clients as a united, global team."
Linklaters is the last of the magic circle firms to announce its results this year.
Clifford Chance saw its PEP jump by 16% to nearly £1.6 million, while revenue increased to £1.62 billion. Meanwhile, PEP at fellow magic circle duo A&O and Freshfields rose to respective figures of £1.64 million and £1.73 million — up 4% and 12%. The partner profit rises at the magic circle duo come on the back of overall revenue uplifts of 4% at A&O to £1.57 billion and 5% at Freshfields to £1.4 billion.