Move comes as legal education giant opts to focus on solicitor super-exam training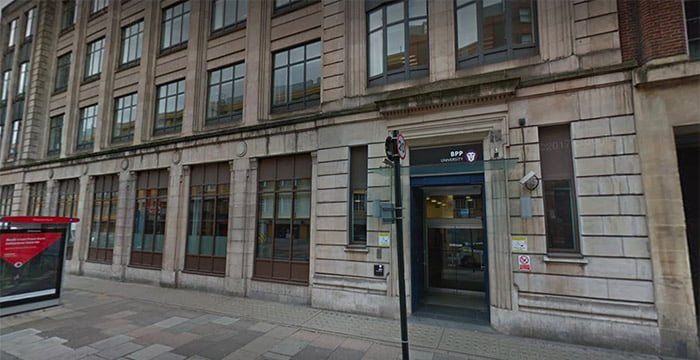 BPP University Law School has cut the number of staff at its Waterloo campus, Legal Cheek can reveal. The redundancies come just weeks after the legal education giant confirmed it was suspending its LLB offering to focus on developing a host of new solicitor super-exam programmes.
Sources close to BPP have told Legal Cheek that around 20 members of staff left earlier this month through a combination of compulsory and voluntary redundancies. BPP confirmed "the loss of some roles" but declined to comment on specific numbers, a spokesperson telling us:
"We have paused our LLB intake to focus on developing new programmes to prepare students for a post-SQE qualification route and, equally importantly, for legal practice in a rapidly changing sector. To reflect this, we have evaluated staffing numbers, which has unfortunately resulted in the loss of some roles."
News of the staff exits come as the profession gears up for huge changes to legal education, most notably the Solicitors Qualification Exam (SQE) or super-exam.
In May, we revealed that BPP was suspending the intake of its undergraduate law degree. At the time, BPP's director of business development, Tricia Chatterton, told us that the law school has "clear plans for the future" and that "now is the time to turn those plans into a reality".
Chatterton was unable to say how long the suspension would be for but did stress there are no plans to scrap the LLB at BPP outright. Students on the law school's solicitor apprenticeship programme — which incorporates a purpose-built LLB — aren't affected.
As the super-exam's anticipated 2020 implementation date draws ever closer, at least three universities have gone public with their plans to integrate SQE content into their LLB courses.
London South Bank University told us that it's planning to teach an "SQE-facing" law degree using super-exam-style multiple-choice questions to test students' knowledge in a legal practice context. Meanwhile, in a recent interview with Legal Cheek, University of Law chief Peter Crisp confirmed that his institution was in the process of creating an LLB that is SQE compliant.
Hinting at a similar move, a spokesperson for BPP said it's been consulting with members of the legal profession about the training they require in light of upcoming changes to legal education. They added:
"As a result of that widespread consultation, we are reviewing our entire portfolio of programmes to ensure that students are both prepared for the future of legal practice as well as to pass regulatory assessments."