BPTC student calls for the immediate introduction of 'unlimited' exam resits
Online petition claims the regulator's recently-announced assessment tweaks are 'prejudicial' towards those currently completing the course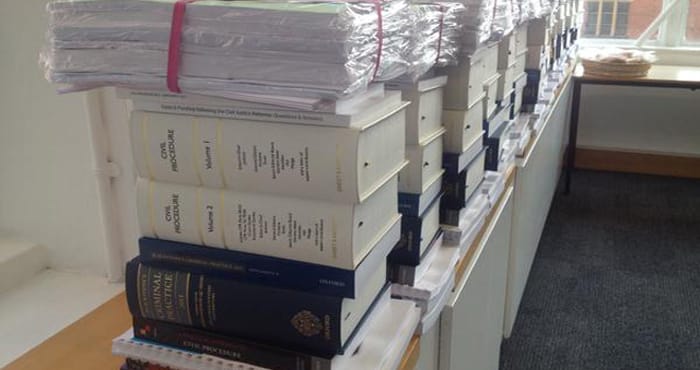 Plans to allow Bar Professional Training Course (BPTC) students an unlimited number of attempts at each centralised assessment are "prejudicial", according to a new online petition. This is because wannabe barristers who have already started the course are unable to take advantage of the new resit format.
In April, the Bar Standard Board (BSB) announced a number of changes to the way barristers are trained in England and Wales. The tweaks include permitting BPTC-ers "an unlimited number of attempts" at each centralised assessment (civil, criminal and ethics) within "a maximum period of five years". Currently, aspiring barristers are given three attempts to pass each exam over a two year period.
This, however, hasn't gone down well with everyone.
An anonymous BPTC student has launched a petition claiming that the new exam approach is "prejudicial" to current students because it isn't due to come into effect for at least a year. The Change.org petition states:
"The current BPTC cohort of 2018 feel as though these changes are prejudicial to current students, and past students who have paid £16-20k, to only be able to take each exam three times, within two years.
We appreciate that many will assume that three sits within two years is enough. However, it evidently is not as the BSB have decided to change this."
Calling for the new resit system to be implemented now and subsequently backdated, the online appeal continues:
"This petition proposes that the BSB allows the same rule to be implemented for the 2017-2018 cohort, as well as 2018-2019 cohort. We understand that many cohorts will want the same principle, and they can do so by way of this petition."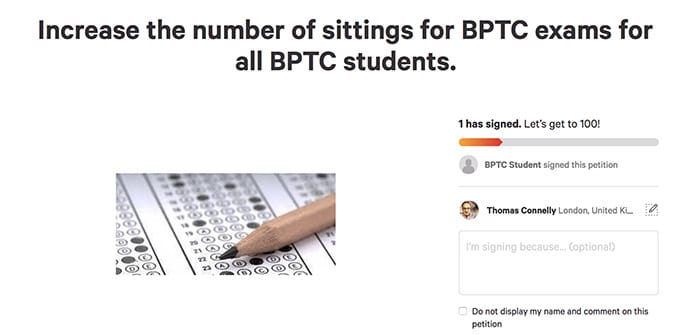 Responding to the petition, a BSB spokesperson told Legal Cheek:
"It must be stressed that the curriculum and assessment changes represent a package of measures and it would be neither right nor possible to introduce them piecemeal. We expect that the earliest that the changes relating to centralised assessments could come into force will be September 2020. Please note that the new strategy is part of our wider future bar training changes to the training and qualification of barristers which are subject to the Legal Services Board approving the new rules."
This isn't the first time a BPTC student has felt compelled to launch an online appeal.
Earlier this year, an aspiring barrister called on the regulator to make centralised exams open-book format. Branding the current approach "draconian", the unnamed bar hopeful questioned why students can't take books into exams if practising barristers can regularly "refer to the book[s]" for guidance in court.
And it appears the regulator was listening (or perhaps it was just a happy coincidence). As part of the exam overhaul, the BSB also confirmed that civil litigation will now be split into two exams: a closed-book "Civil Litigation and Evidence" assessment and an open-book "Civil Dispute Resolution" exam.