Golfing zone is named 'Gallimore Green' in honour of sports-loving office chief Michael Gallimore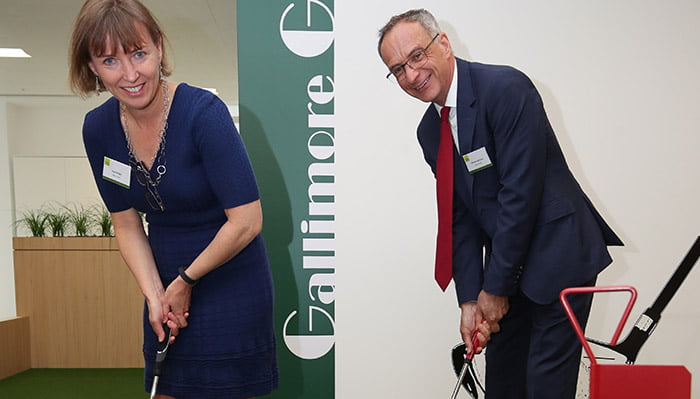 Hogan Lovells has installed an indoor putting green at its Birmingham office — and named it in homage to one of its top partners.
The global outfit's 'Gallimore Green' forms part of Hogan Lovells' new Brum-based office and takes its name from office head Michael Gallimore. Planning partner Gallimore took over the reins at the West Midlands office last year following the retirement of private equity head Alan Greenough.
As part of wider expansion plans, the outfit moved into swanky new office space this summer to help accommodate its growing team of lawyers, paralegals and support staff.
And it appears Gallimore has wasted no time in putting his stamp on things — quite literally judging by the 'Gallimore Green' branding emblazoned up the office wall. Other amenities (not named after lawyers, as far as Legal Cheek is aware) include a gym, coffee house, concierge and table tennis area.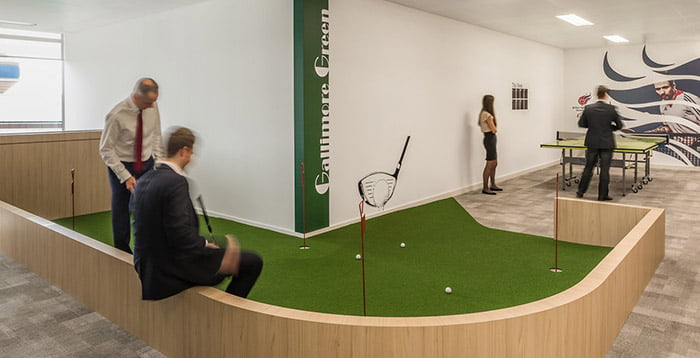 Commenting on the new office space, Gallimore said:
"We have outgrown our existing space in Birmingham through the natural growth of the business and our increasing support for our other 45 plus offices globally. To get the very best from our people and for the benefit of our clients we want to provide our people with challenging and exciting client work, a supportive and ambitious culture, and a first class working environment with excellent amenities."
News of the in-house golfing zone comes on the back of the firm's first standalone Birmingham retention score. Hogan Lovells confirmed both rookies who started their training contracts in 2016 were staying on. One joins its corporate team, while the other starts life as a lawyer in the firm's real estate practise. Was it the putting green that swung it?