2008 financial crisis shaped the legal profession as we know it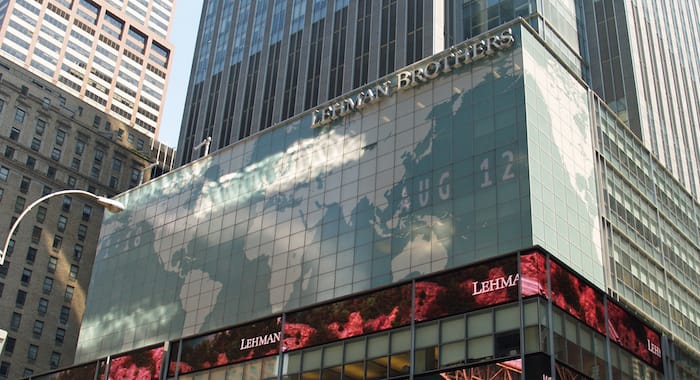 Ahead of tomorrow's anniversary of the collapse of investment bank Lehman Brothers, Legal Cheek's Alex Aldridge considers how the effect of those dramatic events continues to be felt.
Ten years ago as a junior hack at Legal Week I spent a fascinating and unsettling year covering the dramatic effect of the collapse of Lehman Brothers on the legal profession.
For a couple of weeks it looked like it might be over for corporate law firms — as their client base of banks and other financial institutions faced total wipe out. Then over the course of a bizarre fortnight governments bailed out said banks and the panic subsided.
Still, the change of mood was stark and lasting. Weeks before that fateful 15 September day you had big swinging dick partners at City law firms nonchalantly shrugging off talk of a 'credit crunch' as they looked ahead confidently to yet more profit and revenue rises — a happy journey that had continued more or less uninterrupted since the 'Big Bang' deregulation of the City (including legal services) in the late 1980s.
In the aftermath of Lehman's fall — which no one seemed to think was possible, even as it was happening — these same individuals seemed shell-shocked. When they did surface at events, talk of growth was off the table and instead they mused about new topics such as the need for more regulation and how to deal with the coming declines in living standards. It felt surreal to hear them saying basically the opposite of what they'd been preaching a few months ago.
And then the job cuts began. Historically law has been a steady industry, protected during recession by litigation, which tends to increase in times of economic stress. But over the preceding two decades corporate law firms had significantly shifted their practices towards transactional work, which now accounted for between 70-80% of most big outfits' revenue. With the deals having stopped flowing as financial markets seized up, there was only one solution.
For most of 2009 we wrote what felt like endless stories about big law firms cutting jobs and deferring training contracts. Trainee numbers plunged nearly 25% from a 2008 high of 6,303 to just 4,784 a year later. Some firms even dropped down to doing four-day weeks. Almost everything was bad news. My own job was reduced to a three day a week freelance contract. And, given what was happening elsewhere, I felt quite lucky.
Gradually the carnage eased. Looking back, the 2010 merger between London's Lovells and America's Hogan Hartson seems like a turning point as the corporate legal sector stopped shedding jobs and embarked on a period of global consolidation, which continues to this day.
But it was only getting started for the legal aid branch of the profession, which became one of the Cameron government's number one targets for its signature policy of austerity. Funding was slashed by a third, plummeting from £2.1 billion to £1.5 billion, as the hated Lord Chancellor Chris Grayling — the first ever non-lawyer to be given the role — presided over an ideological money-saving experiment.
Whole swathes of practice areas lost state funding, while others endured squeezes so tight that they became unviable career options for most. Solicitors and barristers protested as part of the 2011-13 Occupy Movement but this resistance didn't achieve much. Legal aid firms stopped hiring trainees, while the already struggling junior end of the legal aid bar was tipped over the edge into becoming the hobbyist quasi-profession that it mostly remains today. Wages in the sector — the minimum pupillage salary is still £12,000 while most legal aid firms start their trainees on the Law Society recommended minimum wage of £19,122-£21,561 — are still substantially below pre-financial crisis levels in real terms.
In contrast, around 2013 corporate law wages started to rise again. A recovering US legal market created a new 'MoneyLaw' payscale that saw newly qualified lawyers at American firms paid $160,000 — a sum that rose over the course of a few years to $190,000. As these firms expanded in the UK, a weak pound meant that a handful of rookie solicitors started earning around the £140,000 mark. Magic circle and other top UK firms were pressured to up their salaries to keep attracting the best graduates. And a pay war that continues to rage saw English junior lawyer pay rise at levels that in some cases were sharply higher than inflation. Amid stagnating pay in other parts of the legal profession, a new elite was born: law's own 0.1%.
Today, most law students — who since 2012 have of course been lumbered with £9k a year tuition fees — understandably aspire to join the corporate law firms that represent their only chance of getting on the hideously expensive London property ladder (another side effect of the 2008 financial crisis). Legal aid is the preserve of the independently wealthy or insane. Many chambers at the bar, meanwhile, are reporting a decline in interest from students, who associate them with media images of criminal barristers on strike and view the self-employed model as too risky. Training contract numbers have staged a recovery but remain lower than in 2008.
Where do we go from here?
In terms of corporate law, the rise of lawtech and the drive it has given firms to re-appraise their service delivery models is an encouraging development that promises to create new opportunities. Similarly, big firms' increasing investment outside London as they expand regional offices to take advantage of cheaper labour could have a positive effect.
Provided the new jobs created are real lawyer career paths, rather than just paralegal roles, wealth and opportunities will be spread around the country. Trainees earning normal salaries in Leeds have a similar chance of getting on the property ladder as MoneyLaw rookies do in London — and, barring a fresh crash, the appeal of this proposition is likely to increase.
Meanwhile, IT-assisted flexible working is offering new options for millennial lawyers stranded a long commute away from their firm's glitzy London offices. Some are even moving to cheaper areas of the country and going completely freelance as gig economy lawyers.
For publicly funded law, there are signs that some of the Cameron government's cuts to legal aid may end up being reversed. Last month's High Court ruling that some reforms to criminal legal aid were unlawful has been hailed as "a ray of light" by the Law Society. How much life can be breathed into a creaking system without major surgery remains to be seen. The best hope for those in the sector may be a Labour government, if it sticks to previous campaign pledges.
Amid all of this a defining moment is approaching. Get a good Brexit deal that keeps the City's trading ties intact and the UK legal profession in its current slightly distorted but still functioning form will muddle through. Crash out without a deal and we could be looking at another Lehman moment, with a potentially very different sort of shakeout.