This is not a drill!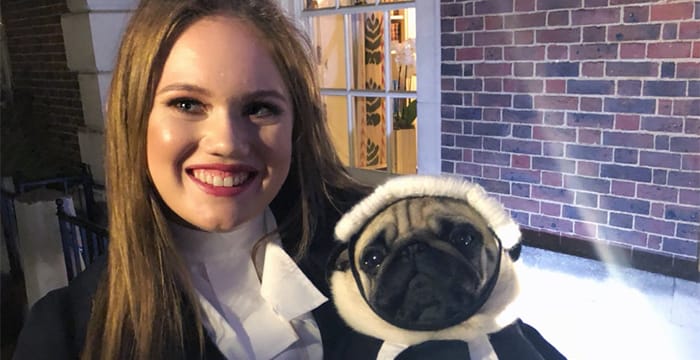 An aspiring barrister brought her beloved pet pooch along to her call ceremony last week — and yes, he wore his own special wig and gown to mark the occasion.
Taking to Twitter, Lily Roberts-Phelps posted an image of herself standing outside Inner Temple having just been called to the bar of England and Wales. Thanking friends and family for their love and support, the KCL grad can be seen clutching her furry four-legged pet pug, Reggie.
Keen to ensure Reggie was suitably dressed for the occasion, Phelps' loved ones had a special wig, gown and bands created for him so he could match his proud owner. Her tweet has racked up nearly 3,000 likes in just a few days:
Yesterday I was called to the Bar of England and Wales. Nothing could better sum up the crazy love and support my family have given me to get to that moment more than the fact that they made my pug a wig and gown to match me ? pic.twitter.com/PdtOFufSCC

— Lily Roberts -Phelps (@lilyrpx) October 12, 2018
Phelps — who studied the Bar Professional Training Course (BPTC) at BPP — told Legal Cheek that Reggie had to wait in a nearby pub while she attended the ceremony at Temple Church, but got a "great reception" when he arrived later that evening for photographs.
Reggie is by no means the first pet to wear legal garb. In recent years Legal Cheek has brought you collections of our favourite dogs and cats dressed up as lawyers.