Leaked email sent late on Friday tells trainees who said no that they must 'provide evidence' of their 'inability to help'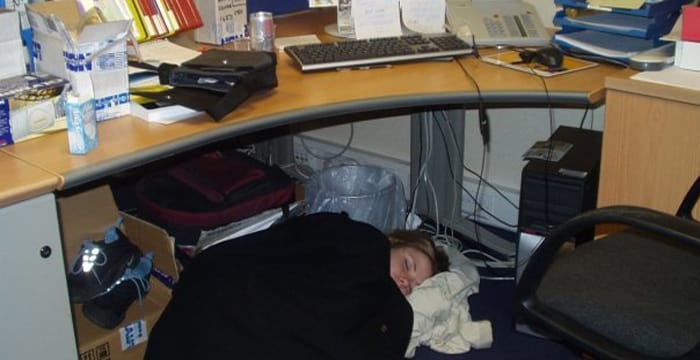 A top City law firm asked a group of its trainees to pull an all nighter just days after publically promising to support its lawyers' mental wellbeing, Legal Cheek can reveal. The firm, which we have chosen not to name, then asked rookies who didn't volunteer to "provide evidence" of their inability to help.
In an email leaked to Legal Cheek (pictured below), an associate requested urgent support with a document review task for the firm's Tokyo office. The message — fired off at 4:43pm last Friday (ouch!) — asks that trainees who "have [the] capacity to assist" to get in touch.

In a follow-up email (pictured below), again leaked to us, a partner in the firm's London office promptly responds to the request and tells trainees who decline that they will need to need to "be prepared to provide evidence" of their "inability to help". This, according to the partner, includes "other business critical commitments this afternoon/evening and tomorrow morning, including details of those commitments."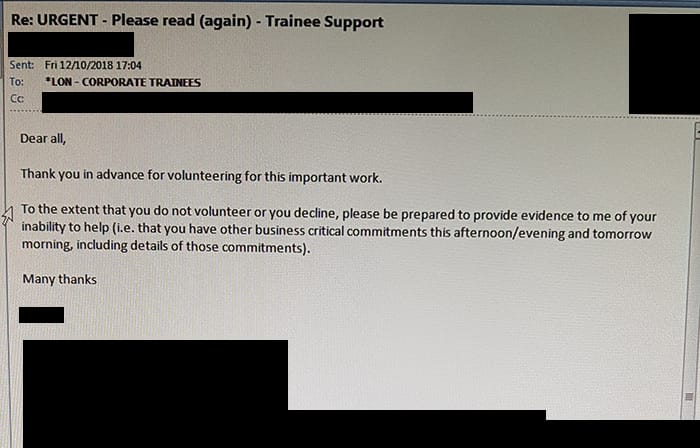 Legal Cheek understands that the follow-up email was already being investigated internally before being leaked to us and that the partner in question has since been spoken to. As for the trainee volunteers, it is understood they were reviewing documents until 4:30am and were back up at 8am on Saturday to finish the job off.
While accepting that long hours were part and parcel of City life, a source told us that the partner's email was not particularly well-received given it came just days after the outfit publically marked World Mental Health Day by trumpeting its support for good wellbeing in the workplace. The insider continued:
"Trainees were terrified to leave the office as their plans were only to go home and see family or a weekend trip abroad. I felt pissed off that this follow-up request was only 20 mins behind the original [email]."
Wellbeing in the profession has become somewhat of a hot topic in recent years.
Last year, research produced by the Junior Lawyers Division showed that the percentage of rookie solicitors who have experienced mental health problems had more than doubled over the past year. This came on the back of a number of highly-publicised Solicitors Disciplinary Tribunal cases in which solicitors cited mental health and stress-related issues.